Last week at Carnegie Hall, Patti Smith rocked Pathway to Paris, the show advocating a solution to climate change. So did fellow performers like REM frontman Michael Stipe, Flea of Red Hot Chili Peppers and Dr. Vandana Shiva and Bill McKibben, two sustainability rock stars in their own right. I wasn't there (sigh). But in one of those rare happy instances of serendipity, Patti Smith is coming here, presenting tonight at Miami Book Fair about the process of creation and her book, Devotion (Why I Write).
I am goofily in awe of Patti Smith, her life, her poetry, and especially her two memoirs. Just Kids is a soaring recollection of being young in New York and discovering art and herself through her relationship with Robert Mapplethorpe. M Train, in contrast, is a meditation on loss and aging (she is now, inexplicably, 70). Smith writes of striving to hold fast to all that is precious to her before it vanishes. "I'm going to remember everything and then I'm going to write it all down. An aria to a coat. A requiem for a cafe."
Smith is keenly conscious of — and thankful for — every little glimmering of good in the world. In an essay she wrote for Bon Appetit several years ago, she recollected how a childhood Thanksgiving game of who-could-eat-the-most mashed potatoes taught her the bounty we assume is a natural part of the holiday is not a given. It's a gift. We should be grateful for it.
Thanksgiving is our annual reminder to be grateful. The question is, how best to show it. If, like me, you're devoted to animals, to the people you love and to the planet, you can show your devotion with a plant-based diet. It's much more sustainable, much kinder to the planet, not to mention the animals. It's delicious, and easier than it's ever been, with fantastic vegan products accessible everywhere.
I'm a market disrupt, though. I still believe in the power of cooking. Especially at the holidays, I love to share food from the earth with the people I love. Or are goofily in awe of. Knowing Smith loves mashed potatoes, I might be tempted to make them if ever she comes to dinner (hey, humor me here). But I'd probably make whipped beans, instead. Potatoes as a crop can deplete the soil. Pulses — that's dried beans — replenish it. Switching from beef to beans would sharply reduce our carbon load, too.
Whipped white beans stand in nicely for mashed potatoes, with a mild, satisfying flavor and luscious, creamy texture. They offer more nourishment thanks to high fiber, high protein, a low glycemic load (an excellent way to manage diabetes) and a whole range of minerals, from iron to zinc. You can make whipped beans as rich as your favorite mashed potatoes, just load on the vegan butter and cheese. But Thanksgiving tends to be an awfully rich and heavy meal anyway, even without the turkey, I went elemental, drizzling in a little olive oil for creaminess, fresh lemon juice for brightness and and adding some thyme right from my garden to make it sing. I sang, too, belting out "Because the Night" *"
You don't have to be Patti Smith to make a difference. We can all wake up to what is precious. We all have the power to show our devotion. Happy Thanksgiving.
*Bruce Springsteen wrote it but Patti Smith owns it.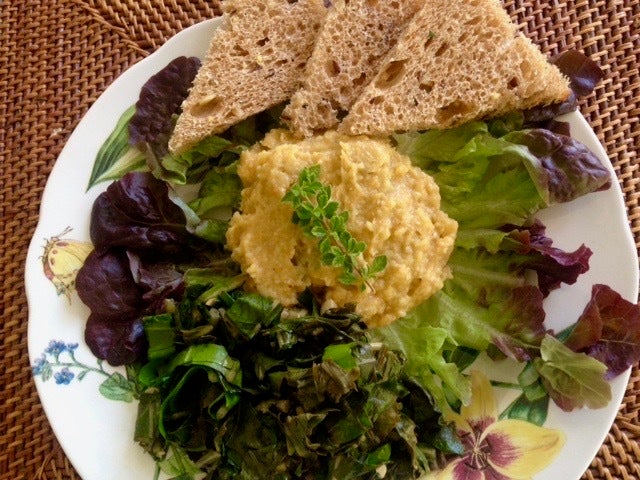 Fluffy Whipped Beans With Lemon and Thyme
Serve for your Thanksgiving feast or as part of a leftover mix plate the next day with salad greens and crusty whole grain bread. It provides great flavor and clean energy you'll be thankful for.
Yes, you can make this with canned beans, and it takes almost no time, but making the beans from scratch results in fluffier, more flavorful beans. Trust me on this.
1 whole garlic clove plus 3 cloves garlic, minced
1 dried red chili pepper, crumbled, or pinch dried red chili flakes
1 pound dried cannellini or other white beans, like Navy beans, limas or heirloom alubia blancas
3 tablespoons fresh lemon juice (from 1 juicy lemon)
a small handful fresh thyme leaves
sea salt and freshly ground pepper
Pour the dried beans into a large soup pot and add enough cold water to cover — 4 to 5 cups. Set over a burner on high heat. Then drop in the crushed red pepper, bay leaf and garlic. Stir and let mixture come to a boil.
Reduce heat to low and let the beans simmer, with the pot lid placed slightly ajar, to allow a little steam to escape and the bean broth to thicken slightly. Cook for about 90 minutes or until beans are tender and yielding but not mushy. Set aside to cool slightly. Fish out the red pepper and bay leaf.
Heat olive oil In a large soup pot. Add the 3 cloves of minced garlic and sauté. Pour in the beans and about half of the bean cooking liquid. Mixture will seem soupy at first, then thicken as it heats through and the whipping of beans commences.
Show off your upper body strength and mash by hand, using a large wooden spoon or potato masher for about 10 minutes or until you've broken up the beans and the mixture comes together with a consistency slightly thicker than hummus. Alternately, you can use an immersion blender or food processor for a minute or two. I prefer the beans slightly chunky for a rustic texture, but you can blitz until quite creamy and fluffy if that's your thing. Mix in the lemon juice and thyme leaves. Season generously with sea salt and freshly ground pepper.
This post was published on the now-closed HuffPost Contributor platform. Contributors control their own work and posted freely to our site. If you need to flag this entry as abusive,
send us an email
.