Congratulations to The Girl & the Fig, Sonoma's pioneering restaurant celebrating 20 years — that's 80 seasons — of making farm to table delicious. This special anniversary encore Meatless Monday post original ran July 30, 2012.
John Toulze thought he knew about seasonality. For more than a dozen years, he's been executive chef at Sonoma's premier restaurant, the Girl & the Fig, and with owner and founder Sondra Bernstein, wrote Plats du Jour, a combination cookbook and homage to seasonal cuisine. Then Toulze stepped out of the kitchen and into the garden and realized, "I had no idea what true seasonality was."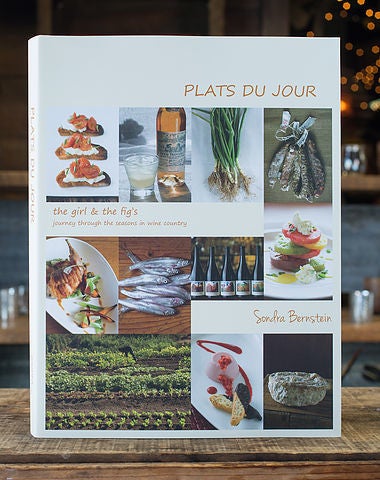 For the past two years, Toulze and the staff of girl have been growing food for the restaurant on two biodyamic acres they call the Farm Project.. It's a project because though the restaurant staff knows how to prepare and serve food, growing it, as any farmer can tell you, is an ongoing education. It's reconnected Toulze with the source of his food in profound — and sometimes humbling — ways.
Nature does not always work in accordance with a chef's schedule. "You can't predict much," he says. "Normally, rhubarb means spring, strawberry is spring and summer, delicata squash is fall. There was point last year I was harvesting all those in the same time." Now, at the height of summer abundance, he's hauling in tomatoes. Every day. "We're putting them everywhere on the menu. Eggplant? 'Learn to love it,'" he tells the sous chefs. "'Figure it out. We'll talk later.'"
Summer bumper crops can be beautiful. And overwhelming. But here's the other side — we waste up to half of our food in this country. Toulze puts everything to use, something he learned from his mother. "My mom has always pickled and jarred as long as I can remember," he says.
Toulze keeps that tradition alive. He's developed a simpler way to pickle, no need to sterilize or stress. You just keep the brined vegetables or fruit covered in the fridge. "It extends the shelf life by a couple weeks, probably all you need to enjoy it," he says. "It's so much more realistic than, 'Oh, I'm going to can it all.' No, you're not. You don't have to pickle it forever or let it rot. The middle way is easier."
If you want easier than that, Toulze further streamlined the process with packaged pickling spices for Agrarian, Williams-Sonoma's new DIY product line. "All you have to do is add sugar, vinegar water and dump this in."
You don't have to be a pro. Toulze, winner of a 2009 Rising Star Chef Award, is entirely self-taught. And entirely exuberant. "I'm so passionate about people cooking, I want to make it easy for them," he says. "If they get a couple successes, they'll feel more confident."
Toulze's connection to his food began in Sonoma, growing up on his family's six-acre farm. Helping his mother in the garden, "watching her take so much pride in it, was the beginnings of my love of gardening."
The Farm Project has taken that further. It's became a way for Toulze "to reinvigorate myself and challenge myself. It has been so enlightening, so refreshing, how little I understood," he says. "As chefs, we think we know seasonality, we're close to the earth, but we're in the sterile kitchen environment, all stainless steel. We order produce off an e-mail — you couldn't be further from the food."
Toulze and the restaurant staff now grow about 15 percent of the restaurant's produce, and Toulze aims to increase that — perhaps single-handedly. "I go out there three times, a week, even five," he says. "Food to me is culture. That's one of the problems we have now with our sociey — we've lost those elements of our food."
The Farm Project "has made us better chefs, betters restauranteurs," he says. "You start to understand what it costs to really produce something. When chefs are in the garden working and busting their butts, they don't waste as much."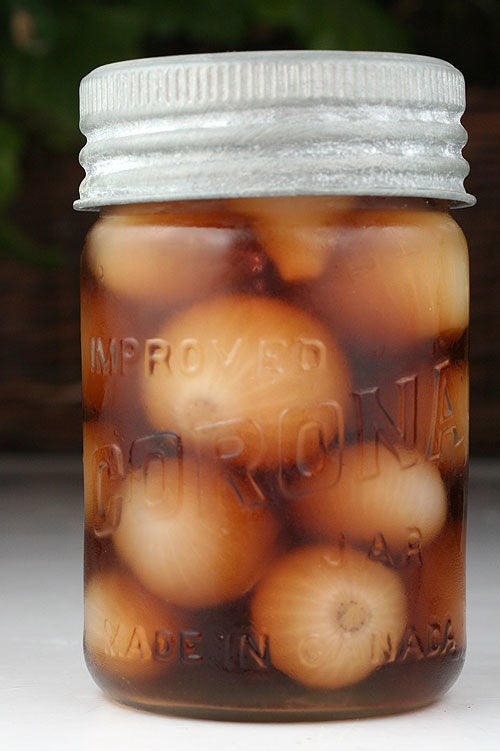 Recipe by John Toulze, used with permission from the Girl & the Fig and Plats du Jour
Crisp and tangy, these add a bracing — not sharp — note to salads and sandwiches and make the most of a summer shallot haul.
1- 1/2 cups red wine vinegar
In a saucepan, combine the wine vinegar, sugar, and salt. Bring to a boil, stirring to dissolve the sugar. Add the thyme, bay leaf and shallots and stir to coat evenly. Cook briskly for exactly 1 minute over high heat and remove from the heat. Allow the mixture to stand until it cools to room temperature.
Transfer to a sealed container and refrigerate for up to 2 days.
This post was published on the now-closed HuffPost Contributor platform. Contributors control their own work and posted freely to our site. If you need to flag this entry as abusive,
send us an email
.