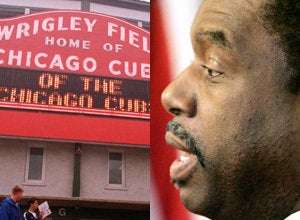 Hundreds of people will gather around Wrigley Field during Wednesday's playoff game to protest school funding inequities, but they will not ring the stadium as they originally planned, Rosalind Rossi reports in the Chicago Sun-Times.
The group will be relegated to a "cordoned-off area in the middle of Addison, near the park entrance," the rev. and State Sen. James Meeks, the protest's organizer, told the paper.
Though Meeks says the designated protest area represents a compromise with city officials-- his original plan called for surrounding the stadium with nearly 6,000 orange T-shirt-clad protestors-- he says he still expects more than the 1,400 who attended the first of day of school boycott protest at New Trier Township High.
Meeks said he expects aerial shots of the protestors to appear on the TV broadcast and hinted that they may also protest during a White Sox playoff game.
"This is the city that works,'' Meeks told the paper. "We'll still get the blimp shot with this protest.''