Meet the UK's Top 10 Contemporary Art Collectors
In the next few days, collectors from all over the world will congregate in London for Frieze Week. But who are those who buy and support contemporary art in Britain, day in, day out? ARTINFO UK has gathered a list of some of the country's most influential collectors, from the champion of emerging artists Anita Zabludowicz to the photography scholar Michael Wilson.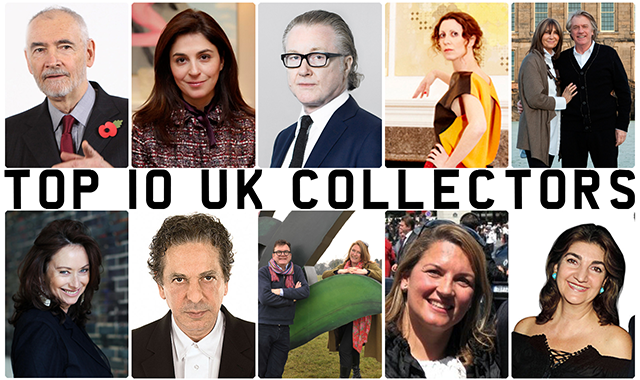 Others could have been included. Lakshmi Mittal, ArcelorMittal CEO and Europe's richest man, merits a special mention here: not only did he contribute £19.6m ($31.7m) to Anish Kapoor and Cecil Balmond's Olympic tower The Orbit, but he also purchased the 2012 Serpentine Gallery Pavilion designed by Herzog & de Meuron and Ai Weiwei for his collection. Yet when contacted by ARTINFO UK, Mittal's office chose not to disclose further information on the billionaire's private art pursuit.

We have chosen to focus on the most visible philanthropists. Most of those included in this selection are also dedicated patrons, playing an active part in the country's art scene with their own ventures -- the David Roberts Art Foundation, Robert and Nicky Wilson's Jupiter Artland, Frank Cohen's soon-to-open The Dairy -- or backing public galleries. Some even bring their scholarly expertise to acquisition committees in major art institutions, like Tate and the British Museum. At the glitzy end of the art world spectrum, they help make the UK, and London in particular, an international art hub.
-Coline Molliard, BLOUIN ARTINFO
More of Today's News from BLOUIN ARTINFO:
Meet the UK's Top 10 Contemporary Art Collectors
4 Things Experts Will Be Watching at Next Week's London Contemporary Auctions
27 Questions with Romanian Artist Andra Ursuta
Style Section Flashback: An Incomplete History of New York Times Trend Pieces
As Congress Ponders a Resale Royalties Act, a Blow by Blow of the Fight So Far
Like what you see? Sign up for BLOUIN ARTINFO's daily newsletter to get the latest on the market, emerging artists, auctions, galleries, museums, and more.