In part two of this series, I interviewed Dr. Aisha Bin Bishr. She is the Director General of the Smart Dubai Office which is responsible for Dubai's evolution into a smart city. She recently participated in the Transforming Cities Through Municipal Collaboration Panel at the Smart Cities Conference in NYC. Learn about her vision and work around creating the next generation of cities in our interview below.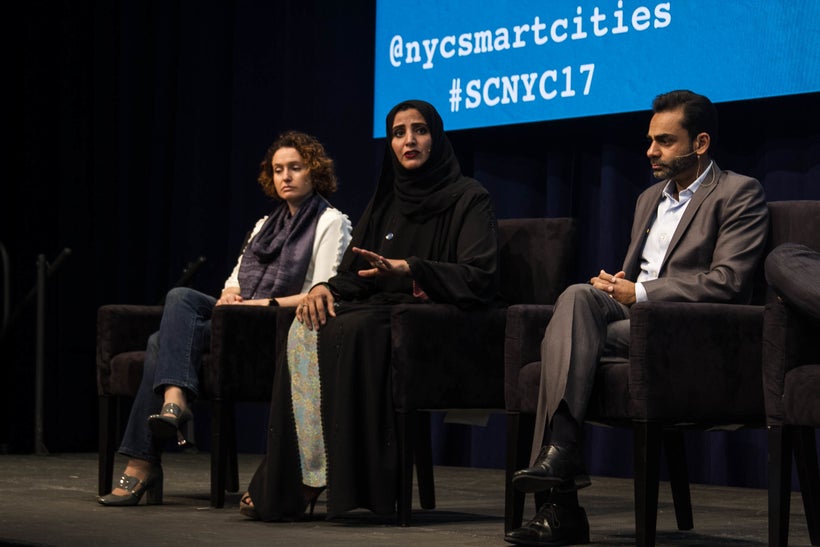 Walk us through what's a day in your work like?
My day starts with going through reports, receiving visitors and delegates, or attending events, and meetings. I also travel internationally regularly to see the latest technologies and meet other leaders to position Dubai as the leader when it comes to smart cities.
What are you most passionate about in your work?
Our vision is to make Dubai the happiest city on earth and that this is not an easy job. When I work with technology it sparks my curiosity and passion, leaving me in a positive state of mind to overcome any challenges. I'm also passionate about collaborating with my colleagues and the many different entities in our organization.
What are have been some of your challenges and successes?
One of the main challenges I face on daily basis is to make sure everyone shares the same vision across all different sectors of our government. Initially, this change management was very difficult but everyone is now starting to see the benefits of what we are doing. Some of our success stories are around how we measure the happiness of our citizens when they receive services in our city. Instead of a very long survey, we use a simple happiness meter with three emojis that then feeds into a dashboard which is available for all decision makers.
It is Dubai's goal to become the happiest city in the world. What advice would you give to other cities who want to achieve similar goals and transform their cities to smart cities?
When it comes to city challenges, it's the same everywhere. My main advice that I share with my colleagues and city managers all over the world is they need to build strong partnerships. Whether those partnerships are across the government, different industries, the private sector and other cities. We need to learn from each other and this prevents us reinventing the wheel. This is what happened in Dubai. When we started this journey, 3 years ago, we did an extensive benchmark report on 76 cities globally. This allowed us to see what they've been doing when it comes to smart cities and implement their best practices.
Another piece of advice is the need to focus on the end goal and the why. For us in Dubai, our end goal is our people's happiness. This keeps us going, searching, and improving everything around us in the city.
Dubai has a very rich cultural history. How do you maintain that cultural identity as you're developing as a smart city?
There's no harm in using technology to preserve your history. In Dubai, we have embedded technology everywhere in our city. For instance, in our historic district, we put a virtual reality application where you can see information and movies on how people used to live in that area by just focusing your phone on that location. The key is embedding technology around your historical and cultural sites. This also makes it more attractive and preserves our history for our young generation.
With the forces of automation and Artificial Intelligence growing and playing a critical role in smart cities, how do you plan on handling the socio-economic consequences (ex. unemployment, civil unrest, etc) of that are a result of these new technologies?
Our smart cities are not just about introducing technology but also focusing on improving the lives of the people who live and work in Dubai. We view job retraining as important part of our strategy and have partnered with Linkedin to produce an economic graph to help us identify job opportunities in Dubai.
We are opening training centers this year to help us upskill our entire workforce ranging from doctors to construction workers with training in the latest technologies like 3D printing, augmented reality, drones, and blockchain. We see our surgeons operating with the aid of artificial intelligence, our construction workers being upskilled to use 3D printing technologies, and our government employees being skilled in how to use data effectively.
What is your vision for the next generation of smart cities?
We've recently announced our transformative roadmap and this is a journey without any end point. Our smart cities will grow and continue to evolve as long as technology is moving and improving. Our vision that we laid out for 2021 with the support of our ruler, Sheikh Mohammed bin Rashid Al Maktoum is to make a more seamless, efficient, and personalized experience for every citizen, and visitor of our city.
You can do amazing things when all transactions can happen seamlessly with the aid of technologies like the blockchain infrastructure. For example, if you want to buy a house, register your child in school, or see a doctor. You don't need to take your car and drive across the city to for these activities. You can simply do them from the convenience of your home.
Our vision is to see these seamless transactions built upon blockchain, occur in every sector of our city to save our people their time which is the most valuable commodity today.
This post was published on the now-closed HuffPost Contributor platform. Contributors control their own work and posted freely to our site. If you need to flag this entry as abusive,
send us an email
.