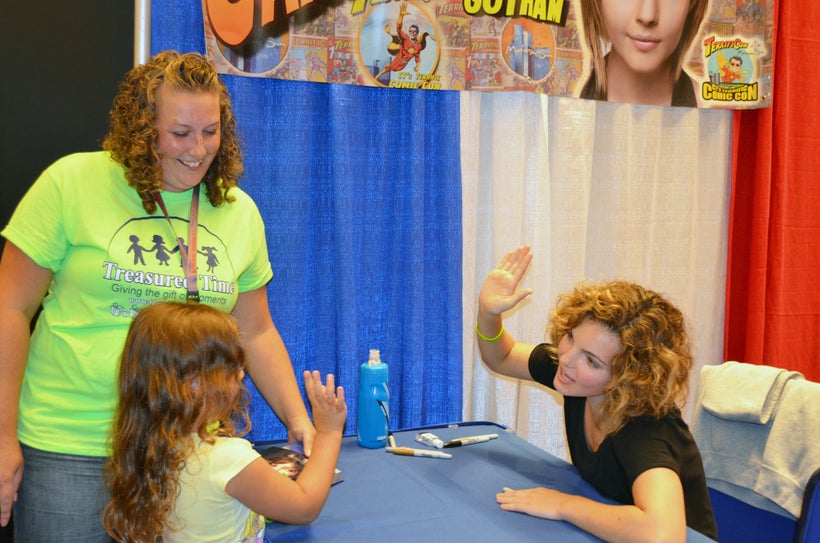 It's no mystery that comic-cons have expanded into an unstoppable, ever-growing phenomenon that has taken over today's culture. At least once a month, an enormous convention is held somewhere in the world where loyal fanboys, fangirls and wannabes can try and meet their favorite cult stars and attain the best memorabilia. The craze has gotten so colossal that sometimes, one can even begin to wonder if these conventions have lost their true heart and forgotten about the fans as they seek to appeal to newbie's on the scene that are willing to shell out top dollar to be part of the hip trend that has become mainstream. And then, there are the conventions that encompass everything of what it means to be a true fan, bringing back the heart to these expos for the people that truly loved them in the first place- and TerrifiCon at Mohegan Sun did just that.
Last weekend from August 19th-21st, the outrageously spectacular Connecticut casino and resort became a fandom paradise for cosplayers, geeks, nerds and lovers of all things comic books, and delivered amazing results as fans got to experience everything they loved about simply being fans. Big Fedora Marketing producer Mitchell A. Hallock wisely utilized the stunning space to its full potential, offering everything from cosplay contests, to interesting panels, to great celebrities that range a wide spectrum of fan universes, such as the incomparable fanboy and amazing director Kevin Smith, Ted DiBiase, John Wesley Shipp, Camren Bicondova, Katrina Law, Tony Todd, Sean Gunn, Michael Cudlitz, Jeremy London, Jason Mewes, Sam Jones, Rene Auberjonois, and many more. Row after row, fans eyes lit up as they got to meet their heroes and walk around the endless maze of comic wonders, most of them dressed in costumes that could put Hollywood costumers to shame.
What made the experience so wonderful was watching so many real fans become overjoyed by the experience. In fact, often times these days when it comes to comic-cons, producers of the conventions forget that the most original fans of the genre were children- and Big Fedora Marketing managed to never neglect the younger fans, making each day truly fun-filled for fans of all ages. There was even many charity organizations with booths set up that were devoted toward families and children to ensure that these younger fans were well cared for- and that's what this should really all be about, because at the end of the day, weren't these conventions created for true fans to meet their heroes?
And older fans certainly were able to enjoy themselves in spades as well. By having the convention at Mohegan Sun, Big Fedora Marketing managed to truly make the convention a non-stop comic book event all weekend long as the fabulous resort offered a wonderful place to play and party for the cosplayers at night, smartly hooking convention-goers into staying the weekend for the never-ending festivities.
And that's what made TerrifiCon so great; it truly managed to encompass the expansive nature of today's idea of what comic-con has become, while capturing the heart of what it was originally supposed to be- and fans couldn't have been happier. Below, some of the stars sound off on their thoughts on fandoms, their respective projects, and more of what fans want to know, while they help create the best convention possible!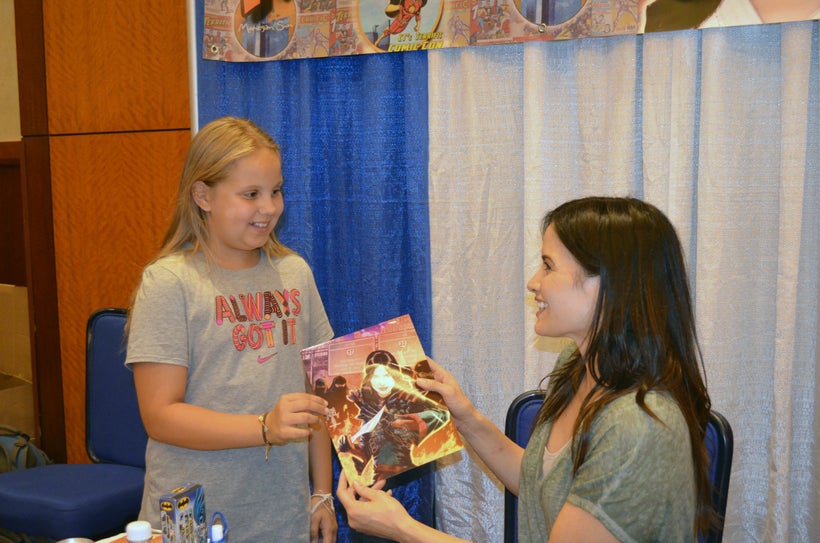 In an exciting time in film and on television, females are finally being utilized as more than just the girl that gets saved by the superhero- they are being offered their own stories, and given their own opportunities to do some of the saving as well- and little girls are taking notice! It was very moving to watch little girls given inspiration that maybe one day they could be like these powerful female heroes they admire when they were given the opportunity to meet the lovely and talented actresses of DC's superhero universe; Camren Bicondova who plays Selina Kyle on Gotham and Katrina Law who plays Nyssa al Ghul on Arrow and Legends Of Tomorrow.
Two talented actresses so swiftly on the rise, both riveting females are extremely well-spoken as they state their wonderful messages of female empowerment. Law will soon be starring in Training Day, the sequel TV show follow-up to the film of the same name as she once again shows that she refuses to be put in a box, or exiled from any world that seems to be a "man's world." As for Bicondova, the feisty seventeen year old is just as fast to refuse any labels the industry wants to put on her as the exciting young actress declares that the top role she would want to play one day is that of "a boy." Both clearly showing not only that they have promising careers, but that they are also helping to change the mindset of societies expectations on women today, these two female powerhouses are certainly actresses to watch!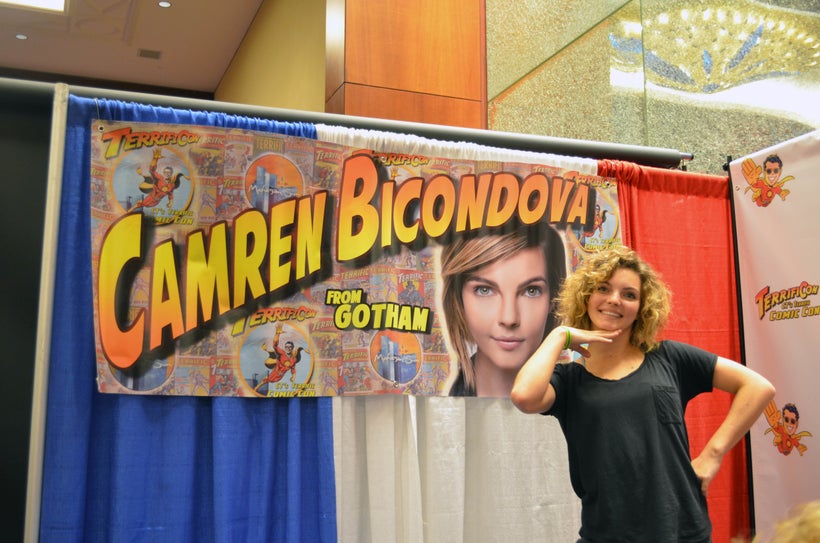 You are obviously taking on some very big shoes that have been filled by plenty of other big name actresses; Michelle Pfeiffer, Halle Berry, Anne Hathaway, Julie Newmar, Lee Meriwether and Eartha Kitt. Did you watch a lot of their performances to prepare, and did anyone in particular stand out in your mind?
CAMREN BICONDOVA: When I auditioned for the role, I didn't know she was Selina Kyle- I just thought she was an orphaned street kid. When I found out, I went back and looked at the comics and movies for additional inspiration- but I don't use their portrayals too much, because Selina is just a sixteen year old girl right now. But, I love all of them! I could never choose!
Can you give fans any scoop at all for what's to come on Gotham?
CAMREN BICONDOVA: Well, Selina gets to meet her mom, and the relationship between Selina and Bruce evolves into more of a teenage relationship, than a pre-teen relationship. It's going to get really dark and it's going to be awesome!
And you're one of the fastest rising, most sought after young actresses. What other kinds of roles are you looking to play, and who else would you love to work with within the industry?
CAMREN BICONDOVA: [Her eyes light up as she smiles brightly] Oh, thank you for that! I would love to work with Rachel McAdams, Emma Stone, Margot Robbie- I love them. They are great inspirations and play really strong women! And my dream role...would be... [thinks] to play a boy!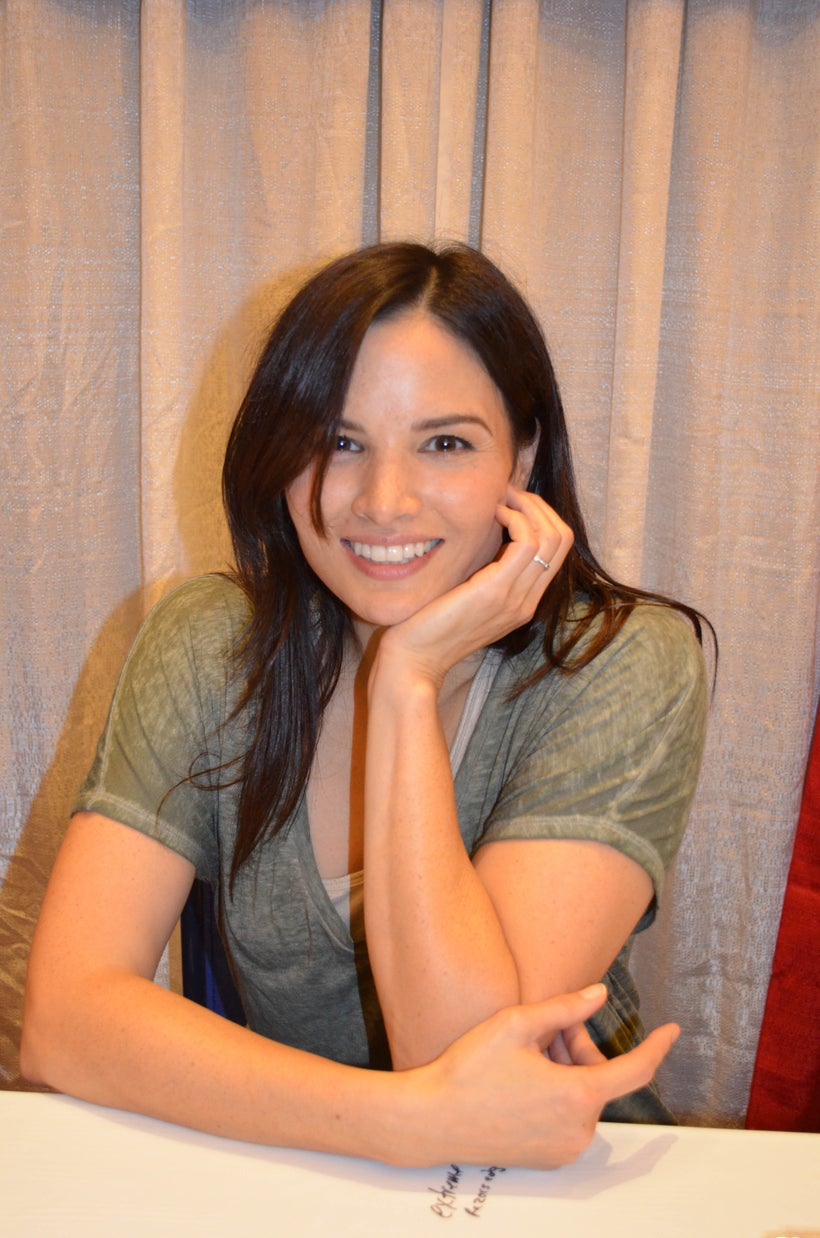 Katrina, what can you tell fans about your upcoming show Training Day? Fans can't wait for it!
KATRINA LAW: Training Day is a new show I'm working on for CBS right now, and it's going to air sometime in the mid-January and February time range. It stars Bill Paxton, and he's amazing and wonderful, and it follows the film of Training Day about fifteen years later. And in the storyline that we are building, we are still living in the aftermath of the original Training Day story that deals with that good cop/bad cop procedural show, while not following any of the rules of the procedure- so it keeps you on your toes. The show is a little darker than CBS usually goes for. I play Detective Rebecca Lee, and I'm really excited- it should be good!
Being a part of so many incredible fan universes and having so many people want to work with you, what other roles are you looking to play, and who would you love to work with?
KATRINA LAW: I would love to work with Jessica Chastain or Emily Blunt! I think they are beautiful, powerhouse females who have their crafts honed to perfection and it would be amazing to work opposite to them and see what I could learn from them. As for roles? I'm open to anything that brings me outside my comfort zone and is maybe a little bit of a challenge.
And of course, everyone wants to know if they will see you back on Arrow or Legends Of Tomorrow. Any info on that, and can you talk about how important it is that more females get represented in the superhero universe?
KATRINA LAW: Well, I'd love to be back any time! One amazing thing about Arrow is that it has so many strong female characters, and the writers and producers have been brilliant in how they've been written these women and how these women have been portrayed on screen- and I feel honored to be a part of that world and to play a character as strong and independent as Nyssa al Ghul and that my storyline is very independent of men in general. And it's very wonderful to know that little girls have a diverse long list of options of strong women to choose for, women who aren't just fighting for love, or a man- and not that those aren't noble things to fight for, but we want to fight for truth, and freedom and justice just as much as boys do.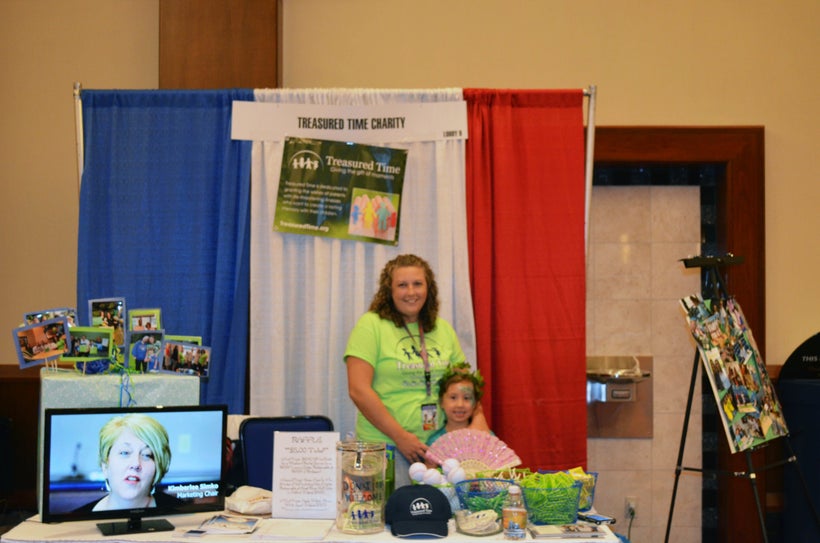 As mentioned, one of the most beautiful components of this comic-con was the devotion to families and younger fans, and how willing they were to give back toward charity. One charity in particular that was present was Treasured Time, an organization devoted toward making dreams come true for parents suffering from life threatening illnesses- as well as seeking to make the life of their children less about pain and sorrow. While the children of this organization lined up to meet their favorite heroes and pose for pictures with them, it immediately became important to learn more about what they do;
Tell people a little bit about what Treasured Time is about, and what you do?
LINDSAY PROVENZANO: Treasured Time is an organization that grants the wishes of parents with life threatening illnesses. It can be something simple like meeting a celebrity, or going to a baseball game, or something a little bigger like going away on vacation with the family. So far, we have been working for three years and we've had twenty-three families with wishes granted. We are based out of The Valley, mainly in Seymour and we're trying to branch out into the rest of the tri-state area. Right now we can only take families from Connecticut, but hopefully that will change soon!
Talk about how the celebrities here today have helped out.
LINDSAY PROVENZANO: Every celebrity here at TerrifiCon has given away free signed autographs, free photo opportunities, and they've given us extra photos for raffles and for donations- they've been so amazing! And we've also gone to see Derek Jeter's last game- which was very cool!
And can you talk about your particular involvement in the organization? LINDSAY PROVENZANO: I am strictly a volunteer, but I was one of the families that a dream was made true for. I had Hodgkin's lymphoma two years ago and when I finished chemotherapy and was well enough to travel, Treasured Time sent my family to Great Wolf Lodge in Massachusetts for a weekend so the kids could have a great time and not worry about mommy being sick and just have fun- and it was truly a dream come true. So, now I'm healthy and I'm giving back!
ICON, NOT JUST A FLASH IN THE PAN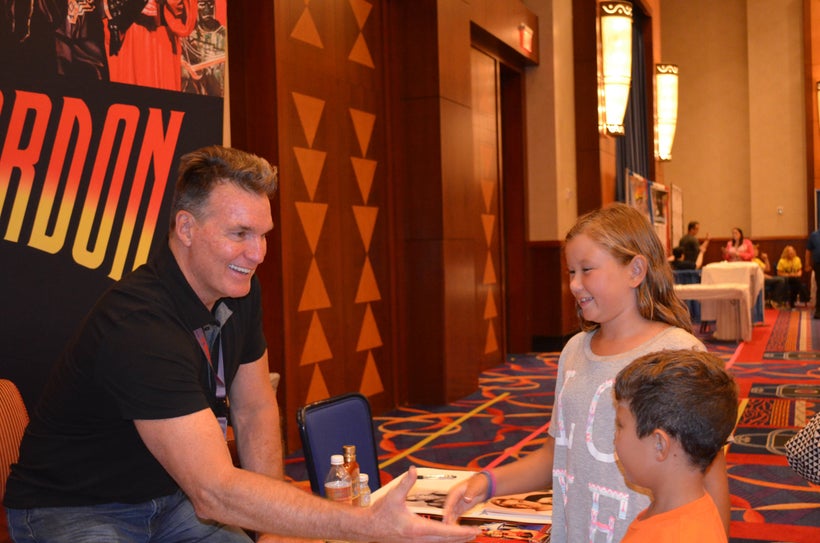 Side by side next to one another were two of the most iconic superhero studs of all time, both having played characters of the same name for different fan universes. From Flash Gordon, Sam Jones has been making men envious for over three decades with one of the best bodies to ever don a leotard in what is seen as one of the greatest cult classic's of all time. Sharing the same titular character, John Wesley Shipp played The Flash in the fan-favorite television show from the early 90's- and now he's back again on The CW's reboot! Still one of the most handsome men you will ever see in your entire life, with a downright killer smile, Shipp seems to have some real life superhuman ability as well to charm audiences. Proving that some of the best icons only get better like fine wine, Shipp and Jones welcomed both old and new fan-bases into their camps happily as they still managed to be the coolest men in any galaxy!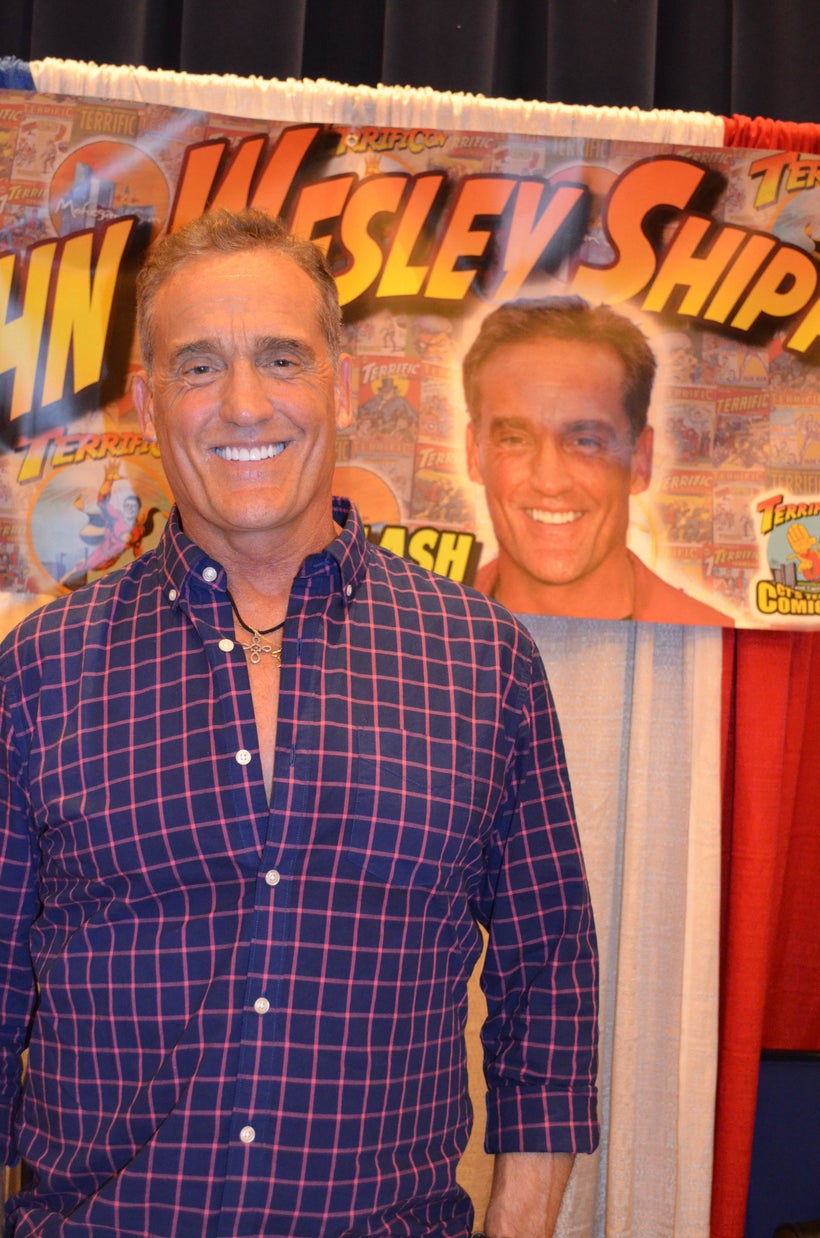 You were the original Flash, and obviously this character has taken on such new life with the new show you're on. What do you think of the new re-telling and how they handled it, and can you give fans any scoop at all on what might be to come this season on The Flash?
JOHN WESLEY SHIPP: Well, I can tell you that I can't give you any scoop because they are so on us about that! I accidentally leaked the name of Legends Of Tomorrow before it was announced, and Susan Gomez over at The CW was like; "Hey John, can you cool it with your Q&A's?" [Laughs.] But, I can tell you that I think that the newer version of The Flash is just terrific. What they're getting right is that they're combining the action adventure part with the human interest- they really knew how to get the relationships right, and the heart.
What about your upcoming film Nightsweats? Any info on that?
JOHN WESLEY SHIPP: I do have info on that one! It's a thriller, and it's in post-production right now. It's about a virus being spread around the city, and there are all sorts of nefarious elements involved in order to track a cure and all sorts of plot twists- it's going to be good!
You were also on Dawson's Creek, where your character met a bit of an untimely demise. Do you keep in touch with any of those co-stars?
JOHN WESLEY SHIPP: [Cracks up] Yes, death by ice cream! [Smiles] I keep in touch with Mary-Margaret Humes when I can. She is great. it's harder because I'm living in New York now, and she's out in LA, but we try.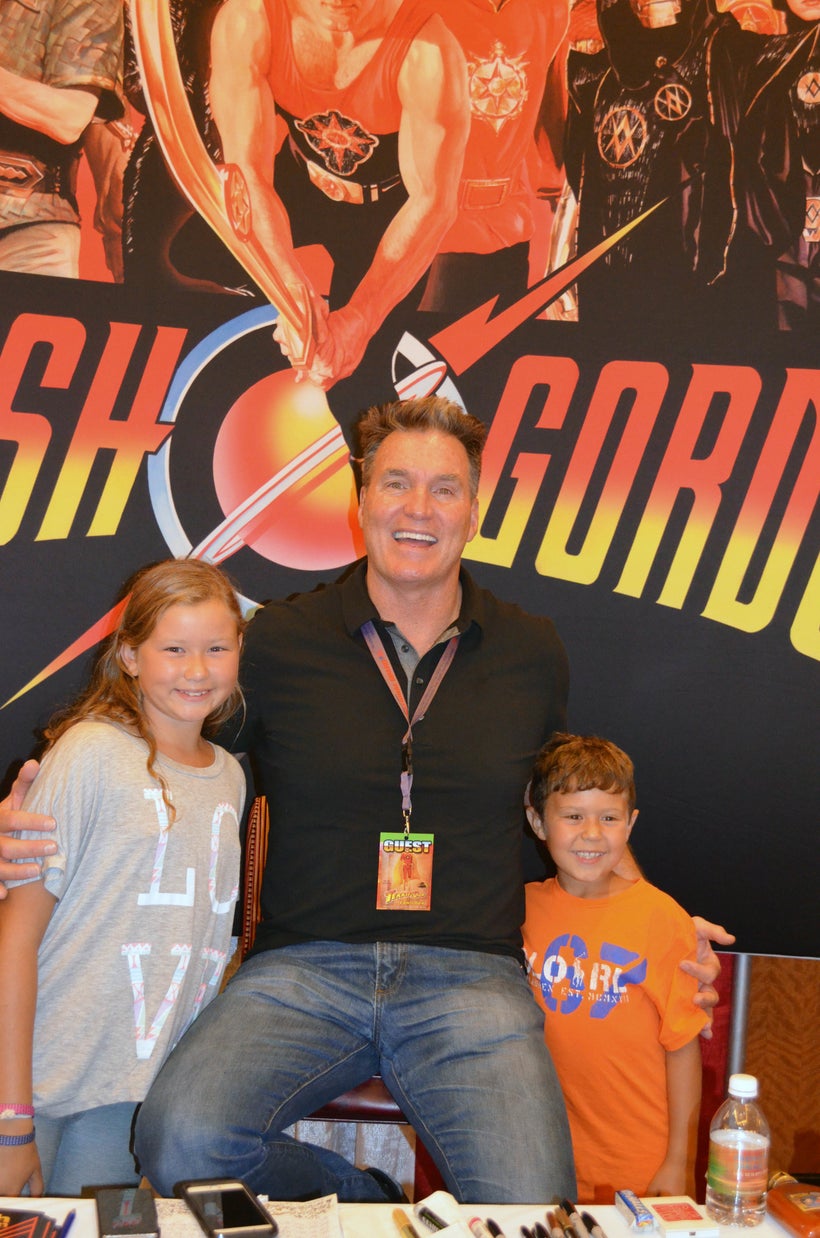 Talk a little bit about the documentary you're in; Life After Flash, and what fans can expect.
SAM JONES: It's directed by Lisa Downs and it's all about the life after Flash and what we've all been up to. It's wonderful. It's given me free reign and a platform to say and do what I want to do- it's just so wonderful. The only things I can talk about in life are my failures and successes, so hopefully people will see this and be inspired by it. I'm one of those guys that in the early years kept repeating the same mistakes over and over, and if you do that you need to look within and ask what you're doing wrong. So, I think we need to reevaluate ourselves and be a blessing to everyone in our lives. If we put others first, we get anything we want, any time we want.
One of the greatest parts about Flash Gordon was totally the costumes- it was easily one of the best costumed films of all time. It was just so risk taking and memorable. Talk about that.
SAM JONES: Oh, they were visually iconic! Danilo Donati was the costume designer, he is an amazing Academy Award winner, and his work was just beautiful and wonderful. It was all hand beading back then. The reds, the golds, the blacks, and the silvers- it was just a different era, and it really was beautiful.
You also starred recently in Enter The Fist And The Golden Fleecing with the amazing Danny Trejo. What can you say about that film?
SAM JONES: That movie was a lot of fun. It basically makes fun of the 80's martial arts and Kung-Fu films in a spoof format. I didn't get to work with Danny directly, we unfortunately didn't get to have any scenes together, but maybe soon!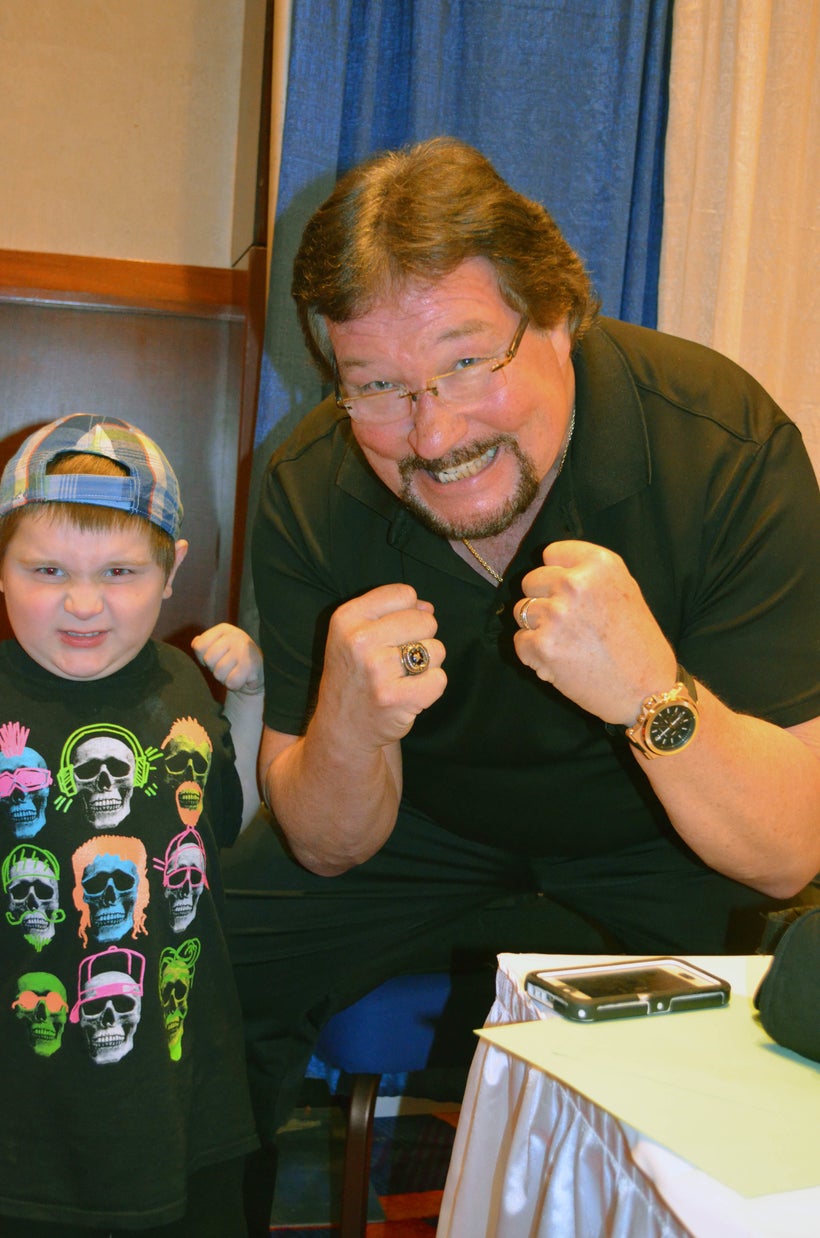 Rare is it that you get to speak to one of the most prolific and revered members of their profession. But, at TerrifiCon, fans were given the opportunity to meet Ted DiBiase- none other than The Million Dollar Man from The WWF, who is also everyone's favorite "despised" villain. Playing the part perfectly of the cackling bully, DiBiase brought an extra element of theater to the arena that riveted audiences and always made it seem real, making him better than most entertainers in the business. He always knew what the audience wanted in a bad guy and just how to give it to them, branding himself with sheer excellence that kept them coming back for more to hate him again and again. And believe it or not, as a testament to just how great of an actor he truly was, DiBiase is actually in fact one of the nicest men a fan could ever meet.
Wrestling has some of the best theatrics of all time. Before anyone gets into it, it would be smart to take acting training- some wrestlers even go on to be successful actors. Did you ever have acting training, and was that something you were interested in as you were known to put on one of the best shows?
TED DIBIASE: No, I actually never had any formal acting training. I grew up in the wrestling industry because my father was a professional wrestler, so I was always surrounded by sports entertainment and it's just evolved over the years. It really just came naturally to me, and I guess it's because I loved it so much from my childhood. When I was young I would stand in front of the mirror and cut promos using a hairbrush as a microphone. I started wrestling in the summer of 1975. And Vince McMahon told me that I reminded him of another person in our business; Ray Stevens- and Ray Stevens was one of the greatest men in our industry, and if you ever asked him why he ever did a particular move at a certain time, he couldn't explain it to you and I knew just how he felt because it's all improv. I knew when I got into the ring exactly how it was going to end- because that's the hook, that's what gets you coming back, but the rest is improv. And it's an acquired skill that you develop over time, honing your own character- and it's difficult to explain, but I believe the finest actors in theater and Hollywood feel the same; you take a great script and you put your own twist on it. When my son came into the business, he didn't stay long because I had informed him it was a hard life for a family man, but he wound up doing a movie called The Marine 2, and he called me the day of his audition and told me about the experience. They asked him how long he had been doing this and he looked his watch and told them "Fifteen minutes," and it really just came natural because of the wrestling background. It really is hard to explain. But, I loved what I did and I loved entertaining people. I get a lot of people coming up to me and telling me; "Don't be offended by this, but I hated your guts!" And I smile and I tell them, "Good, that was my job!"
One of your trademarks was that you had your bodyguard, Virgil, and that you said "Everybody has a price." What were some of the things you made people do? What was the worst thing you made someone do? Was it staged, or did they really do it for the money?
TED DIBIASE: The character creation was Vince McMahon's personal idea, and I just happened to be the guy he chose for it. He saw me as someone who interviewed well, who was articulate, and could carry myself in a manner that could make it work. And we did so many horrible things with The Million Dollar Man, but the thing that people bring up to me the most is probably when we were in Milwaukee, Wisconsin and they told me I needed to do something that will really make the people hate me...so, I asked what Milwaukee was famous for, and they told me; basketball. So, the truth is this was staged, but the little boy was about five years old- and we found this child and made it look like I picked him out of a crowd. I then offered him five hundred dollars if he was able to dribble a basketball fifteen times. So, the kid began dribbling and just as he was about to reach the fifteenth dribble, I kicked the ball away with my foot and started laughing at him. And I said to him; "Aww, that's too bad kid. When you don't get the job done, you don't get the money." And the kid's reaction was perfect, maybe it was the sound of my voice. In rehearsal he was fine, but then during the actual taping he burst into tears- these gigantic crocodile tears- and he ran to his mother. He couldn't have done it any better. So, when I got in the back, everyone is telling me how I couldn't have done it any better, and I am just saying; "I'm so glad all of you are happy! Now, find an armored vehicle to get me out of the building!" [Cracks up.] But, that had such an impact that even the last action figure that came out had a briefcase filled with money and a basketball in it- so, clearly it resonated.
A master in branding, what advice would you give to someone looking to join wrestling by way of branding themselves?
TED DIBIASE: You have to develop a character. I was a nice guy for a long time, but as a heel, I really struck gold. And the best heel is basically a bully-heel, because a bully is nothing more than a coward- they don't pick on anyone their own size, they run in crowds, they talk real big, and when confronted, they start backing down. And it's very rewarding for an audience to watch a guy like that end up getting his butt kicked. So, that's the kind of heel that I tried to be. It's the same thing I say when I go into the developmental program; you know it's not real, but it's just like watching a movie- the actors are so good that they draw you into the story, and the wrestlers have to do the same thing. They have to create those compelling stories.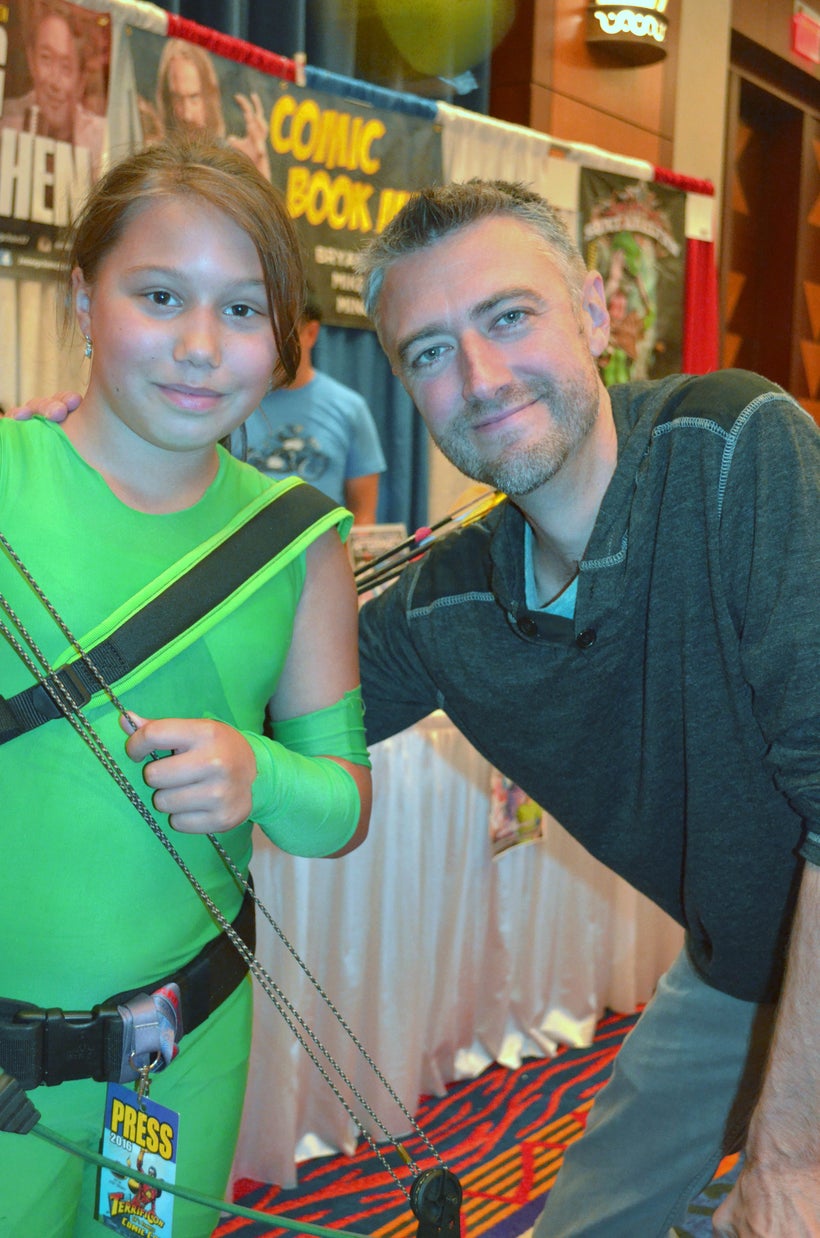 When an actor strikes gold with one fandom universe, they count their lucky stars. When an actor catches that lightning in a bottle twice (or more), they become firm enough staples to know to thank the fans. With incredible talents such as Sean Gunn and Tony Todd, they have managed to travel through diverse enough worlds that many fans have fallen deeply in love with them as they continue to bring gravitas and quality performances to the cult crazes they get attached to. With the ever-lovable Gunn, his worlds couldn't be more different as they aren't even in the same galaxy, one being Gilmore Girls and the other being Guardians Of The Galaxy- both which will be offering their respective sequels coming soon. As far as the prestigious Tony Todd is concerned, he has managed to grace everything from the Final Destination franchise to Candyman and beyond. Most recently, he can be caught on Dead Of Summer and as the voice of Zoom on The Flash- two series' that fans go wild over. With two big projects in the works for both of these very talented actors with The Belko Experiment for Gunn, and Todd's Jack Johnson project, their exciting careers continue to impress and gain more fans by the day!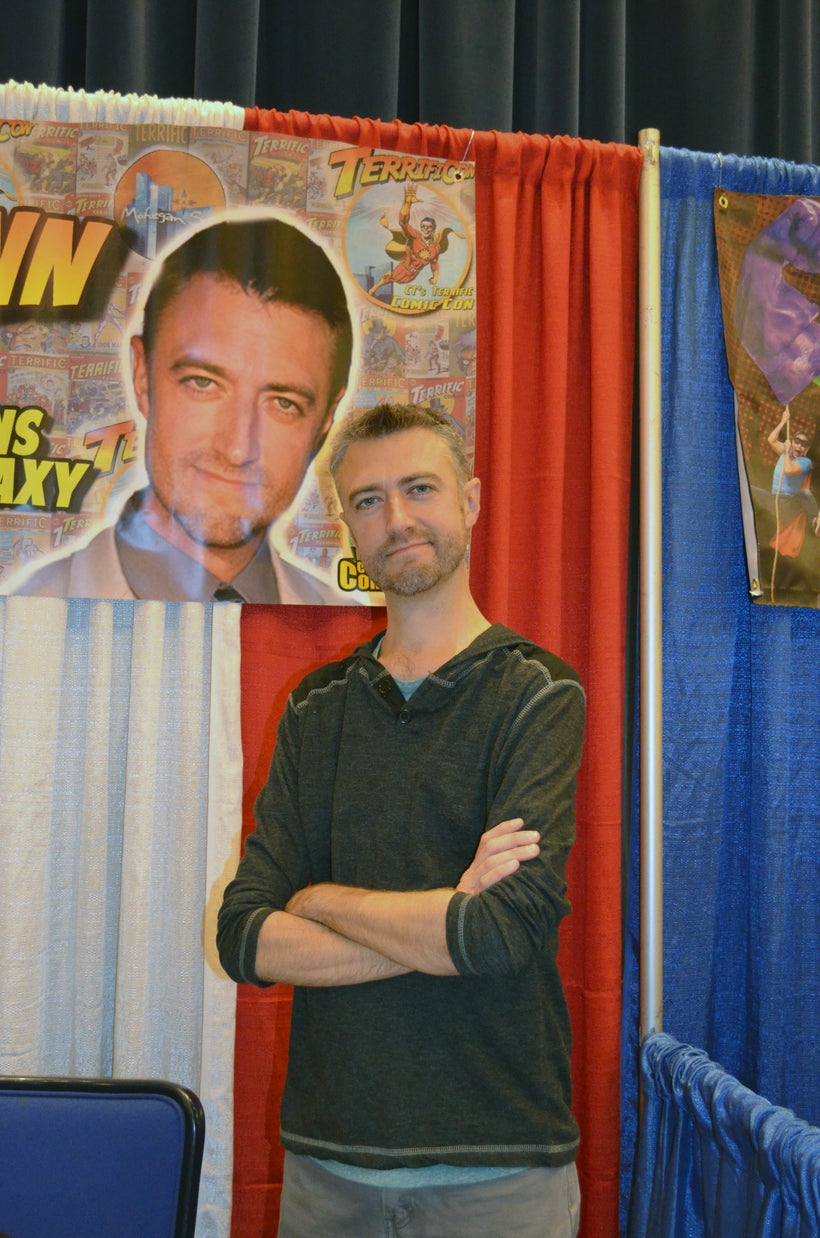 Guardians Of The Galaxy was one of the biggest superhero hits and people really thought the studio was taking a gamble on it because the comic was really much less mainstream. What do you think really helped attribute to the success? Can you give fans any scoop on the sequel?
SEAN GUNN: What I can really say is that I think Guardians Of The Galaxy was a hit because at its heart, it really was a movie about a family- an unconventional family that comes together because they need one another. And that story resonates with anybody, whether it's in outer-space or not. So, when you tell a story that hits close to home like that, you're going to have a success. It's well-written and made with love. The second film really recaptures that and further explores what it's like to be in an unconventional family, and there's a lot of new relationships- the sisters Nebula and Gamora have an expanded relationship- which I love, Drax has a new person that he's meeting that he brings into the family- so, I think what I like best about the second movie is what I liked about the first movie; It's made with love and it's heart is in the right place.
Speaking of much awaited second installments, you also have the Gilmore Girls reboot for Netflix coming out; Gilmore Girls; A Year In The Life. What can you tell fans about that?
SEAN GUNN: I can say that I had tons of fun making it. It comes out November 25th. It was wild to step back into Stars Hollow- and being here in Connecticut is great cause of the Stars Hollow connection. But, it was great to see everyone again. But, as an actor, I just love working with great writers, so being able to say the words of Amy Sherman-Palladino and Daniel Palladino is always a treat.
With two of the hottest properties on their way, and tons of other films in development, what else can you tell fans about what you have coming up, what would you love to do, and who would you love to work with?
SEAN GUNN: Well, I have a horror film called The Belko Experiment coming up that will be premiering at The Toronto Film Festival in a few weeks. I'm excited about that. As far as who I'd like to work with, as long as the work is good, I'd love to do it- I just chase a good script. I love my job and I love to work on a good project!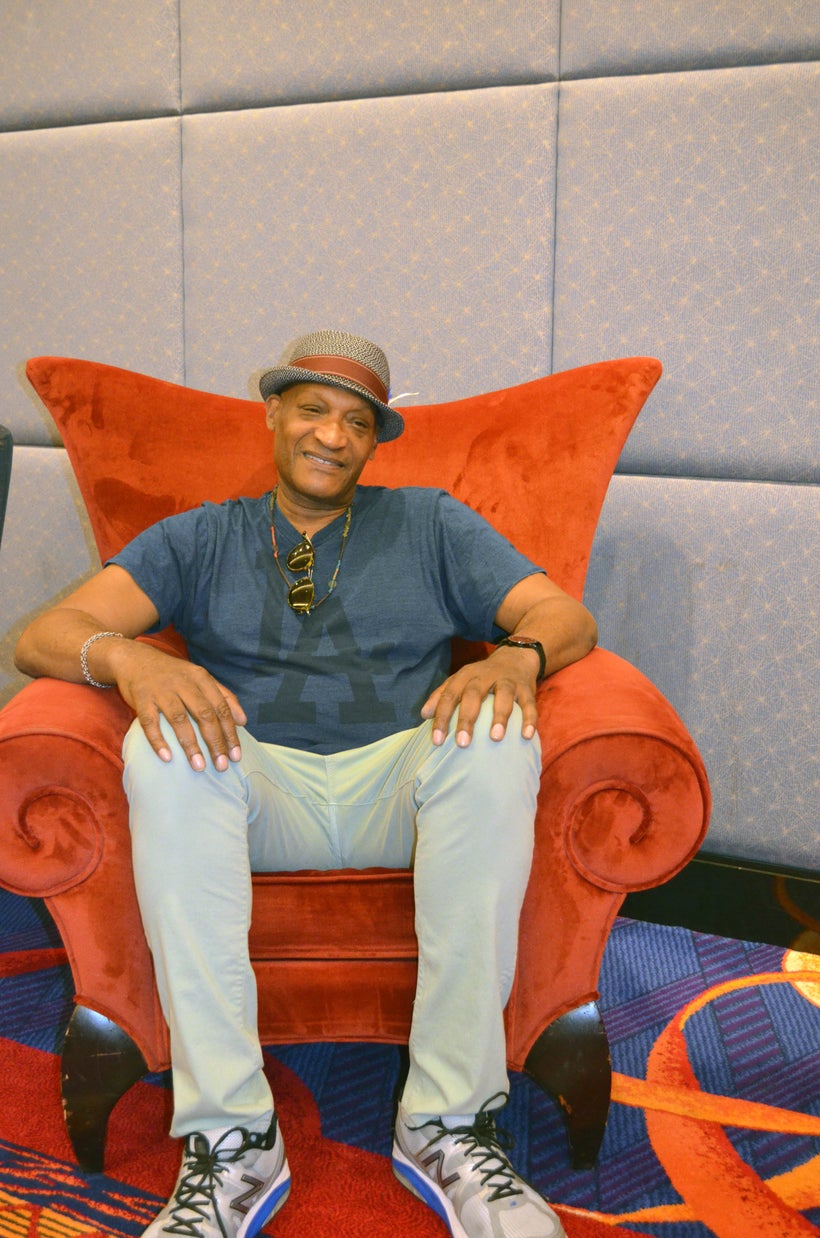 Talk a little bit about this Jack Johnson passion project you've been working on.
TONY TODD: It's a project of love and a passion project I've been working on for about four years. Jack Johnson is the first African-American heavyweight champion in this country and won the title in 1910, and since the racial divide was even stronger than it is now, the government tried to do everything that they could to take the title back and they couldn't, so they had to trap him illegally. So, because he tended to date white women, they created a law called "The Mann Act," which made it illegal to transport women across state lines- and he was exiled. But, during that time in exile, he learned to speak five different languages. He became a dancer, an artist, a poet, an inventor- and I think the story is universal. Not just because he's African-American, but because any person who has felt repressed and has had to found a way regain their strength and contribute to society will relate to this, and be touched by it. And it's a piece that we're trying to find a way to bring it to cities across the world, particularly in America, and there's a lot of social change going on right now and it is really important for underprivileged kids of all races to see this man who was able to triumph against all odds.
And Dead Of Summer was such a great concept. With Stranger Things taking off, it seems like everyone is turning to that 80's horror format for nostalgia. Will Dead Of Summer be an anthology?
TONY TODD: Yes! The premise is that each season would be a different decade. I know the writers are very high on the idea that the second season will take place in the 60's, and bringing back the same core group of people each season in that anthology aspect. And it's a great group of people. The creators Adam Horowitz, Edward Kitsis and Ian B. Goldberg created a show based on their own experiences in summer camp, and it's really fun. They also created Once Upon A Time, and Lost, and they really never fail to give the world something magical.
You've been a part of so many fandom universes. Which holds the most special place in your heart, and which that you haven't been a part of would you have loved to have been a part of?
TONY TODD: At this convention there has been a lot of Dead Of Summer fans, but, it seems like my number one role that people are going wild for is Zoom from The Flash! And, you know, I would have loved to be a part of The Sopranos, personally. I'm a writer, so I really respect it. They asked me to do something on that show before it even aired and I sort of pooh-poohed it, and now it has become one of my favorite shows to binge-watch. So, it's like life- you have to be careful what you say no to and never judge a book by its cover.
And, of course, no Comic-con could ever be truly complete without the king of fandoms; Kevin Smith, his royal entourage, the knights of his round table, or the heirs to his throne- and again, TerrifiCon more than delivered on that front. They offered up Smith, one of the greatest living directors with the most knowledge possible on all things comics, for a Q&A with the crowd, as well as panels with Comic Book Men Bryan Johnson, Michael Zapcic, and Ming Chen.
Also featured on the panels were two favorites of Smith's film world (showing just how great the director is at finding talent); Jason Mewes and Jeremy London, who have both been endearing audiences for over two decades. With London, the Mallrats and Party Of Five star proved he was more than just a beautiful face early on in his career as he showed off true acting chops, showing that he wouldn't be pigeonholed as he could do everything from drama to comedy- which now lead to him opening up his own acting school. Mewes also played against his pretty face to the point that fans actually took his intense blue eyes and chiseled jaw for granted, and instead became fearless in his humor as he could always be counted on for a riotous laugh and quickly became one of Hollywood's most notorious funny-men. The actor is now seeking to bravely again break away from type and keep people guessing as he looks to take on more serious roles. And both London and Mewes have taken another exciting turn in their careers as well, also clearly learning a thing or two from Smith as they have now stepped behind the camera, starting to direct and produce their own projects- and that is something fans can't wait to see!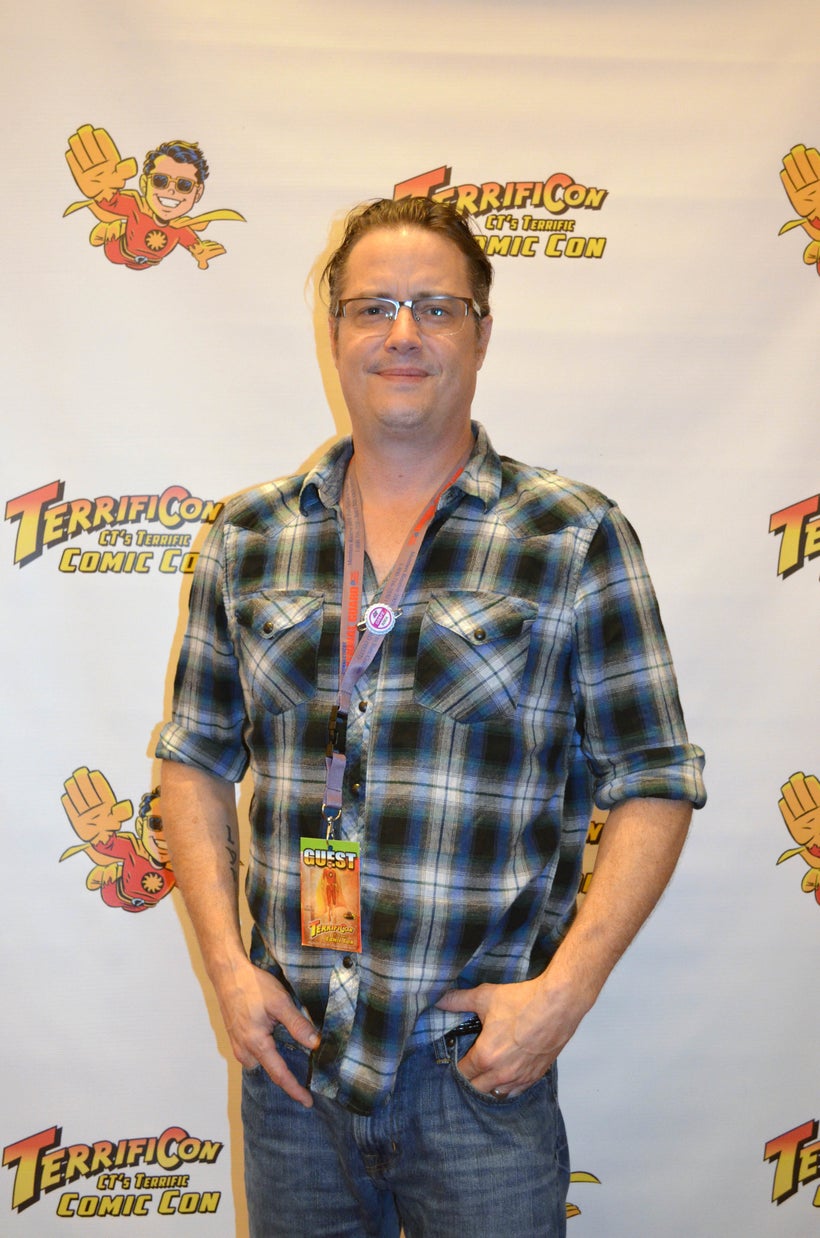 Let's start off with the film you're directing, Monster's Anonymous, as well as The Devil's Dozen. What can you tell fans about those, and will we start seeing you more as a director?
JEREMY LONDON: Monster's Anonymous just finished up, and The Devil's Dozen you can see on Amazon. It features Eric Roberts, C. Thomas Howell, Dante Basco, Jake Busey- an amazing cast! I'm so proud of it. I get paid for turning people's novels into movies, so I've really gotten into the production side of film and I love directing and writing. I started an acting school in southern Mississippi called The London Arts Acting Studio, and it's the most rewarding thing I've ever done in my entire life. It's something I never knew that I was capable of doing, and now that I know that I am, it is so rewarding. I watch my students come in clueless at first and now they are all going out and getting parts in films, and getting agents- it's amazing.
You also have quite a few other films in the works- like Branded. What can you tell fans about that?
JEREMY LONDON: Yes, that stars my twin brother [Jason London] and I, and it might even be available on Amazon already? It should be out really soon, if not already. And it's the only feature film that my twin brother and I have ever done together, and I'm really proud of it.
And what about Party Of Five? Another tremendously innovative show with such a talented cast. Do you keep in touch with your cast mates? Would you do a reunion of that show if say Netflix decided to reboot it?
JEREMY LONDON: I would absolutely be on board for that and hope that they would have me. I keep in touch with Lacey Chabert more than the rest of them because we both live in the deep south, but I love all of them. We are all a band of gypsies and go are own way, but when we see each other it's one big family reunion.
And of course, fans can't wait to see Mallbrats. Can you tell fans anything about that and what they can expect to see? And will any of the familiar faces be back for Mallbrats from the original? Is there any chance we will see Shannen [Doherty]? Fans really hope so!
JEREMY LONDON: I think Kevin is dropping the MallBrats part- I hope, as that would have suggested it would have been more about our children than about us. So, I think it would either be Mallrats 2, or Mallrats the TV series. But, if it comes back, we really hope all of us come back. Shannen is my niece's Godmother, so we are pretty close. I know she's going through a rough time with chemo and fighting cancer, and we are all behind her and love her. We support her and hope she gets through it. And if anyone can, it will be her- she's tough enough and brave enough. She will beat it!
[And fans are also certainly all rooting for Shannen! Hopefully, she can be at the next Comic-con- because if there's any real hero that fans will want to meet, it's her, as she certainly has shown off extremely inspiring bravery!]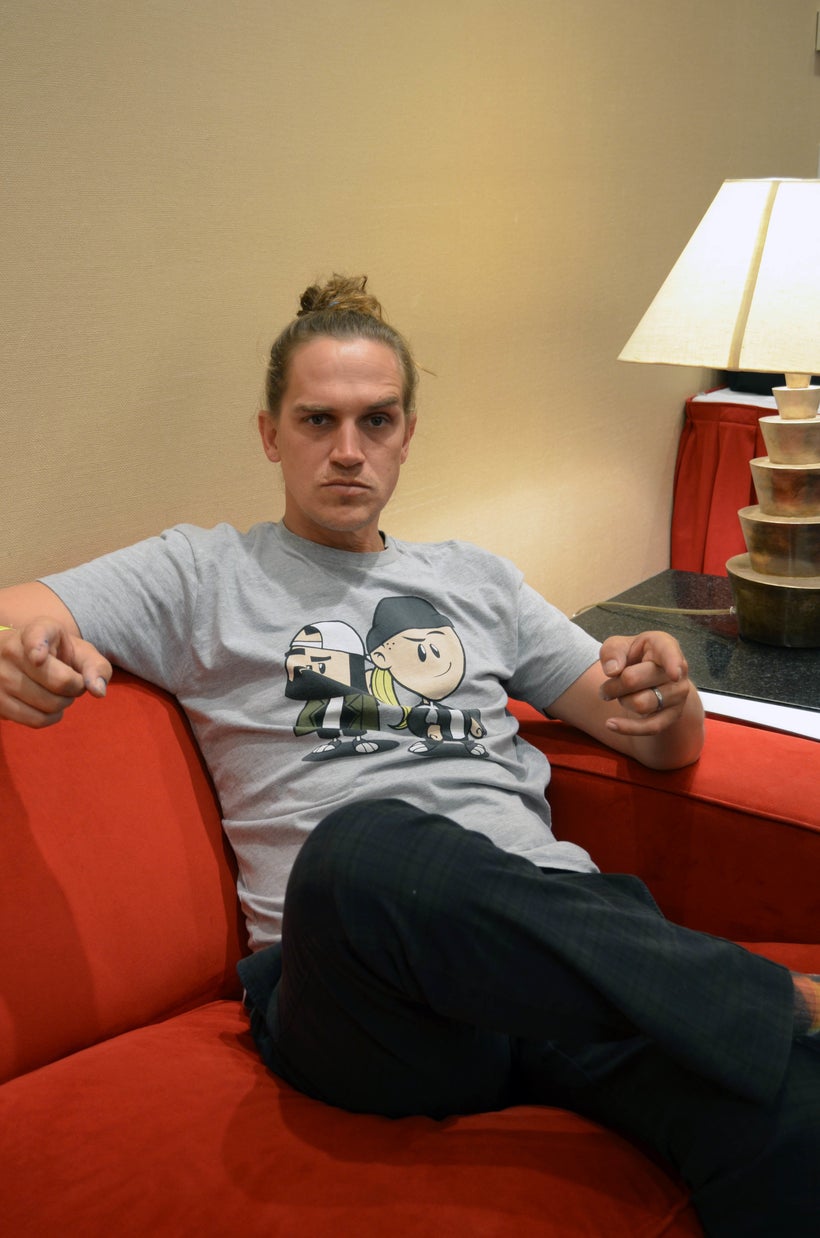 You are a ridiculously hard worker and have been in so much and have a ton of projects in development- not just as an actor, but as a director and a producer. Is that something you really plan to do more of? Get behind the camera?
JASON MEWES: I hope so. I actually have just been working on a project in London called Devil's Tower, and I teamed up with my friend who I worked with on that, Dominic Burns, for my next project, and we are in the final stages of tweaking a script. I told him what I was interested in doing and we went back and forth and it's just about done, and I'm really excited because it's going to be my first feature film that I will be directing. It's called Mewes Elseworld's, and I'm totally stoked. I'll be directing it, producing it, and acting in it- and I love being able to do all that, and I'm looking forward to doing more of that in my career. I've directed a music video, a PSA and some shorts, and I love it. it's definitely something I want to pursue.
Two projects you have most currently in the works are Hollyweed and Ahh! Roach! Can you tell fans a little bit about those?
JASON MEWES: Yes, those are two of the more immediate projects I have on the horizon. Hollyweed is by Kevin Smith, and it's a smaller role and I get to be next to him where he is silent again- so fans will enjoy it, and it will be a lot of fun. I also am in Yoga Hosers which comes out a few weeks from now, and fans will also really love that. Ahh! Roach! Was awesome. I only did a few scenes, but I got to run around in the weeds and pretend to be chased by these massive bugs. And something else that I'm really proud of is Todd And The Book Of Pure Evil. We did two great seasons of that show, and they are letting us wrap it up with an animated movie after a really long time, and that is coming out in October, so, I'm really looking forward for fans to see that.
You've been working in this business for a long time now and have an impressive list of credits. Is there any kind of role you would really love to play, or anyone you haven't worked with yet that you would love to work with?
JASON MEWES: I don't really have dream people that I love to work with, because I try not to seek out to work with the people I admire- because I get scared that if they're not like the way they are in my head, I might get disappointed. But, each time I shoot something and I get to work with different people, it's exciting of course. And of course, as an actor, you always look for a wide range of things to do in a performance. I would love to play a character like Hannibal Lector- not exactly like that, but something sinister and demented. But, really anything more serious, and I think this movie I have coming up will really offer that, so I'm definitely looking forward to it.
Of course, this is a big time for you and the Kevin Smith universe as a whole with a potential Mallrats sequel coming and Clerks III in the works. Do you have any scoop on those projects?
JASON MEWES: The Clerks project is in the very early stages of development. And it's been a bit of a battle for what was going to come of Mallrats, but right now it seems like the studios are really into the idea of taking it on as a TV series- so we'll see! I'm sure we'll all be back. I think the only person who hasn't been in some kind of communication about it has been Ben [Affleck], but we'll see what happens.
And the twenty year reunion of Chasing Amy is next year. That was easily one of the smartest, most insightful, best movies of all time. It also showed comic-cons before they became the spectacles they are today. Can you talk about that a bit?
JASON MEWES: Oh, absolutely! What was portrayed in Chasing Amy was the kind of thing that we used to go to. Kevin, Bryan Johnson and I used to go to New York and go to these comic book shows that were in basements of churches! It's way different now- there are cosplay contests, and video game areas, and all sorts of great actors from different shows- it's gotten to be something that is really amazing!
Amazing is right! Actually, the key word here might just be Terrific, as TerrifiCon seems to be one of the best comic-con's yet!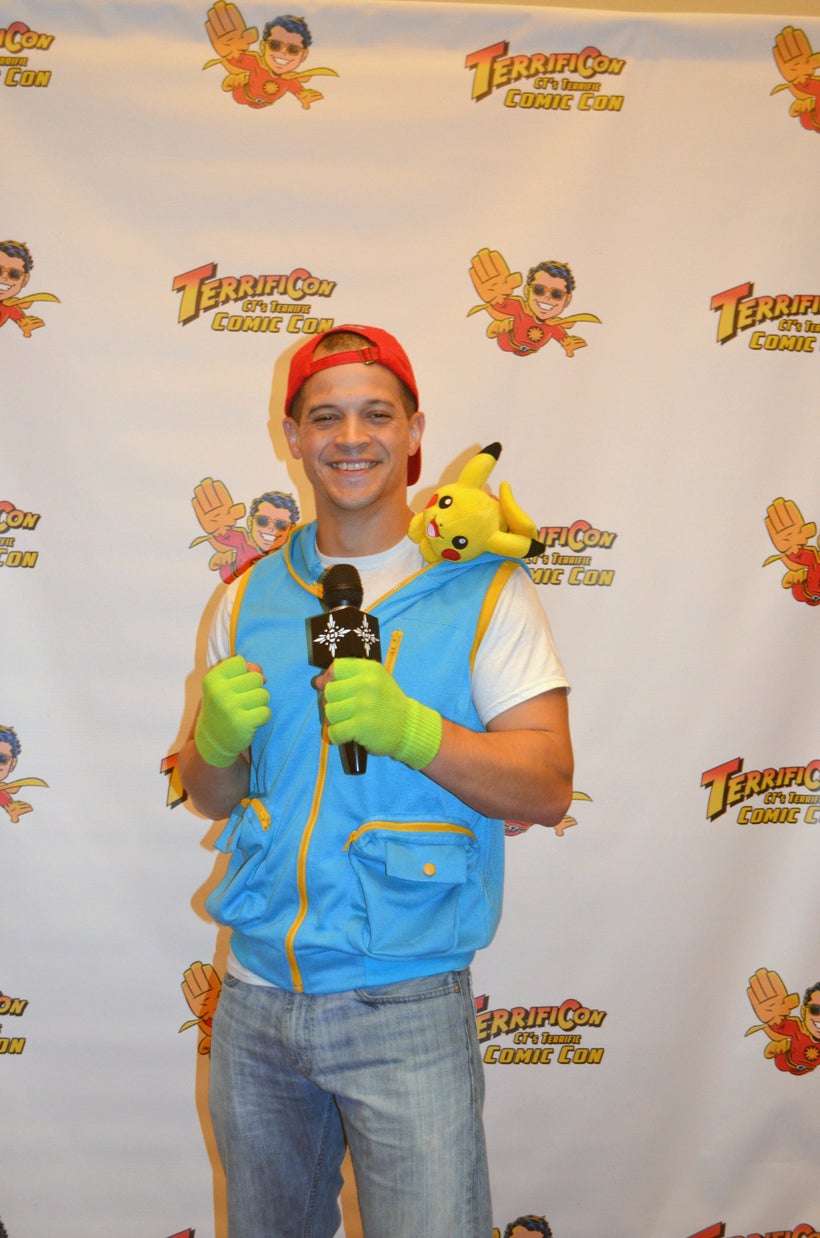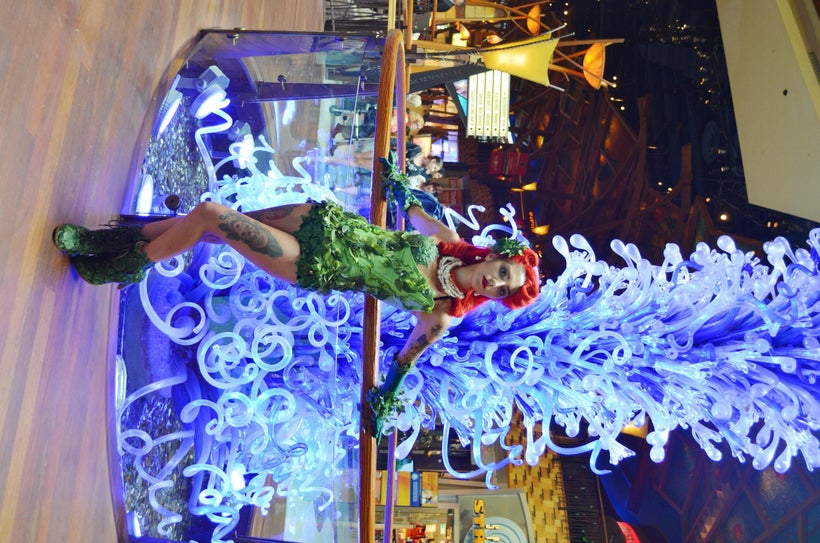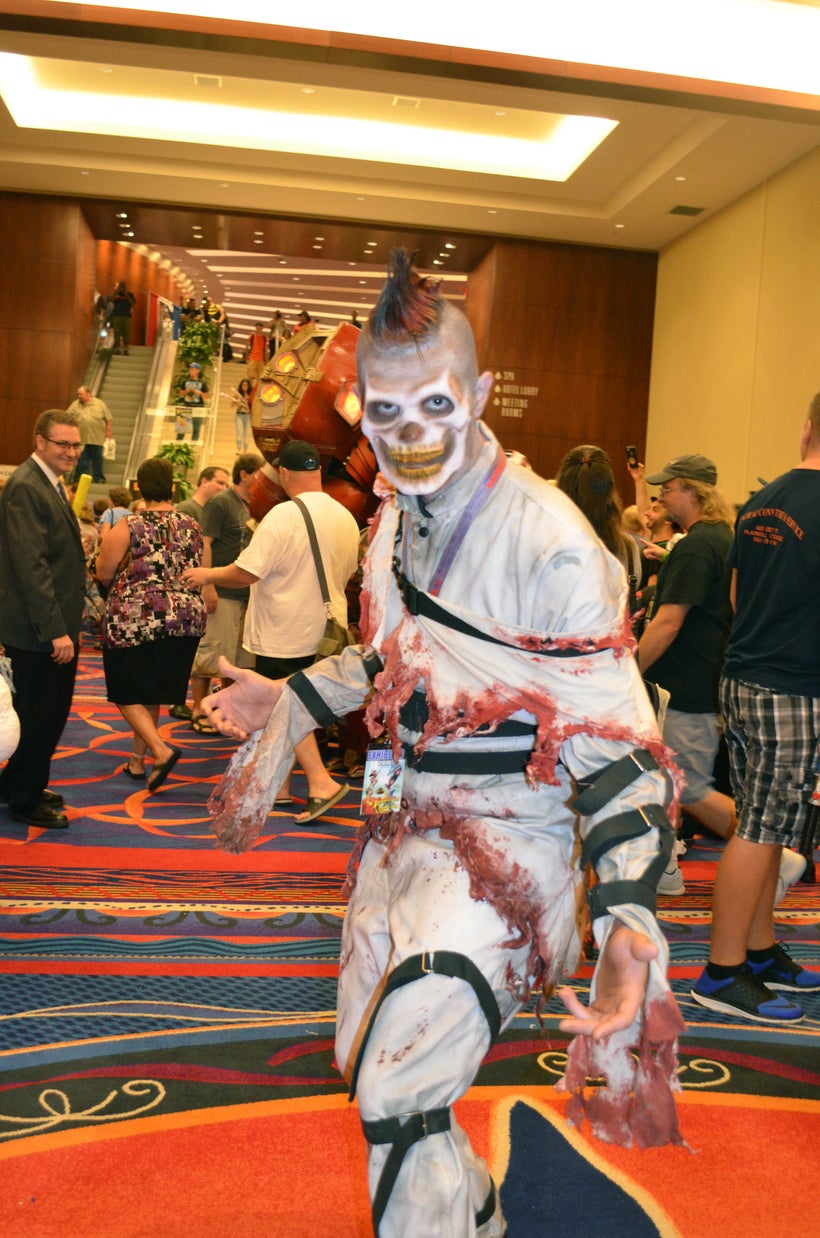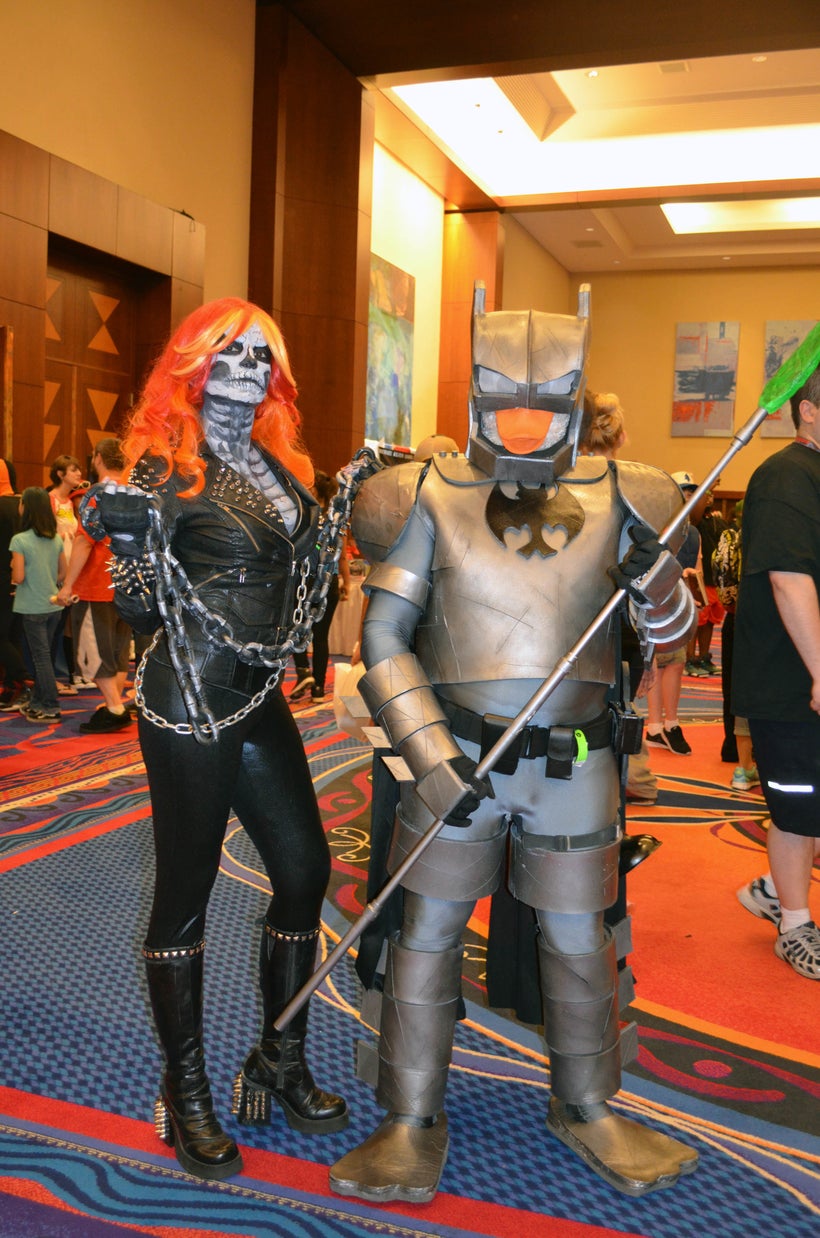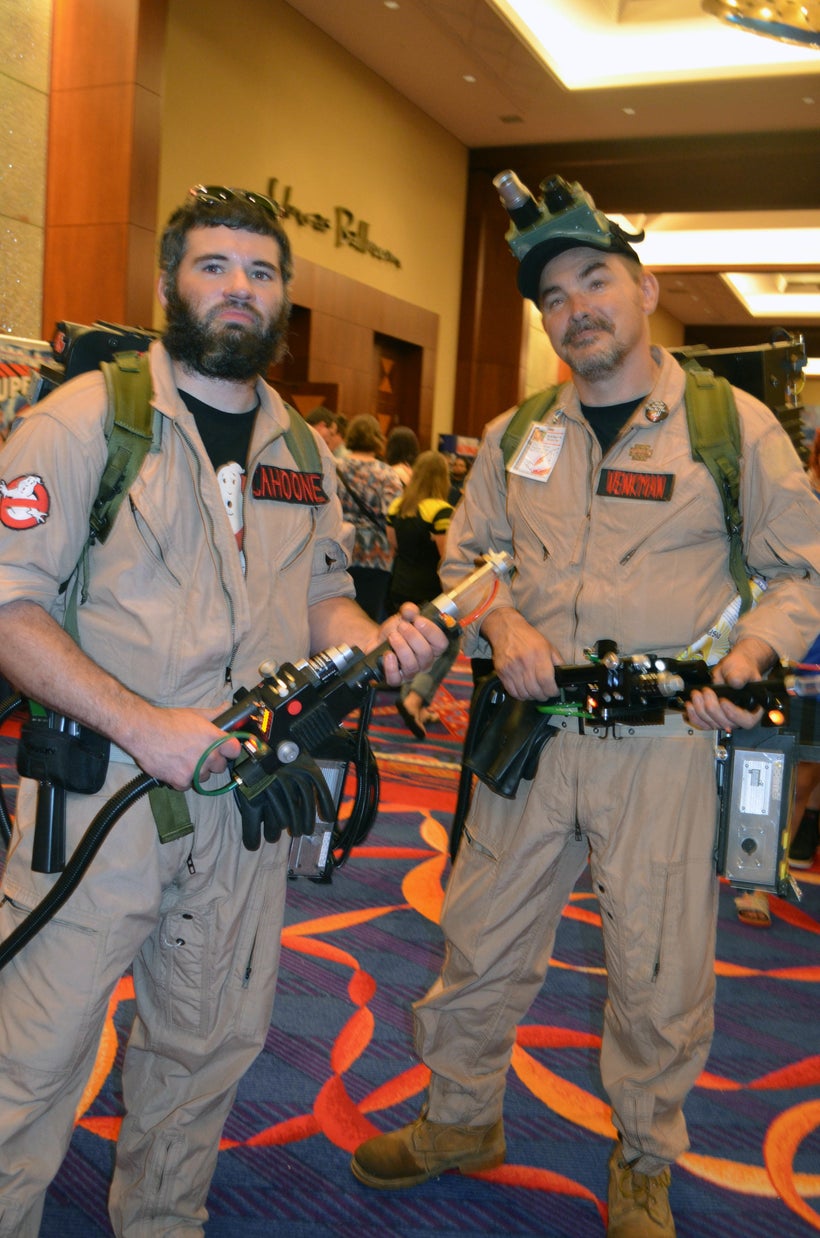 This post was published on the now-closed HuffPost Contributor platform. Contributors control their own work and posted freely to our site. If you need to flag this entry as abusive,
send us an email
.