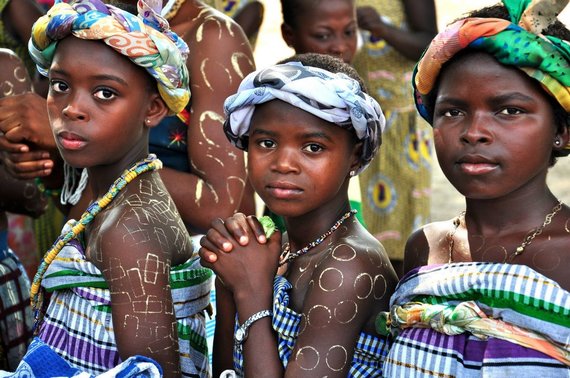 In much of Africa, adolescent girls and young women are being left behind. Every year, 380,000 of them are infected with HIV -- that's 7,300 new infections every week, and more than 1,000 infections every day. Alarmingly, adolescent girls in sub-Saharan Africa are more than twice as likely as their male counterparts to be newly infected with HIV. Today, on International Women's Day -- and every day -- we must recommit to changing this troubling trend.
What if I told you that, right now, we have the knowledge and tools to prevent 50 percent of new HIV infections and nearly halve the number of AIDS-related deaths by 2020? What if we lived in a world where by the time a child born today turns 14 years old, we could eliminate HIV as a global health threat and achieve an AIDS-free generation. It's possible -- but it won't be easy.

Many factors make girls and young women particularly vulnerable to HIV, including gender-based violence, exclusion from economic opportunities, and a lack of access to secondary school. Sixty-two million girls around the world are not in school, yet we know that a girl who has a basic education is three times less likely to contract HIV. We must do more to support adolescent girls, young women, and their communities if we hope to change the trajectory of the HIV/AIDS epidemic.
We know more than ever before how HIV is transmitted through a community. In Africa, one path of HIV transmission among adolescents and young adults is often sadly predictable. Men in their mid-late 20s transmit the virus to adolescent girls, who may remain unaware of their HIV-positive status for years. As the adolescent girls enter young adulthood and find similar-aged sexual partners, they transmit the virus to them. These young men, in turn, age into their mid-late 20s and frequently begin the cycle again.
To disrupt this pattern, we must intervene at each stage -- by finding older HIV-positive men and encouraging them to be tested and put on treatment to reduce their risk of transmission. We need to reach younger men and increase voluntary medical male circumcisions, which is one of the most effective ways to dramatically decrease their risk of HIV acquisition. As part of our commitment, we are delivering a combination of proven and innovative social and health interventions as a core package to adolescent girls and young women in the regions with the highest HIV/AIDS burden.
Through a multi-pronged approach, PEPFAR is responding to the real-world challenges and experiences of adolescent girls and young women. Through the ambitious $385 million DREAMS partnership, PEPFAR is supporting girls and women to become Determined, Resilient, Empowered, AIDS-free, Mentored, and Safe. The goal is ambitious: reduce HIV infections in adolescent girls living in the highest-burden areas of 10 African countries by 25 percent by the end of 2016 and by 40 percent by the end of 2017. Young women deserve nothing less.
Innovation is at the heart of our work, and that's why PEPFAR and its partners recently launched the $85 million DREAMS Innovation Challenge (www.dreamschallenge.org) to call for new thinking and high-impact approaches to meet the urgent and complex needs of adolescent girls and young women. We're tackling the structural drivers that directly and indirectly increase girls' HIV risk, including poverty, gender inequality, sexual violence, and lack of education. Through this effort, we will elevate the specific needs of girls and young women, thereby reducing their risk and the risk of their sexual partners. And when girls and young women are healthier, the effect is felt throughout their families and communities.
Strengthening our engagement with and empowerment of young women and girls, and achieving the vision of an AIDS-free generation, is critical to achieving the world's vision, agreed to in September with the adoption of the Sustainable Development Goals (SDGs). Our work is particularly relevant to SDG 3 (improving good health and well-being) and SDG 5 (promoting gender equality), but we know its ripple effects will be felt in all communities. Today, on International Women's Day, we take a moment to celebrate girls and young women, and we recommit to helping ensure their AIDS-free future. We can stop the HIV cycle by advancing gender equality, working to keep girls in school, and creating economic opportunities. We can make the most of the tools we already have, and fuel innovation and partnership to go even further.
We owe it to every girl and woman -- as well as the next generation -- to do all we can to help them realize their dreams.