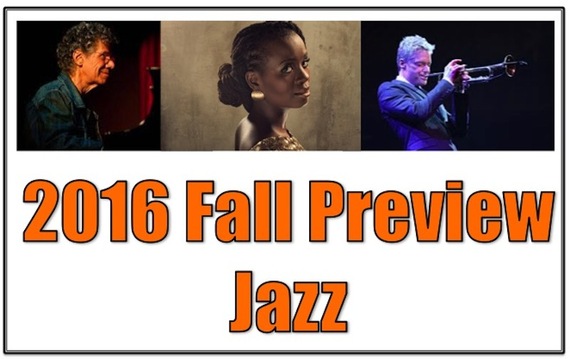 By Dan Ouellette, ZEALnyc's Senior Editor, September 8, 2016
After a summer's worth of primo jazz festivals spread all over the city of New York and throughout North America and Europe, you'd think that the end of August would signal the shuttering of 2016's jazz celebrations. Think again. The party was really just getting started as the two most important jazz festivals in the world launch in September. First, there was the Detroit International Jazz Festival (on Labor Day weekend, September 2-5). It's in its 37th year and prides itself in being the world's largest free jazz fest, featuring top-tier artists as well as talented Detroiters performing on four major downtown outdoor stages and in a nightly jam session at the Detroit Marriot's indoor Renaissance Center. Then a couple of weeks later the Monterey Jazz Festival--a stone's throw from the Pacific Ocean (the smell of salt in the air as well as oftentimes chilly fog-driven temps)--stages its three-day jazz-and-beyond bash of 500 artists on eight stages. It's the world's oldest, consecutively running jazz festival that enters into its 59th year as a summer-sendoff affair (September 16-18).
Back home, in the fall, the New York jazz entrees fully heat up with the beginning of the marquee Jazz at Lincoln Center's 2016-2017 season, plus weeklong as well as multiweek festivals, a couple of major residencies (including one that is historic), an annual gala tribute in Harlem at the Apollo, the 25-year anniversary of a major trio and significant one-nighters at venues ranging from the Baryshnikov Arts Center to Carnegie Hall.
Let's start tall. Jazz at Lincoln Center, arguably the country's premiere jazz house/institution that served as the model for the West Coast gem, SFJAZZ. JALC officially starts the season on Sept. 22-24 with "Handful of Keys: A Century of Jazz Piano" with the Jazz at Lincoln Center Orchestra with Wynton Marsalis and several pianists ranging from 89-year-old maestro Dick Hyman to the 13-year-old prodigy Joey Alexander at Rose Theater while at The Appel Room on September 23-24, the crown jewel of jazz singers Dee Dee Bridgewater leads the way through 100 years of jazz song. Earlier in the month she also performs more shows, including introducing her new band. Other noteworthy concerts in the season include two evenings with adventurous European trumpeter Ibrahim Maalouf followed by two nights of top-tier pianist Brad Mehldau. Later in the season will train the spotlight on Cuban pianist Elio Villafranc, a tribute to legendary saxophonist Jimmy Heath, the Brazilian vocalist Rosa Passos with special guest master pianist Kenny Barron, and a special show in December, "A Bridge From Blues to Jazz," curated by and featuring rock/blues/jazz guitarist Steve Miller.
And for the seventh year, JALC puts on the Generations in Jazz Festival for the entire month of September at Dizzy's, the house's great club overlooking Columbus Circle. During the course of the month the festival presents upstarts as well as such jazz elders as Dave Holland, Randy Weston, Stefon Harris, Joanne Brackeen and more. Over 200 musicians will be featured on a daily basis September 1-October 1. So check out the stars as well as the stars in the making.
On the festival tip, FONT (Festival of New Trumpet) Music, directed by superstar trumpeter Dave Douglas, presents a weeklong celebration of the new music being created by the community of brass players in New York and beyond (Sept. 19-25). A go-to event since 2003, FONT Music marks its first year collaborating with JALC's Dizzy's club in presenting shows. Other shows take place at The New School and Threes Brewing in Brooklyn. Special guests include John McNeil, honored this year with FONT's Award of Recognition, and one evening called Signatures in Brass, curated by Marquis Hill, winner of the 2014 Thelonious Monk International Trumpet Competition. A highlight: the Night of Large Ensembles at New School on Sept. 24 with Wadada Leo Smith with his 12-piece ensemble and Taylor Ho Bynum and his 15-piece Plus Tet.
A youthful festival (now in its second year) is the 2016 BRIC JazzFest in Brooklyn, October 8-15. Young but big plans. BRIC promises jazz legends (Eddie Palmieri and David Murray), hot stars of the present (Marc Ribot, Julian Lage, Terri Lyne Carrington, Ben Allison) and rising stars (Lisa Fischer, Soulsquad, Taylor McFerrin with Marcus Gilmore). There's also a film series and three "marathons" in the BRIC House Ballroom, Gallery and Artist Studio with a bevy of headliners. This event is top-tier and the first full-jazz festival of the vital borough.
For a band to make it for even a few years together deserves plaudits. But what about 25 years as a unit? That's a mind-blower, which, in essence is what the grooving, genre-defying, wide-open trio Medeski Martin & Wood is all about. It plays funk, avant-garde electrification, Third Stream, all with a brilliance of improvisation. There's a lot to listen to in the layers of MMW's music, but bottom line what a dance machine they are. Yes, jazz guys, but they crossed over early in their existence to packing concert halls with frenzied fans who were also not keen on putting the band into a nice and tidy jazz box. Originally booked as a two-night 25 celebration at the East Village club Le Poisson Rouge, but demand for the event encouraged all parties to tack on an extra evening. They should have expanded it to a full week because the October 18, 19 and 20 shows are already sold out. Try scoring tix at the door if you're lucky. Promises to be a special, rousing treat with lots of guests popping up.
Special benefit concerts are also a hot ticket this fall. The first takes place at The Baryshnikov Arts Center, founded by dance icon Mikhail Baryshnikov. Its annual Fall Fete takes place on September 26 to raise funds to continue its impressive operation of performances and residencies. Each year it supports BAC residencies to a wide variety of artists, from dance to song, to give them the time, space and resources to create new work. Last year the superb chanteuse/songwriter Somi was a resident artist who developed a work that was inspired by the music and life of South African singer and civil rights activist Miriam Makeba, aka Mama Africa. Somi is A TED Global Fellow and also founder of the New Africa Live nonprofit that champions African artists. For the last decade she has carved out a career of singing and being an activist herself. On her last album, The Lagos Music Salon, she magically combined the two facets of her life. She'll be performing music from her Mama Africa work at BAC's benefit evening. While the tickets are steep, you could well be able to rub shoulders with the arts center's Fall Fete's planning committee members such as Jessica Lange, David Neville, Sarah Jessica Parker, Aidan Quinn, Isabella Rossellini.
The grand dame of benefit concerts takes place at the Apollo Theater. For the last fifteen years, the Jazz Foundation of America has held its Great Night in Harlem all-star benefit concert, raising funds to help and support elderly blues and jazz artists in need of medical and living condition needs. The event not only fills up the Apollo--Harlem's prestigious music palace--to the upper balcony, but it also presents one-of-a-kind shows that feature special guests performing an array of music, ranging from the blues to jazz. No one counts categories for the cause. This year's October 27 gala features a special "Every Day I Have the Blues" concert that features the blues-charged Dr. John, Robert Cray and Robert Randolph as well as pop star John Mayer and his trio and actor Bruce Willis. More artists who will support the cause will be added cxloser the date of the show. Yes, there are always surprises.
When you think of Carnegie Hall, jazz isn't the first thing that jumps to mind, though there have been incredible shows there over the years by stars ranging from Benny Goodman to Keith Jarrett to Herbie Hancock staged at Stern Auditorium. But in the past decade the organization's relatively new performance space has been the place to see many jazz artists. The highlight concert this fall in Zankel Hall is the maestro guitarist Pat Martino, who brings a special show to the venue--his organ trio plus horns. Joining the legend on November 4 will be organist Pat Bianchi and drummer Carmen Intorre Jr in collaboration with saxophonist Adam Niewood and trumpeter Alex Norris.
Finally the residencies at the Blue Note. Back in the jazz heydays in New York in the '50s and '60s, artists used to set up camp at certain clubs for several weeks. Not only was that good for their bottom lines, but it gave audiences the opportunity to keep coming back for more roar and swing. Those kinds of long-form gigs are extremely rare these days, which makes what the Blue Note is doing special and exciting. Extraordinary smooth trumpeter Chris Botti is now in his 12th year performing his Christmas residency (December 12-January 8).
That's old hat by now, I guess, so let's move on to what will no doubt be the primo jazz event this fall: Chick Corea who is celebrating his 75th birthday by camping out at the club for a full two months (October 19-December 11)--80 shows, 60 musicians, 15 lineups. Pick any show and you'll be very pleased--that is, if they aren't all sold out.
Cover photos: Chick Corea; Somi; Chris Botti; courtesy of artists' websites.
____________________________________
Dan Ouellette, Senior Editor at ZEALnyc, writes frequently for noted Jazz publications, including DownBeat and Rolling Stone, and is the author of Ron Carter: Finding the Right Notes and Bruce Lundvall: Playing by Ear.
Read more of Dan Ouellette in the following ZEALnyc features:
Bird Lives Forever--Modern Graffiti Makes Its Debut in New York
California Dreamer Jazz Master Vibraphone Virtuoso Bobby Hutcherson Passes Away at 75 (Part 1)
'Enjoy the View'--The Final Recording by Jazz Master Bobby Hutcherson / 1941-2016 (Part 2)
For all the news on New York City arts and culture, visit ZEALnyc Front Page.