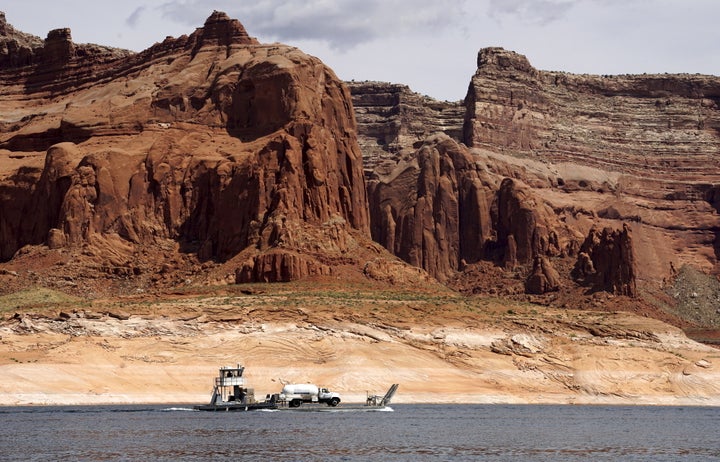 Unless the world takes drastic steps to reduce greenhouse gas emissions, which spur on climate change, the U.S. Southwest's chances of facing devastating, multi-decade "megadroughts" will only continue to grow — and that risk remains even if precipitation rises, according to a new study published this week in the Science Advances academic journal.
The study, authored by scientists at Cornell University, Columbia University and NASA, notes that the chances of a megadrought ― a drought that lasts more than 35 years ― will rise from a 5 to 15 percent risk over the past century to a 20-50 percent risk in this one under a business-as-usual scenario of ongoing emissions of carbon dioxide and other greenhouse gases.
The region's risk of a megadrought, which the researchers say would impose "unprecedented" stresses on the region's water resources, increases even more depending on how high average temperatures rise in the coming years.
If a temperature rise of 4 degrees Celsius, or 7.2 degrees Fahrenheit, is accompanied by an unchanged level of precipitation, the risk rises to 90 percent. If precipitation decreases, the risk grows to an almost-certain 99 percent. This is because when temperatures rise, the atmosphere's demand for moisture also increases, which leads to moisture in soil and plants evaporating at a faster rate.
The fact that megadrought risk did not dissipate even in scenarios where precipitation increases came as a surprise to the scientists and was a key takeaway from the research, lead author and Cornell earth and atmospheric sciences professor Toby Ault told The Huffington Post via email.
"It is obviously important because it forces us to rethink our expectations for the amount of water that will be available to us in the changing climate of this century," Ault said.
The only scenario when the researchers observed a significant decrease in megadrought risk was one where greenhouse gas emissions were cut dramatically — keeping warming below 2 degrees Celsius, or 3.6 degrees Farenheit — which nearly slashed the risk in half.
Is such action possible? Ault is cautiously optimistic, pointing to the global Paris climate agreement, which was ratified this week, as a sign of progress.
He also sees hope in increasing private sector investments in alternative and renewable energy sources, helped along by consumer preferences and market forces that are making those investments more economically viable.
"Changes are happening, awareness is growing, and I'm hopeful the changing political and economic climate will allow us to avoid many of the worst case scenarios of the changing physical climate, only one of which would be megadrought," Ault noted.
Meanwhile, the region still remains gripped by extreme drought conditions and water conservation efforts have begun to lose momentum.
As the California drought enters its sixth year, the state has experienced three consecutive months of reduced water conservation. And in the Colorado River Basin, where drought conditions have persisted for 16 years, its largest reservoir, Lake Mead, shrunk to its lowest water level ever earlier this spring.
Joseph Erbentraut covers promising innovations and challenges in the areas of food and water. In addition, Erbentraut explores the evolving ways Americans are identifying and defining themselves. Follow Erbentraut on Twitter at @robojojo. Tips? Email joseph.erbentraut@huffingtonpost.com.
BEFORE YOU GO
PHOTO GALLERY
Climate change seen from around the world