This traditional rule holds that most women wear long black dresses with sleeves and mantillas, and only a very select handful of women ― around seven total ― enjoy an exception. These ladies have the "privilège du blanc," or "privilege of the white," which means they're allowed to wear white to such events if they choose. According to the World Heritage Encyclopedia, the queens of Italy, Belgium and Spain, grand duchesses of Luxembourg, and princesses of the House of Savoy have historically been allowed to exercise the privilège du blanc at the Vatican. 
There's a common theme: Those are all Catholic royal houses, though not all Catholic royal houses automatically enjoy the privilege, as you'll see in the photos below. And modern first ladies, at least, have strictly adhered to the traditional mandate.
"Per Vatican protocol, women who have an audience with the Pope are required to wear long sleeves, formal black clothing, and a veil to cover the head," the first lady's communications director, Stephanie Grisham, told CNN in a statement.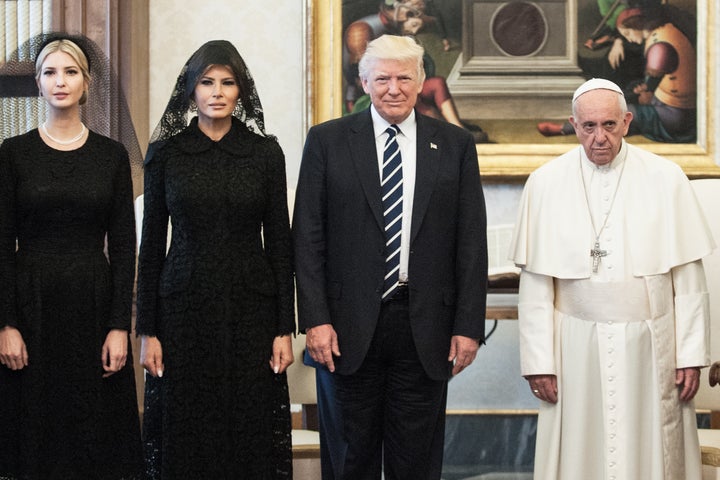 See what other first ladies and royals have worn for audiences with the Pope, including those with the privilège du blanc: 

CORRECTION: Due to an editing error, a previous version of this post mischaracterized the event at which Queen Sofia and Queen Paola are pictured above. The women were attending a canonization ceremony. A provided caption misidentified the pope Princess Diana met in 1985; it was Pope John Paul II. 
BEFORE YOU GO
PHOTO GALLERY
Designers Who Refuse To Dress Melania Trump