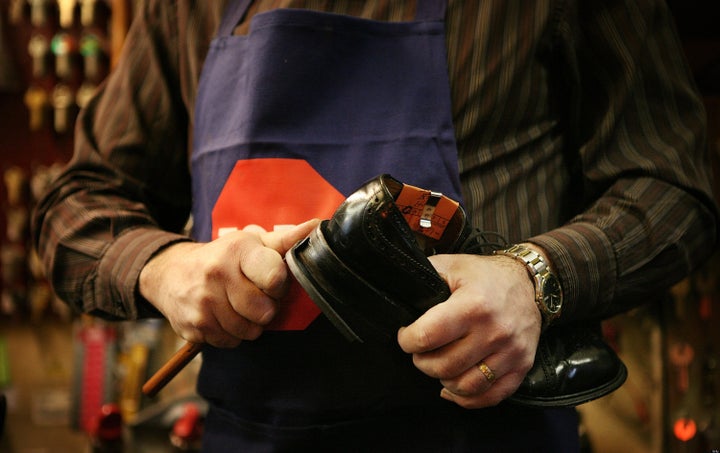 For the unemployed, putting your best foot forward is sometimes hard to do.
But Lisa Hancock-Jasie tells us that her New York cobbler has given her a step up on the competition in job interviews. She sent us this email to tell how Minas, of Minas Shoe Repair in the Financial District, has performed a little act of kindness that has made a big impact:
When I became unemployed, Minas fixed the heels of my old shoes, worn out from pounding the pavement for a new job. And he would not take money for the job well done. Instead, he told me that whenever I was gainfully employed, we'd talk about it then. To date, we've never returned to that conversation, although I've tried...He does it because he cares. Well, that and the cobbler in him wants to be sure our shoes are in tip-top shape.
I caught up with Mina himself to talk about the recession, September 11 and helping out friends.
I've seen a lot of young guys and young girls loosing their jobs here on Wall Street. They keep coming in to say hi at least. So, if you see your friend needs some help, you've got to do it. You've got to do what you've got to do, as the Americans say.
How is it you came to think of your customers as friends?
I've had my store for more than 35 years. In the 70's I was one of the first tenants in the basement of the World Trade Center. But after September 11, I lost everything. So I opened this store here on Wall Street in 2004 and we started from zero. And my customers, they came back to me. People came here and they were bringing their shoes, or bags, just to give me some work.
Have your customers been bringing in less work since the recession hit?
No, no, I think we increase business, because we save money for the customers, if you have a good pair like Manolos, and if you paid $500 dollars for them, I'll charge you maybe $40 to bring them back to life. That saves you money.
But for some of your customers, like Lisa, even $40 is too much to pay?
Yes, but she didn't ask me. It's just, I knew she lost her job and I wanted to help. When people are good to you, you have to be good to them. It's a two way street here, not a one way street.
Do you expect Lisa will ever repay you?
I don't expect her to repay me. I feel that I've done something. That's my payment.
And do you think what you've done will help her to get a job?
No matter if it's your shoes or your clothes, to be a person with decency and presentation it's so important. Whether you're a janitor or a businessman, it's always so important. Anybody that needs help with that, I will help them.
As a counterpoint to the (justifiably) gloomy tone of much reporting about the economic crisis, HuffPost is highlighting stories of service, local heroes, and acts of kindness (random and otherwise). We've featured the stories of a marriage therapist counseling couples suffering the stress of financial hardship, dry cleaners offering free suit cleaning for unemployed job applicants, and many more. If you read about or hear about uplifting stories or good deeds in your community (or do a good deed yourself), please let us know by emailing allforgood@huffingtonpost.com.