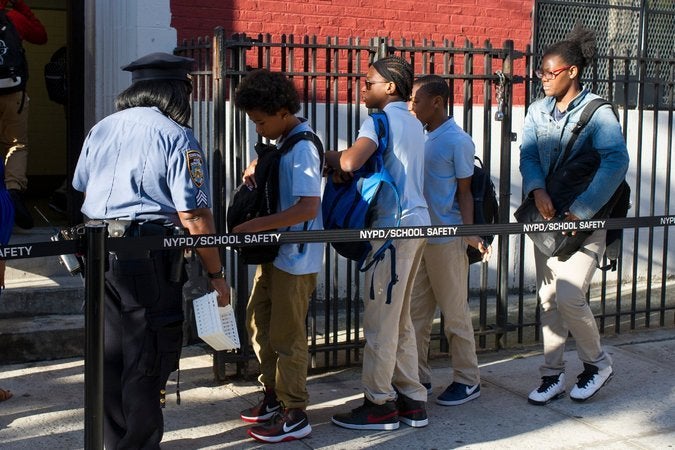 On Wednesday, September 27, Abel Cedeno, an eighteen-year old high school student in the West Farms neighborhood of the Bronx, stabbed two teenage boys in his social studies class. One of the students, fifteen-years old, was killed and the other, sixteen-years old, was critically wounded. Abel bought a switchblade knife on Amazon for $30 and carried it with him to the Urban Assembly School for Wildlife Conservation, a combined middle and high school.
The reflex response to the stabbings, by school security officials and in the media, was to demand more metal detectors in schools. Wildlife Conservation, which shares a building with a pre-k through fifth grade school, had no metal detectors at its entrances. Newspapers, including the New York Times and Wall Street Journal, searched out and interviewed upset parents who demanded police protection for their children including the installation of airport-like metal detectors. Eighty-eight of New York City's more than 1,200 school buildings currently scan students and visitors as they enter. At a press conference, when questioned, police officials agreed that metal detectors "could" have prevented the attack.
The president of the union that represents school safety agents was widely quoted demanding the installation of metal detectors at Wildlife Conservation and other sites. He claimed, "The last two years we've had a rise in weapons being brought to the schools. This is what it leads to — a child being killed — and I am angry because the mayor did not listen." The Mayor rejected the criticism, but the next day metal detectors were placed at the building and students were subject to scanning.
Donna Lieberman, the executive director of the New York Civil Liberties Union, which has challenged placing metal detectors in schools, offered a much different response. For Lieberman, "The question is: What went wrong? What is going on in this school, with regard to the overall climate, with regard to bullying, with regard to conflict resolution, with regard to whether or not kids have an adult that they can go to for support in the school environment."
Dennis Morales, a Hofstra University student who grew up in the South Bronx and attended near by Alfred E. Smith High School, helped organize a student protest at his school against metal detectors. Morales agrees with Lieberman. According to Morales, "metal detectors might prevent actual weapons in a classroom, but they cannot prevent a student from doing harm to another. When pushed to their limit, a student can either find a way to bring in a weapon or use something available within the school. Smith was an automotive school and we were in possession of very dangerous equipment everyday. All an angry person needed to do was grab something from a shop class."
When he first read about the incident, Morales' reaction was that the stabbing was a response to bullying. "No one wakes up in the morning and says 'I want to ruin my life today.'" Morales believes "in the United States we always seem to put the blame on students, but never accept that our nation is failing its youth." The country ignores "systematic problems" that undermine communities and create the conditions for explosions like this one. "The South Bronx is the poorest Congressional district in the United States."
As background to the stabbings at Wildlife Conservation became public during the course of the next few days, it is clear that Lieberman's questions are the key to understanding the events taking place at the school.
First, we learned a lot more about Abel Cedeno, the accused perpetrator, who fundamentally, although maybe not legally, was a victim. Abel bought the knife and brought it with him to school because he was being continually bullied, by these boys and others, and subjected to racial and homophobic insults. That day in class, the two boys that he stabbed were sitting behind him and hitting him with paper spit balls and pieces of pencil. Abel went to the bathroom to calm himself, but when he returned to class, the harassment resumed.
According to eyewitness reports, Abel stood up, turned to face his tormentors, and demanded that they stop. One of the boys, the one who died, rushed at Abel and punched him. At that point Abel drew his knife in self-defense and stabbed his attacker. Abel stabbed the second boy when that student rushed into the foray to defend his friend. Perhaps the most surprising revelation was that after stabbing the two boys, Abel gave the switchblade to a school counselor and calmly went to a school administrator's office to wait for the arrival of the police. Abel was not a deranged killer, but a young man relieved that the tormenting had finally stopped.
Students who know Abel were all surprised by the events. They described him as "different from the other guys. He likes Nicki Minaj, stuff from H&M. He likes Kylie Jenner." We also learned that he identified himself as "bisexual." A family friend described Abel as a "homeboy who liked playing video games and keeping to himself," although she also said he suffered from mental health issues. It did not help that his mother had gone to Puerto Rico to visit family over a month ago and was stranded there by Hurricane Maria.
Abel is considered an overage student, which means he had failed or dropped out before, and is probably how he ended up at the Urban Assembly School for Wildlife Conservation, a fancy name for a very troubled school. As a result of the stabbing, we also are learning a lot more about Wildlife Conservation and by extension, the New York City school system.
Wildlife Conservation was founded in 2007 and is one of a group of 21 New York City public schools operated as a partnership with a non-profit group called Urban Assembly Network, a nonprofit that supports 21 public schools in New York City. Because of this arrangement the schools are like charter schools but not technically charter schools. Urban Assembly is well connected. Its "partners" and "supporters" include the Gates, Bloomberg, and Dimon Foundations, as well as Goldman Sachs, Forest City Ratner, and Merrill Luynch.
Most of the Urban Assembly schools serve poor communities and many of the students have academic issues, however the network claims to be successful with this student population and to have a higher graduation rate than the city as a whole. Wildlife Conservation is a racially and ethnically segregated school, 96% identify as Black or Hispanic.
Wildlife Conservation is known as the "zoo school" because of joint programs it runs with the nearby Bronx Zoo. But "zoo school" also has other connotations. It previously was on a list of schools with the highest student suspension rates in the city.
Wildlife Conservation's problems include instability at the top with three principals in the last five years. In a survey conducted last year, only 19% of the teachers said they would recommend the school and only 55% of the students said they felt safe in the building. Many teachers complain of bullying and harassment. Some parents grew so concerned about student safety that conducted voluntary hall patrols. Vincent Hurst, the "youth development manager" at Urban Assembly attributed many of the schools problems to deepening divisions in the surrounding neighborhood and to the turnover of principals.
According to New York Times coverage, despite its troubles, Wildlife Conservation's reported graduation rate is the same as the city average and higher than the Bronx as a whole. Delving deeper into statistics, the reported graduation rate seems suspicious. 100% of its students are eligible for free or reduced price lunch, more than a fourth are listed as "students with disabilities," only 13% of the students read at or above grade level; only 5% perform at or above grade level in math.
The Inside Schools website lists the four-year graduate rate for the school at 73%, ten percent below the city average, a little more than half of its graduates go on to college, 14% below the city average, and only a fourth of the graduates who attend the City University of New York are able to perform without remedial help.
Wildlife Conservation students did far below average on every end-of-year state high school Regents exam. Statewide, the 68% of students who took the Global History test passed. At Wildlife Conservation it was 39%. Statewide, the 71% of students who took the Earth Science test passed. At Wildlife Conservation it was 34%. Only 15% of Wildlife Conservation students passed geometry compared to a state wide 54% passing rate and only 6% passed Algebra compared to 31% statewide.
Looking at the numbers and the surveys, we find a troubled school with underperforming students from poor families, inconsistent leadership, an unhappy teaching staff, and worried parents, operated by a well-connected independent consulting group that makes exaggerated claims of success of their program. Before the incident it was a warehouse for urban problems, tucked away and given a fancy name, so the problems could go unaddressed.
Metal detectors will not stop bulling in schools or society, especially when the President of the United States constantly models being a bully.

Metal detectors will not stop homophobia. It may actually worsen it if "gay" students are blamed for increased police presence in schools.

Metal detector will not stop youth violence. At best it will move violence outside school buildings into the streets where fewer adults will be able to intervene.

Metal detectors will not stop the proliferation of weapons, easily purchased on the Internet, and essentially unregulated because of the power of groups like the National Rifle Association.

Metal detectors will not stop urban poverty and the hard lives lived by many young people.

Metal detectors are not a substitute for increased school funding, guidance counselors, and crisis intervention specialists in schools.

Metal detectors are not a substitute for adequate housing, jobs, income support, health care, and concern in general for children and families.

Metal detectors are definitely the wrong answer for troubled schools.
In my next Huffington Post I discuss "Bullies in Blue," an ACLU white paper that argues stationing police officers in schools has effectively criminalized teenage pranks, especially for minority youth, and feeds the school-to-prison pipeline.