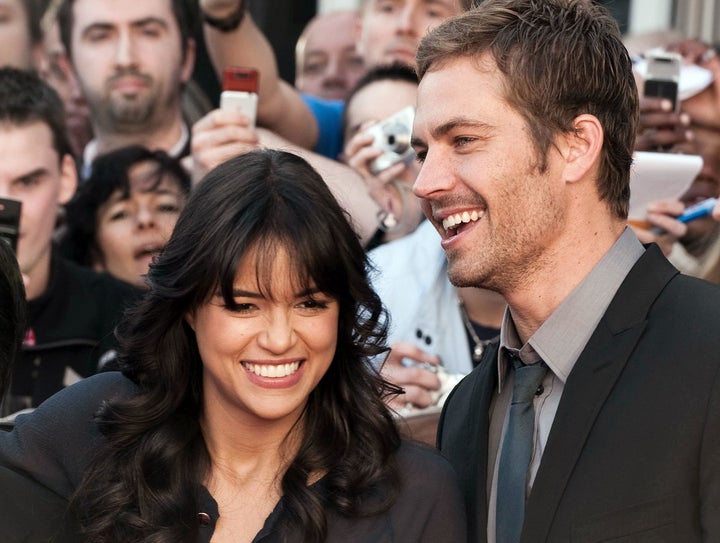 The "Fast and the Furious" cast doesn't have friends. They got family. And that family felt an unimaginable loss when Paul Walker tragically died in a car crash in 2013.
"Furious 7" gave Walker's character, Brian O'Conner, a memorable and tear-jerking send-off at the end of the film, and it appears that's how it will stay for now.
Rumors that Walker's character would appear in the next installment in the franchise, "Fast 8," began spreading after an Entertainment Tonight interview with Walker's brothers, Caleb and Cody. In the interview, the pair said they had a phone call with Vin Diesel to discuss the possibility. But "Fast and the Furious" actress Michelle Rodriguez just set the record straight.
When asked if Paul Walker had a presence in "Fast 8" or if it was just a rumor, Rodriguez said, "That's a rumor, man." 
The actress continued, "That's a whole other subject matter, by the way, that is brought up for all actors to consider. Do you want to be Frank Sinatra in an Uber commercial? And every actor in the world when writing out their will should start thinking about these things."
Rodriguez praised Walker's daughter for respecting and protecting her late father and brought up ethical questions about having deceased celebrities appear in current projects. 
"Thank your lucky stars that Paul has a wonderful daughter who understands his integrity and understands what kind of things he would like and what kind of things he wouldn't and would respect that because she loves him so much. Not that many actors or people in the industry have that background. So whoever you hand your home to, whoever you hand your rights to, your will, that's the world we're living in now, where you can be brought back anatomically. Then you have to think about the ethics of that and the morals behind it. Would that individual like what you're doing? That's something that we're all thinking about now. It's a new world with virtual and 3D, and now you can bring Tupac back onstage. I mean, we're living in a different world," said Rodriguez.
Rodriguez is a perfect example of the different world she's talking about. The actress, who is known for portraying a tough girl on screen, is now playing a teacher in the new coming-of-age movie "Milton's Secret." It's a way different role than we know her for. However, she did learn about the part while at Burning Man. So it's not like everything has changed.
"Fast 8" doesn't get released until April 2017, so there is still plenty of time to add in a little tribute to Walker. For now, it appears the rumor that he has a presence in the new movie is just a rumor.
BEFORE YOU GO
PHOTO GALLERY
Paul Walker