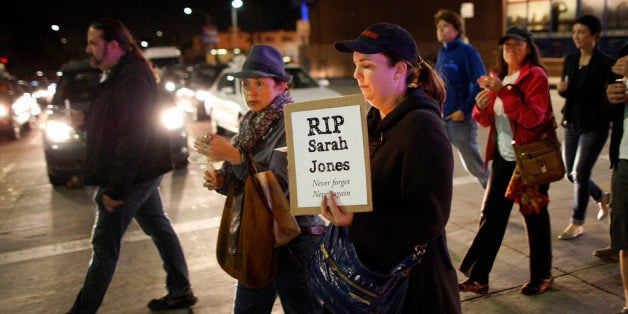 Created by camera operator David Allen Grove, whose credits include "Brick" and "Desperate Housewives," the "I REFUSE to work on Midnight Rider! For Sarah!!!" Facebook group has accrued more than 9,000 members since its creation last week. "Let's continue to stand up for Sarah and for Sarah's parents by REFUSING to work on this show," the description of the page reads. "Lets shut them down!"
Some of the group's members have said they'd vouch for the continued production if the movie replaces director Randall Miller and the film's producers. "REFUSE to work for these producers on Midnight Rider or ANY OTHER FILM THEY EVER TRY TO MAKE. Randall Miller and Jody Savin are in their 50s; they are not novices; they knew what they were doing. Losing their careers at this stage in their lives will hurt more than spending a few months in the slammer," wrote Annette Haywood-Carter, who's served as the script supervisor on such films as "Casper" and "Die Hard 2."
As the Facebook group nears 10,000 members, Deadline.com reports that, on the weekend before Jones' death, "Midnight Rider" producer Jody Savin touted the methods of Unclaimed Freight -- the production company she co-owns with Miller, her husband -- at a meeting that took place in Savannah, Ga., where the movie is being filmed. In the same breath, she criticized the Savannah film commission for its heavy oversight of last year's "CBGB," which filmed in Savannah based on a script Savin wrote. "We make movies by our own rules," Savin reportedly said.
"A lot of people felt insulted by the whole thing," one attendee reportedly told Deadline.com. "It was very negative toward a lot of people who work in this town. Savin seemed proud of the fact that she was able to get crew cheaply. It was more about the bottom line. A lot of women wanted to work on it, but I think after meeting a lot walked away and thought. 'I wouldn't work on that show.'"
As of now, "Midnight Rider" will resume production in June, according to the International Alliance of Theatrical Stage Employees. Pre-production kicks off in a couple of weeks. William Hurt is still on board to star as Allman.
BEFORE YOU GO
PHOTO GALLERY
Summer Movie Preview 2014