Miko Grimes, the wife of Miami Dolphins' Brent Grimes, was handcuffed and arrested on Sunday, just feet away from the entrance to Sun Life Stadium. She was allegedly arrested for assaulting an officer after refusing to heed directions given by the police.
A video of Grimes' arrest, viewable above, went viral shortly after the incident. The video opens with Grimes on the ground, arms pinned behind her back, yelling, "Are you f*****g serious?" She is rolled over onto her back before the video shuts off.
According to the Sun Sentinel, Grimes drew law enforcement's attention by trying to enter the stadium via a restricted gate. Grimes apparently ignored the officers' repeated instructions to take another route. When one cop took hold of her, she wrested her arm away, verbally berating the officers around her.
The officers proceeded to place Grimes "in a bear-hug," while Grimes, now lying prostrate, "flailed her arms and kicked," per the Sun Sentinel's copy of the police report.
It wasn't until the radio host had been threatened with a Taser that she stopped struggling -- and this was only after she had both been handcuffed and had head-butted one of the officers.
The Taser was not used, and, moments later, Grimes began to contest the arrest once more.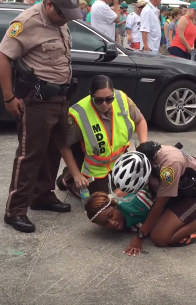 Grimes was charged with disorderly conduct and with resisting arrest "with violence and battery on a law enforcement officer." She has already been released on bond. 
Grimes has been a controversial figure in the Miami limelight for some time now, particularly because she has been highly critical of the NFL -- both on the issue of domestic violence and on her husband's Pro Bowl MVP snub.
PHOTO GALLERY
2015 NFL Breakout Stars