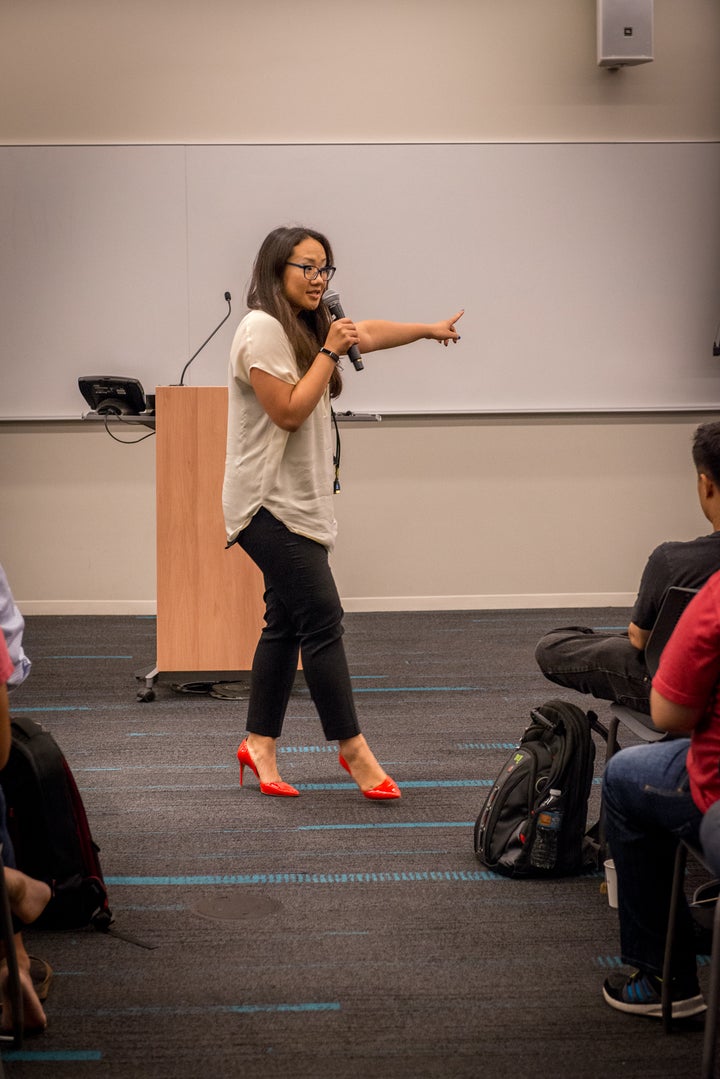 Yes, she knows it sounds odd coming from someone with an undergraduate degree from Northwestern University and a masters degree from Harvard Business School.
But, Peggy Yu, COO of  Startup Institute, says sometimes the best employees are non-traditional ones.
"There is no way to get the most creative ideas and the best solutions from people with the same backgrounds," says Yu, who after 10 years in transportation, logistics, media and software, moved into her current work she calls "transformational."
Full time eight-week programs, and part-time 12-week programs are accessible through scholarships. According to Yu, Startup Institute students are trained with skills that can be used to start companies or be part of innovation teams at existing companies.
While startup ventures are sprinkled throughout the country, nine out of 10 start-ups backed by venture capitalists are in California, according to PitchBook.
"This lack of geographic diversity isn't surprising, but it does mean the other 40-plus states and regions don't get a lot of attention from the tech community," Dana Olsen writes.
The overall picture of the U.S. startup landscape is healthy, according to TechCrunch, as the third quarter of 2017 demonstrates, with new results just released.
"Data shows a rise in late-stage funding and a stabilizing early-stage funding environment. At the late stage, U.S. venture investment hit its highest level in five quarters by both round count and total dollars invested. Total investment at the early stage was also at the highest point in the past year," writes Joanna Glasner.
In the third quarter of 2017, there were 791 early-stage startups launched, backed by $8.26 billion in investments, according to Tech Crunch. A total of 225 late stage startups received $11.61 billion in funding.
"Overall, venture funding for Q3 of 2017 totaled $21.75 billion, according to Crunchbase projections," Olsen writes.
With this robust landscape for innovation funding, lowering the barriers to entry for everyone is essential. There is enough to go around for everyone.
"We want to give people the opportunity to have access," Yu says, to the innovation dollars and opportunities. Because the playing field is not level and the starting line keeps moving for those who are not well-connected to networks.
"The upskilling of labor is a big problem," she says. "Those who are fortunate to have access to resources can move around." Others, however, cannot.
To fix that accessibility gap, Yu says, "Startup makes it accessible, and gives technical skills, soft skills, a network and an ecosystem of companies."  And that accessibility is then available for non-traditional tech employees, including women, veterans, non-college grads and many more.
Yu's own route to leading Startup Institute began in a traditional way, but diverged because "I realized if I was going to work that hard, I wanted skin in the game. I knew more of what I don't want than what I want," Yu says.
After graduating from Northwestern in 2002, Yu worked in sales management for a year, moved to operations, then moved into logistics for a Boston-based transportation company. She traveled and worked internationally in Singapore, Hong Kong and throughout China.
Deciding to move out of transportation, Yu went to Harvard Business School starting in 2005, finishing in 2007.
"It was a humbling experience, as I was one of the youngest there. And it was very transformational," Yu says.
One of her professors introduced her to a later stage startup after graduation and while there, she says she "realized my love for B2B, and went to San Francisco in 2008, working at a large company with pockets of innovation building out alternative business models."
While at that company, she was an advocate for hiring employees with nontraditional backgrounds, specifically candidates who did not have her brand of educational pedigree, or a degree at all.
"A lot of companies want to see if you graduated from college," Yu says. "But I care about how hungry and curious they are. I want to know that you are willing to learn."
Yu says she had to strongly fight for a candidate who was not a college graduate, and got pushback from human resources.
"I had one candidate who was fantastic, she was a star, and she had the personality and the perspective." Yu hired her and she became a stellar employee.
In 2012, Yu returned to Harvard for her five-year reunion, and after conversations with her former professors, began working at the Arthur Rock Center for Entrepreneurship at HBS. She left that position in August 2015 to try and decide her next career move.
Now back in the Boston area, she became a volunteer mentor for students, then worked as a mentor in residence. And now is Yu is COO.
With sights set on the future with diversity in the startup universe, Yu says her goal is to have "companies to sponsor a sales track, for instance, and give opportunities to students and pay for trainings."
Yu acknowledges that is is "hard to build trust on diverse teams," but says ultimately it is worth it—for the best ideas, the best workplace cultures, and of course, for fairness. Stagnation on diversity in innovation is unnecessary, she says.
And what does Yu think about a company culture that does not provide access to all?
"That drives me bananas."