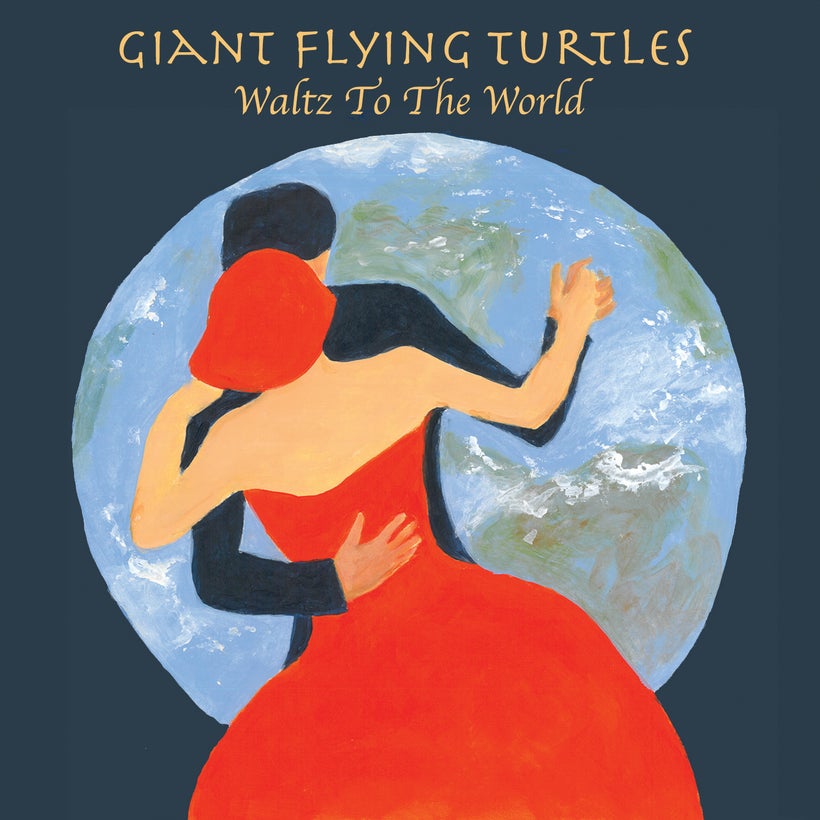 Waltz To The World is slated to drop September 23. It's from the Giant Flying Turtles – how cool is that name? – who hail from Brooklyn, NY. The band is made up of Calvin Bennett on vocals, upright bass, guitars and cello; Johnny Young on vocals, piano, keyboards and guitars; T.J. Jordan on vocals and guitars; and Jim Toscano sits in the pocket.
Stylistically, the Giant Flying Turtles combine elements of progressive rock, alt rock, blues, swing, bluegrass, Americana and folk into their own distinctive sound.
Waltz To The World contains eleven tracks. "No Turning Back" kicks the album off with a melody emanating influences from prog rock, bluegrass and folk. The melody is light and buoyant, with crisp, bright vocal harmonies, fluttering guitars and delightful, tinkling keyboards. "Stay Out Late" positively oozes a thick blues flavor, along with a touch of jazz, set to a funky groove shimmering with outstanding vocal harmonies and dazzling guitar riffs and a spectacular piano. "The Devil and Me" rides a melody full of swing and jazz elements. The piano sparkles with a boogie woogie flavor while the vocals are infectiously fun.
"One Of A Kind" delivers a jazzy, bluesy prog rock feel, riding heavy guitars that take on a luminous quality. The chorus reminds me of Styx, full of perky nuances. In fact, the song sounds like Chicago on steroids crossed with Styx and Queen. "River Runs Dry" slows things down a bit, providing an alt rock/prog rock melody reminiscent of the Beatles. The vocals are slightly off kilter, adding an ascetic flavor to the tune. A beautiful piano solo really makes the song sparkle.
"Train Song" pumps it up, combining blues and jazz elements with a prog rock sensibility. The tune ramps up to rock levels on the chorus, which rides a jumping piano. "Three Shades of Blue" combines swing, rock and country essences into a rollicking, thumping melody. Once again, the vocal harmonies are superb, giving the tune flowing energy. "Hold The Flag" starts off with a mellow piano, followed by the entrance of a dulcet tenor and strings. The melody exudes a subdued prog rock tang that's piquant with Young's excellent work on the piano.
"Banjo" delivers a cogent melody rife with country, folk and rock elements in a rockabilly matrix. The tune bubbles with ebullience and charm. "Good To Be Alive" blends rock and blues into a heavy, growling melody. The rasping vocals add to the rusty feel, while the sunny background vocals provide contrast. The title track offers a prog rock melody infused with a jazz extract, giving the tune a unique sonic footprint that arises gracefully. The guitar wailing under the melody is fantastic.
The Giant Flying Turtles definitely have it going on! Waltz To The World is quite distinct from anything else around, original and creative. The melodies are deliciously contagious, the instrumentation is tight and sharp, and the vocal harmonies are mesmerizing. Don't miss this one!
Find out more about the Giant Flying Turtles here.
This post was published on the now-closed HuffPost Contributor platform. Contributors control their own work and posted freely to our site. If you need to flag this entry as abusive,
send us an email
.