Each week at The Pollination Project, we shine a spotlight on seven recent recipients of seed grants, allowing their visions to become a reality. This week we have individuals who are constructing environmentally friendly spaces for the community and individuals who introduce youth to the world of music. From outdoor spaces to professional media studios, our grantees are affording the marginalized a space to shine.
Congratulations to our seven recent recipients!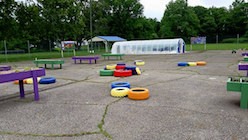 Pamela P. Roberts and Michael Roberts, Together We Grow Community Gardens, Newark, Ohio, USA. A solar powered greenhouse will serve as a therapeutic resource for veterans with post-traumatic stress and for those with developmental disabilities.
Jenna Bardroff, Solutionary Heroes Summer Camp, Florida, USA. Youth are challenged to become solution-orientated thinkers to solve problems that exist in our world through advocacy skills, conflict resolution and more.
Ana Argento Nasser and Melisa Laurin Comba, Multimedia Promotion of the Right of People with Disabilities, Cordoba, Argentina. People with disabilities star, write and produce communicational products, breaking down pre-existing barriers.
Warren Van Kirk and Gregory Van Kirk, "Monday Music" Presented by The Brothers Van Kirk, Saint James, Florida, USA. Youth are afforded access to musical instruments and musicians as a way to connect the community and increase confidence.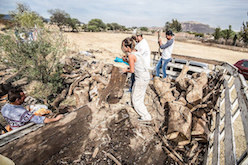 Esteban Reyes Medina and Mariela Gonzalez-Alvarez, Dry Toilets Tamazcal San Isidro Mazatepec, San Isidro Mazatepec, Jalisco, Mexico. Dry compost toilets are created as a way to conserve water, think sustainably and use the compost for community greenhouse projects.
Atema Addy and Jamilatu Konneh, UPLIFT Reading Rooms, Duazon, Liberia. Primary and secondary schools are provided with literary resources, affording youth a safe space to explore the unknown.
Adie Adie Elvis, Youth Vegetable Gardening Project, Kombo, Cameroon. Unemployed youth are trained in agricultural practices leading to economic security.
Do you have a project with a vision to help make the world a more inclusive and compassionate place for all beings? We accept grant applications for Pollination Project seed grants, every day of the year. We love learning about changemakers across all continents and hemispheres and all they are doing to spread peace, sustainability, generosity and justice.