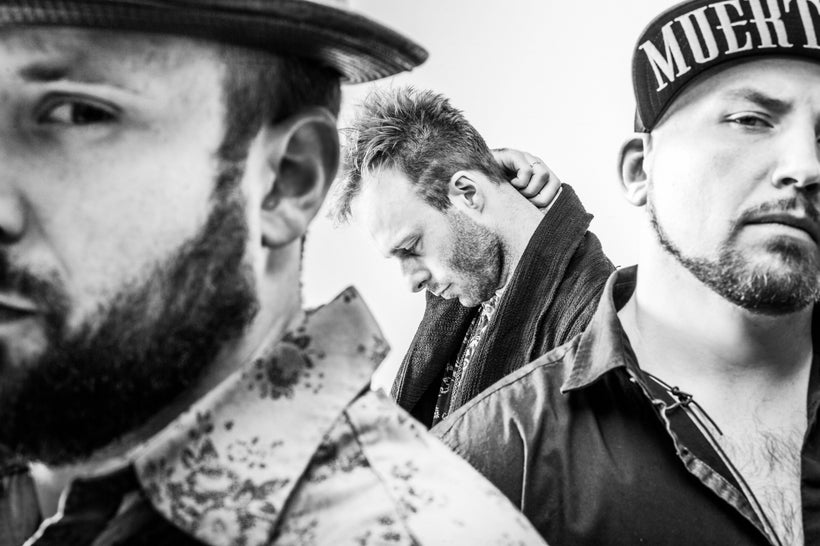 "Consecrate" is the new music video by theSHIFT, a New York City trio comprised of: John Shannon, on vocals and guitar; Ben Geis, on bass; and M.J. Lambert in the pocket. All three members of the band attended Berklee College of Music and then went on to stellar careers, touring and recording with artists like John Mayer, Lauren Hill, Ben Harper, Big Daddy Kane and Slick Rick.
Stylistically, theSHIFT is billed as cosmic rock, which is probably appropriate. But there's more to it than just a combination of rock and kosmische Musik (cosmic music). I perceive elements of psychedelic rock, pop rock and new wave, with influences from The Police, Blind Faith and Steve Winwood. However, theSHIFT has taken all these influences and put together their own unique sound.
"Consecrate" starts off with a delicate guitar intro; then Shannon's voice joins in, followed immediately by the drums and bass. Shannon's voice reminds me of both Sting and Steve Winwood: minimal, slightly raspy and cool. The melody is guitar-driven and kind of perambulates, gathering intensity as the tune proceeds. Lambert's efforts on the drums enchanted me. His playing is subdued, but it holds the band together organically. His cymbal accents complement the melody's coloration wonderfully.
Shannon's guitar work is stellar, providing a feeling of light layering, like a sophisticated sonic tapestry that emanates an umbral quality. And as the music crescendos, the bass and guitar thrum with convergent energy that is very effective. Whoever arranged the music knows his stuff.
The video, directed by Steve Pyne, is ooh la la! Three small houses sit in the middle of nowhere (the desert). Each band member stands in the doorway of one of the three houses. Nearby, a tall cell phone tower reaches up to the sky, providing the only connection to the contemporary world. The band plays their instruments in front of their respective houses and, later, out in the desert. As Shannon sings, like looking through a kaleidoscope, beguiling images appear in fractal perfection. The mirage of a woman dressed in flowing garb materializes sporadically, but never takes on definition. Near the end of the song, the number of houses increases infinitely, as if in a room of mirrors and there is a kaleidoscopic rendition of rows upon rows of duplicate houses.
Together, the music and the video provide a spiritual aura that is subtle, unpredictable and claims no specific religious color. But still, it's there, like a curious field of suppressed energy. It's almost shamanistic.
"Consecrate," as a song and as a video has it going on! The video is serenely beautiful and the music is, for lack of a better term, ethereal. I really liked it! In fact, I liked it so much I'm going to download theSHIFT's EP, 7th Direction.
Find out more about theSHIFT here.
This post was published on the now-closed HuffPost Contributor platform. Contributors control their own work and posted freely to our site. If you need to flag this entry as abusive,
send us an email
.