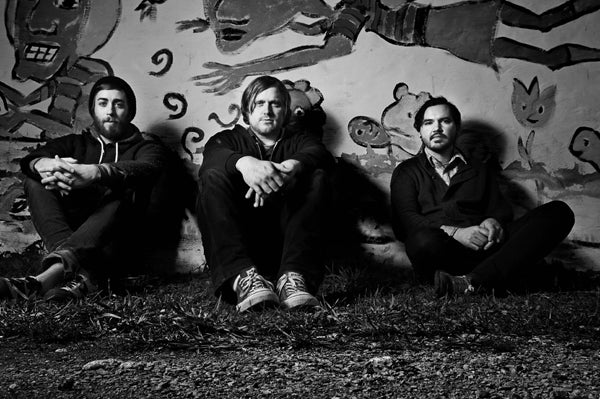 The Winter Sounds recently released a music video, called "Heartbeats." Based in Music City, aka Nashville, the band is composed of: Patrick Keenan, Joseph Reilly and Paul McKenna. Maximum Reality, the band's fourth album, is slated to drop at the beginning of December. Three years in the making, Patrick Keenan describes Maximum Reality thusly: "I think it is an album that speaks of change - different cities, studios, and members. I think we branched out in our writing more than ever, exploring different song structures and styles, as well."
Stylistically, The Winter Sounds blend elements of new wave, indie, electronica and post-punk into a pop rock sound indelibly their own.
The intro to "Heartbeats" combines a supple synth with Keenan's cordial vocals. The melody oozes elements of pop, electronica and new wave into bright, enthusiastic sonic waves infused with sparkling harmonics provided by the humming synth, ascending percussion and delightful explosions of brass. Riding the synth and guitars, the pop-forged melody verges on electronic dance music mixed with the progressive rock flow of The Alan Parsons Project on steroids. The overall feel of the tune is avant-garde new wave projecting ebullient, expansive coloration.
The opening refrain sets the stage for the stylish lyrics: "Long ago / There were voices in the clouds like a living wind." As the music escalates in intensity the chorus ramps up and wheels on Keenan's clean, fluent voice.
"Our heartbeats pound like a drum / And they say we can borrow money if we don't have enough / You can live a long life / Take a beautiful wife in your arms tonight / If we can't afford beef / Well maybe it's time we got a little bit more." And then the brass flourish enters, giving the tune concentrated depth and brilliance.
The video, directed by Zbanski Kino, was shot in and around Viljandi, Estonia, and delivers visual images approaching expressionistic art. Opening with a shot of a white one-story house surrounded by greenery, the camera cuts to a figure in the woods wearing a yellow rain slicker beneath a blue sky salted with white puffy clouds. Then it cuts to Keenan sitting up in bed, singing. A montage of rapid cuts displays Keenan in a barn, hefting a hammer; a cow in a dark green field; a step-ladder to nowhere in the middle of a field; the figure in the rain slicker; expansive crop fields; birds; a heron with its nest on a chimney; a bee on a flower; Keenan sitting in a greenhouse with a bucket on his head.
The variety of unpolluted images finance a juxtaposition of the beauty of nature and the narrow perspective of proximity to dislocated cultural artifacts, adding a surreal eccentricity to the video.
The Winter Sounds have it going on! "Heartbeats" offers an optimistic, contagious melody sparkling with layers of instrumental harmonics, dreamlike lyrics and Keenan's undeniably interesting voice. You don't want to miss "Heartbeats." I've already added it to my personal playlist, and I'm looking forward to the album dropping with eager anticipation.
Find out more about The Winter Sounds here.
Listen to the band's music here.
This post was published on the now-closed HuffPost Contributor platform. Contributors control their own work and posted freely to our site. If you need to flag this entry as abusive,
send us an email
.