"Everyone thinks I'm gay, even when I say I'm not," shared Vincent Frank, known professionally as Frankmusik. "They're like, 'No, he's gay; he just doesn't know it.'"
Speculation and being mislabeled doesn't bother Frank, whose career is linked to LGBTQ icons like RuPaul, Pet Shop Boys and Erasure. On Party Foul Radio with Pollo & Pearl, though, the producer and recording artist reflected on a time when musicians' sexuality seemed to matter less.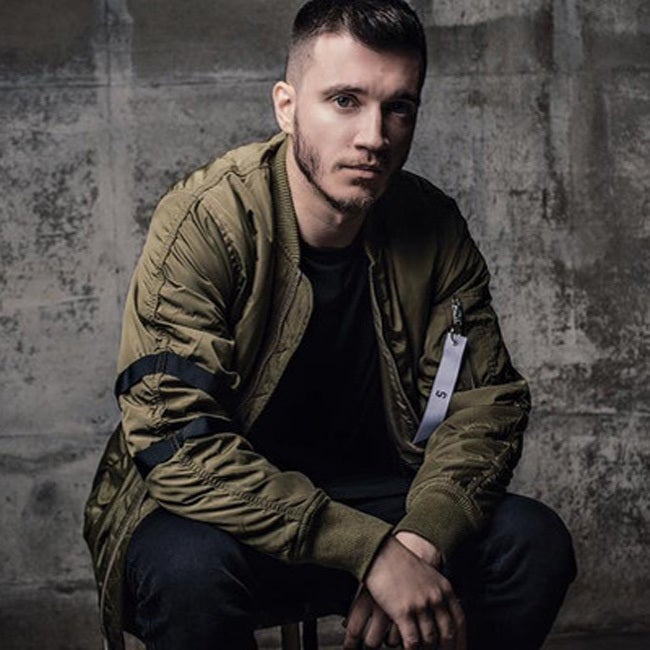 "When I was a kid, it was like Prince, David Bowie, all these people who were just allowed to be gay or straight," recalled the multi-talented musician. 
"They were just men singing music whichever way they wanted," he told Podomatic's No. 1 LGBTQ podcast. "Now it's like, if you're a guy and you sing above a certain note and enjoy it, you must be gay."
As artists have become more free about their sexuality, Frank seems to suggest it demystifies artists too much. He reflected back to a time when the public knew less about the sexuality of favorite pop stars.
"No one liked George Michael because he was gay or straight," said Frank as an example. "They liked George Michael because he was fucking adorable — then he came out to be gay."
In generations gone by, Frank said, an "unspoken" privilege for artists was the "veil of creative androgyny." Legends like Prince and Bowie aroused significant speculation, but many assumed it was part of the persona. 
LISTEN: Vincent Frank Discusses The Changing Record Industry
Others, said Frank, might have assumed such artists were queer ― but it seemed to make little difference. The prevailing thought about such musicians, according to him, was it "comes with the territory" for those in the arts.
"That's why I have always been drawn to the gay community," Frank offered. "Gay culture has really been enshrined in a bunch of positive attributes leaning in creative avenues."
The rise of the internet, he asserted, has changed things dramatically. "Everything is much more transparent; it's more of an open conversation," Frank said, describing how performers' personal lives have now become public. 
"With David Bowie, he was trying to be post-gender, post-sexuality almost," he explained. "It was an act, but you didn't know where the act stopped and where the real person began. With the internet and just no privacy, you don't have that with any celebrity or artist any more."
Of course, Frank has collaborated in the past with people who bravely shared their sexuality even in  generations where it was far less acceptable. In 2011, he produced Tomorrow's World, the 14th album by iconic British synth-pop act Erasure fronted by Andy Bell.
"I've had some pretty candid conversations with him in the past, regarding the earlier times of his career," said Frank of the singer, who opened up about his sexuality in 1986. "You can find videos on YouTube of him being booed onstage, because he did come out."
At the height of Erasure's success, Bell once told Seventeen magazine: "I want to be known as a good performer, but it's important to me to take a stance. If you're doing music, you should use it for something and have substance. Being gay and open about it is my substance."
Himself a former guest on Party Foul Radio, Bell has since expressed frustration that Erasure — despite massive mainstream success — was later labeled a "gay act" or similar. Frank suggested this is a definite downside of artists being so open.
WATCH: Frankmusik's Latest Music Video
"There are plenty of artists out there who have whatever their personal life is, and most of them you don't know," he continued. "You only care about the music of the art, as it were."
Bell is not only open about his sexuality. In 2004, the singer also came out as HIV-positive. It was a subject he discussed without reservation while recording with Frank years later. 
"It's very disarming when someone is that vulnerable and open; I think it intimidates a lot of people," he shared. 
Many respond to such "openness" defensively, "because they themselves know they can't be this open," Frank said. In turn, "to make themselves feel better," they often "shun" those showing the bravery to discuss topics with which they are personally uncomfortable, he said. 
"You are weaker than that," he concluded. "You aren't strong enough to be that open, especially about such hard topics as HIV and coming out back in the late-'80s." 
Overall, said Frank, how others respond to such information "says more about us than it does" the individual sharing it. Where Bell, specifically, is concerned, he admits the honesty has perhaps taken a toll.
"Someone like Andy, and this is so sad, the music matters less than his life choices," concluded Frank. "And that's depressing!" 
Follow Party Foul Radio on Twitter.
LISTEN: Frankmusik & Broadway Star Shoshana Bean Join Party Foul Radio
BEFORE YOU GO