As a busy mom with a ten-year old vegetarian daughter, I struggled to find lunch options to keep her satisfied all day. Her after-school program didn't allow nuts, so our food options were limited. Last May I discovered one of those stainless steel insulated vacuum seal bottles designed to keep drinks cold for up to 12 hours. An idea was born― Smoothies! Little did I know this idea would later nearly blow my head off.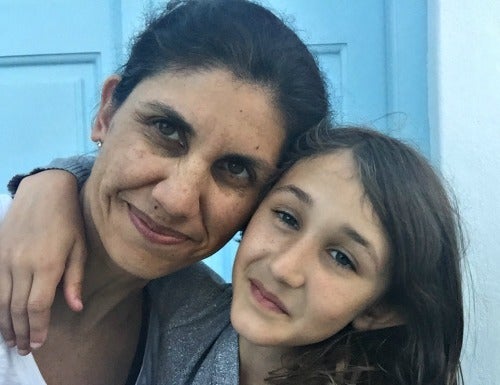 On the first week of school, my daughter returned home distraught that she had lost her beloved smoothie bottle. I was a little bummed because these bottles don't come cheap. About a week later, while picking my daughter and her friend up from school, I made a quick trip to the lost and found. After a little rummaging, I found the treasure I was searching for.
"Look what I found!" I exclaimed as I held up the bottle triumphantly over my head and did a little dance in front of my daughter. I was her hero.
I handed her the bottle, but joked about not opening the bottle until we got home due to the likelihood of the week-old smoothie being pretty disgusting…probably lumpy and smelly. I envisioned the re-usable container that gets stuck in the back of your fridge filled with forgotten moldy leftovers, making you question whether it is even worthwhile salvaging. This wouldn't be the case with her bottle though…after all, it is stainless steel. I figured it would just take a good cleaning, and then be business as usual.

When we got home, she wanted nothing to do with cleaning it so she shoved the bottle into my hands and ran upstairs to play with her friend. The dreaded task was mine. I stood near the kitchen sink and tried to unscrew the top. It was on tight. I leaned forward, braced the bottle close to my body and twisted the cap… BOOM! There was a blast, pain, and warm liquid streaming down the left side of my face. The force was so strong that at that very moment, I didn't know if I had just blown up part of my face, including my eye socket. "Oh my God! Oh my God!"
I hastily reached for a towel to wipe my face. It was a combination of blood and creamy pink liquid. I cautiously tried to open just my left eye and felt a sigh of relief. Sight! While I could tell there was severe trauma to my face, I knew that total blindness was averted. There was smoothie and bits of the plastic lid liner that had landed nearly 20 feet away in our living room. I was thankful that my daughter was upstairs. Still not knowing if my face was intact, I found a mirror and took a look. I couldn't believe that the image looking back at me was mine. There was blood everywhere with the left side of my faced bludgeoned like it took a direct hit from a baseball bat. My left eye was black and starting to swell shut.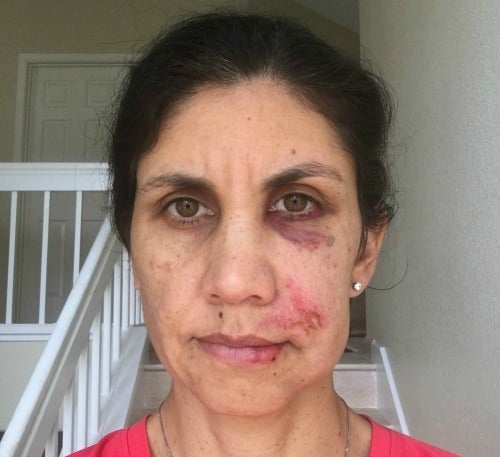 It was a perfect storm, but not one that would seem all that unusual.   The bottle had been used for its intended purpose which to keep a beverage cold for several hours. It just happened to be that the beverage contained fruit juice. In those critical few days at room temperature in my daughter's school lost and found, her fruity drink fermented into a bomb from a build up of gasses and pressure in a rigid container, not too different than a small improvised explosive device. Once the plastic threaded lining in the metal screw top broke, the metal top blew directly into my face, driving from the bottom of my cheek all the way to my eye socket with tremendous force.
I was lucky that the location of initial impact was my lip and cheek and not my eye. What if my 10 year old would've opened the bottle up at school? We were lucky. While I sustained cuts, nasty bruising and swelling to my face, and mild vision problems called "floaters" common to eye trauma, I still have my teeth and most importantly my eye sight. A projectile moving at that speed and force has the potential to do great damage, making me wonder why there isn't a warning label written directly on these bottles. After all, is it that unusual to misplace or even forget what beverage you have in your bottle…especially if you have kids?   Not to mention, many of these bottle brands and users encouraged the use of the bottle to keep smoothies cold. One of the major brands (not the one I purchased) did indicate on their website that these bottles are not intended for long term storage of beverages…no kidding! I learned the hard way.
These bottles are beautiful, functional, and serve the well-intentioned purpose of making staying hydrated easier by making it cool (no pun intended) to do so. However, after my experience, I'll never use these bottles for anything other than water, and I'd encourage you to do the same.
It was a freak accident, but not one that couldn't easily play out again with more dire consequences, especially as the popularity of these bottles continues to grow. Incidentally, my daughter's third grade friend had a similar bottle in her lunch-bag that day.  I hope that people understand the potential dangers of using these bottles and realize that what we put in them might unintentionally turn a healthy act into a potentially debilitating or even deadly one.
Dr. Ada Wells, PT, DPT founded ProBalanceTV, a site dedicated to helping to pain-proof people's lives through intelligent and mindful movement.  She can be found at http://www.ProBalance.TV.
This post was published on the now-closed HuffPost Contributor platform. Contributors control their own work and posted freely to our site. If you need to flag this entry as abusive,
send us an email
.