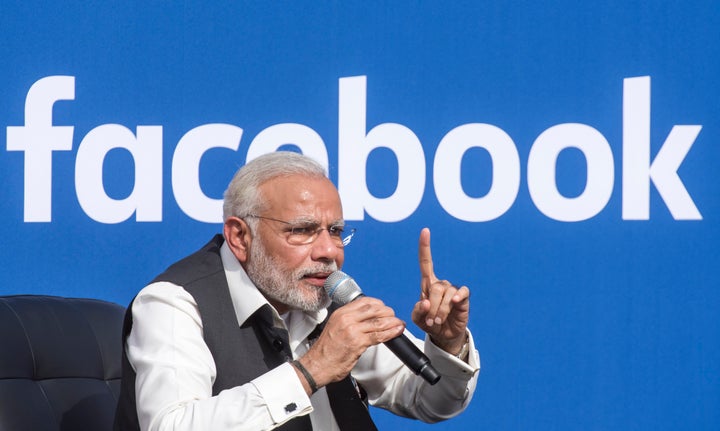 As a child, Narendra Modi sold tea with his father at a railway station in Vadnagar, the Indian city of his birth. In his teens, he helped his brother run a tea stall in a bus terminus, serving buns and steaming cups of chai.
Fast forward five decades to 2014 when Modi was elected the prime minister of India.
"I came from a very poor family," the 65-year-old politician told Facebook CEO Mark Zuckerberg during a Facebook "town hall" on Sunday. "It's hard to imagine that a tea seller has actually become the leader of the world's biggest democracy."
During the hour-long Q&A session at Facebook's Menlo Park, California, campus, Modi fielded several questions about the potential of social media and his thoughts on women's empowerment. But it was one query in particular, posed by Zuckerberg himself, that elicited the strongest response from the Indian prime minister.
"I understand that your mother is very important in your life so I'm hoping you'll tell us more about her," Zuckerberg said.
Modi went on to speak about his impoverished childhood, and how his mom struggled to make ends meet.
"When we were small, what we used to do to get by … was that we used to go to our neighbors' houses … to clean the dishes, fill water, do hard chores," Modi said, his voice quavering. "So you can imagine what a mother had to do to raise her children, what she had to go through."
He added that this wasn't just the "case with Narendra Modi. In India, there are hundreds and thousands of mothers like that … mothers who've sacrificed their entire lives for their children."
Modi's Facebook session was reportedly well-received by the 1,200 people in attendance. FirstPost reports that the town hall ended with a standing ovation for the Indian leader.
The Q&A, however, has also been met with some criticism. Quartz.com, for instance, slammed the event for being too light on substance.
The prime minister's West Coast trip also comes hot on the heels of a similar visit by Chinese President Xi Jinping. Just last week, Xi was in Seattle meeting with several tech leaders, including Zuckerberg, Apple CEO Tim Cook and Microsoft CEO Satya Nadella.