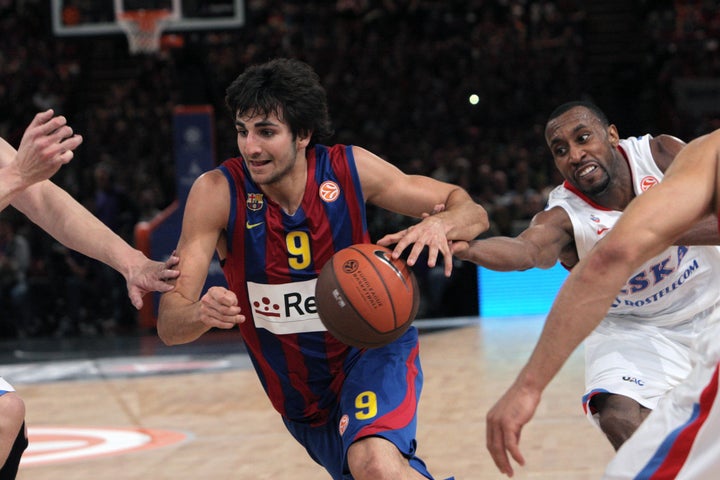 Vazquez to Orlando, Marc Gasol Back to Spain?
Tim Shea is one of the most respected members of the international basketball community and a consultant with NetScouts Basketball. For more than a decade Tim has been the Director of International Scouting for the NBA New York Knicks, Phoenix Suns and the Charlotte Bobcats.
Born in NY and now living in Spain, Tim has been a European resident since 1972 and before entering the coaching ranks, he played professionally in Holland and Austria. He has successfully served as Head Coach for teams in Austria, Italy, Portugal, ACB Spain and S.Korea. He led Vienna, Austria to a National runner-up finish and later twice led SLBenfica of Lisbon, Portugal to National titles. Additionally, he was enlisted by FC Barcelona as the club's developmental coach for their youth program, where among others, he trained Juan Carlos Navarro.
Due to the large number of potential international first round picks in this year's NBA Draft we thought we'd get Tim's thoughts on the upcoming draft.
NetScouts Basketball: How difficult is it to evaluate international players for success in the NBA?
Shea: Over the past years the drafting and incorporating of international players into the NBA has shown to be a very tricky business. Unlike American prospects, there are more "variables" to be considered as an international prospect's life is based and defined in a foreign country, a foreign social structure and a foreign sports culture.
It stands to reason that the difficulty, faced by the USA-NBA based experts to accurately "interpret" and project into the future what they are "seeing" with international prospects, is greater. Relative to evaluating American prospects, the NBA GM's percentages with the (international) success rate decreases. Quite simply and to paraphrase, "What you see is what you get"... applies much more to the homegrown amateur NBA prospects than to the foreign born professional prospects. To the June 2011 NBA process, now add the unfortunate, likely NBA lockout possibility to the labor horizon and the NBA Draft selection process gets even cloudier and more difficult to navigate.
NetScouts Basketball: Why? Will the lockout have an effect on drafted internationals deciding whether to move to the NBA next season?
Shea: All the players who will likely be selected, both in the lottery and in the entire draft, are already highly considered and desired by the European teams they are playing for and/ or other top international teams. These teams could make a big, long term offer for a player while the lockout is occurring. It might be tough for an international player to turn down guaranteed salary while waiting for the NBA to start, resulting in a draftee being forced to decide whether or not to sign a multi-year agreement in Europe. It's good for the player that has that option. Not so good, not such a pretty outlook for the NBA GM that drafted him, especially lottery picks.
NetScouts Basketball: What qualities do you look at when evaluating an international player for the NBA?
Shea: There's a good question. It's relative but three things are very high on my list; ambition, intelligence and athletic ability. I think that the NBA player, even a role player, needs them to a certain degree. Fundamental to an evaluator is his need to examine each prospect to determine to what extent these characteristics exist in his prospects makeup.
NetScouts Basketball: Can you elaborate on that in reference to a potential international lottery pick this year?
Shea: OK. Let's take the Hoop Summit sensation Bismack Biyombo. The past few seasons he was in a very controlled environment in Fuenlabrada, Spain. He will be drafted with a guaranteed contract and go to live in the USA and into a very, very different social structure. How will he adjust? Biyombo clearly has the athletic ability. Does he have the necessary NBA level ambition and intelligence? A NBA GM, in less than a week, has to judge those traits accurately. It really is the tricky part with the international prospects and right about now, I'm glad it's not me.
NetScouts Basketball: Do you think any previously drafted players will move to the NBA this season and will any current international players return to Europe?
Shea: I think Fran Vazquez may make the move to Orlando and provide something they need -- and although he was required to play mostly in the paint in the ACB and Euro league, he is a true power forward with a decent shot. He rejected a large, multi-year offer recently, possibly in anticipation of moving on to the NBA. The lockout, if there is a lockout, may change his thinking. Look for Marc Gasol to move to Regal Barcelona, and look for him to stay the season if the NBA lockout lasts.
NetScouts Basketball: Do you have any final thoughts?
Shea: Sure, a tidbit, maybe advice. In scouting and evaluating players you need to rein in your emotions. As my old friend Ed Tapscott, acting Director of Player Development with the Washington Wizards, likes to say, "Players in this business are like stocks and bonds, you can't get too emotional and you can't get too excited"