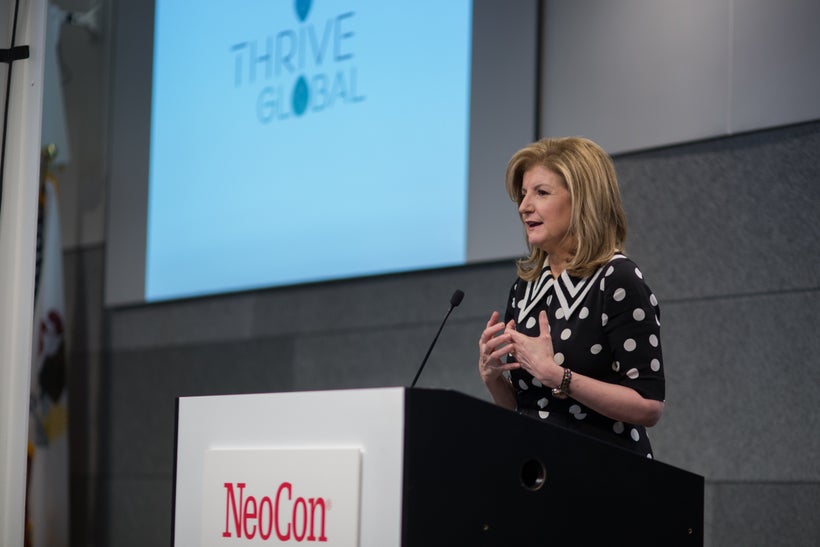 We all know wellness is becoming an increasingly important topic, but few could drive this point home to the contract interiors industry better than Arianna Huffington. Well known as the founder of The Huffington Post, author of 15 books and self-proclaimed sleep evangelist, she started her 2017 keynote with this: "You thought you were doing furniture, but you are actually doing much more than that. Those of you who are interior designers can help make transformational differences in lives, and those of you who produce furniture can give them the tools to do so. This is a time of incredible opportunity."
As she phrased it, the goal of her speech was to put what our industry is doing in the context of what's happening in the world. Huffington explained that we are living in a collective delusion that in order to succeed you have to burn out. "We are running our lives like we run machines where we minimize downtime. If you go back to creation, God created the earth in 6 days, then even SHE rested on the seventh day. It's time to listen to what our bodies are telling us."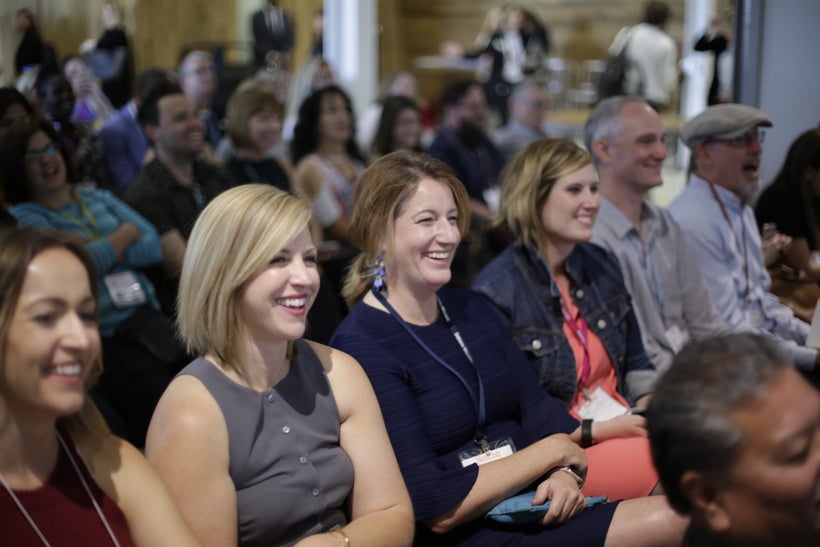 Huffington learned from a powerful experience ten years ago when she collapsed at work from sheer exhaustion. As her tired body plummeted to the floor, she hit a table and broke her cheekbone on the way down. Huffington said, "As I woke up in a pool of blood, I asked myself, 'Is this what success looks like? If so, I'm not sure I'm still interested.'" It was this experience that prompted her to launch Thrive Global, a corporate and consumer well-being and productivity platform with the mission of changing the way we work and live by ending the collective delusion that burnout is the price we must pay for success.
She firmly believes that when we take time to sleep and fully recharge, we are more effective, productive and even more creative. Her last two books, Thrive: The Third Metric to Redefining Success and Creating a Life of Well-Being, Wisdom, and Wonder and The Sleep Revolution: Transforming Your Life, One Night At A Time, both became instant international bestsellers, indicating this message hits home with many.
Huffington continued, "There are no tradeoffs between success and taking care of ourselves. It's like on the plane when they tell you to put your oxygen mask on first before you take care of others. If you run out of oxygen, you will be of no help to them (others)." Huffington pointed to new mounting evidence that gives measurable data about how lowering stress levels has an immense impact on our immune systems, and is important to overall health and happiness saying, "It's getting easier to measure as there are many more studies these days proving it. 75 percent of healthcare costs are stress-related and preventable, and they have a direct impact on the bottom line for companies. Our workplaces have a direct impact on that."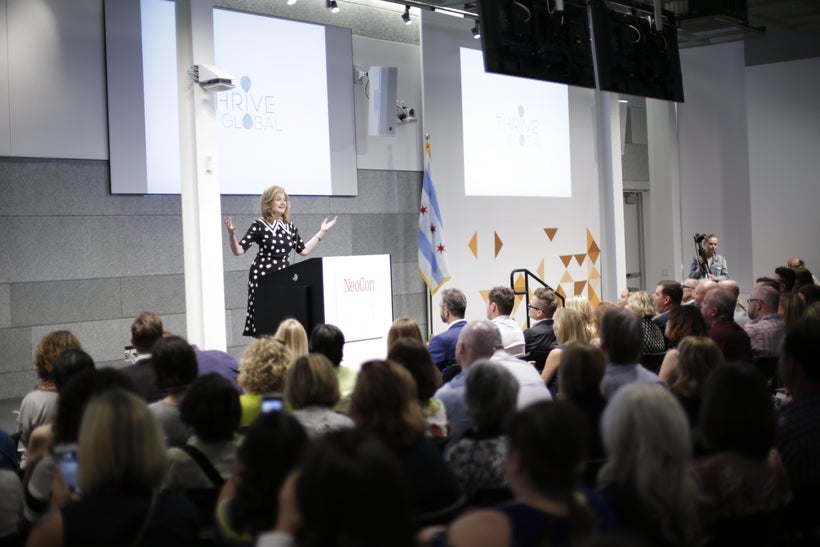 She also suggested some ways to bring peace into our evening routines and personal spaces including these tips to recharge:
1. No electronics in the bedroom. Put your phone to bed at night (in a location outside of your bedroom), inviting us to literally tuck it in with her new audio book, Goodnight Smartphone.
2. Give your brain time to transition. Read only "real" (printed) books to help you relax and avoid electronics at night.
3. Treat your nightstand as an oasis. The only thing on hers is a (paper) book, fresh flower stems and picture of her daughters.
Huffington entertained the audience with multiple lighthearted moments including our modern-day addiction to electronics. She said, "We congratulate people for being always on. It's not good. It's getting harder to disconnect. We care more about our phone battery than our own because of our addiction to electronics. The moment we see that battery down to 6 percent, we frantically are searching for a place to recharge. But what if we had a measure of how much battery was left on ourselves? And what if when we saw that, we recharge? Today, running on empty is the new normal." Huffington challenged that the 'old' measures of success used to be money and power, but she sees that as only two legs of the stool, the remainder being well-being and giving. This is why nature should be part of the workplace; it helps infuse concepts of health and well-being that can revitalize us in the very place we work. She even suggested that doctors are beginning to see designers as partners because of how space can transform our behavior.
Huffington engaged the audience by inviting all of us to take part in the Thrive movement, which she defines as "moving us beyond knowing to doing something about it." She backed the initiative by sharing her own personal email address and inviting attendees to share their own personal stories about workplace designs and products that help people learn to recharge on the Thrive Global media platform. Keynote sponsor Humanscale already has taken the first step in this movement by announcing a partnership with the Thrive Global, which involves a mutually reinforcing of core elements including: corporate trainings with leading partners; a media platform designed to be the global hub for the conversation about well-being and productivity; and an e-commerce platform that offers top technology and well-being products. ​
After many moments of laughter, deeply personal sharing, and an inspirational thread that suggests those who design and furnish the spaces where we work can make a difference in the Thrive movement, Huffington closed with a strong invitation for the industry to join in, "This is an exciting time to be alive. We will look back on this time and see a huge time of change. The way we live now is a time of sitting (the new smoking), tech addictions and lack of sleep. I'm on a mission to prove we can live better lives with more productivity, wisdom, gratitude and especially sleep!"
This article originally published in the Business of Furniture, a division of Bellow.Press on June 20, 2017. It is republished here with permission.
About the author: Amanda Schneider, LEED AP is a researcher, writer, consultant, and the founder of Contract Consulting Group, a research-led strategy firm focused exclusively on the Contract Interiors market. Do you work in the industry? are you interested in getting PAID for your opinions? Click here to Join In for PAID market research opportunities!
This post was published on the now-closed HuffPost Contributor platform. Contributors control their own work and posted freely to our site. If you need to flag this entry as abusive,
send us an email
.