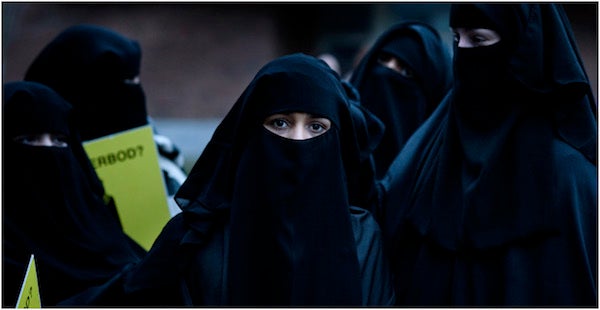 I think that I can understand what draws young people to groups like Daesh these days. In fact, deep down inside, if we look within the crevices of our inner thoughts, we can all comprehend the attraction these extremist organizations hold in this "us against them" world.
One part Big Brothers Big Sisters mentoring agency, one part perfect peer group, all tied together as the one entity where teens looking for a purpose can feel like they belong, IS and their recruiters offer what is understandable to the youth. This idea that the world is black and white only, not lived in shades of grey, and unfortunately, you no longer just have to be young to adhere to that belief. Judging from the kind of interactions I find myself increasingly more involved in on social media, even adults now think that it's acceptable to judge each other as simply good, or just bad.
Mijke de Jong's beautiful, touching and at time perfectly infuriating film 'Layla M.' takes us to the heart and soul of extremism. Yet it never passes judgement and doesn't lay a finger on trying to manipulate our opinion of what it's like to grow up a Muslim teen in this modern-day Western world. Seen through the eyes of Layla, a Dutch teen of Moroccan descent, 'Layla M.' takes us deep into the abyss of radicalization and still, finds a way to make us stare at the stars — the possibility of salvation for these teens — above. All wrapped up in a cool, fast and spellbinding film that keeps the viewer entertained, yet leaves us with a sense of newfound understanding.
Now I ask you, what's there not to love in a film like that?
'Layla M.' is the Netherlands' submission to the Foreign Language Oscar race and following is my short interview with its insightful filmmaker Mijke de Jong.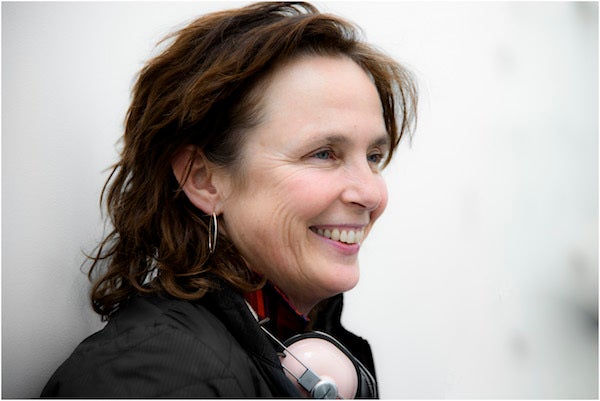 What was the spark that made you decide 'Layla M.' was to be your next film?
Mijke de Jong: It was the moment that I met a girl who was similar to Layla. She told me her life story and that was the beginning of 'Layla M.'. Religion and radicalization are subjects that fascinate me. Many of my films revolve around these subjects and that also has to do with my own life. I had a religious upbringing, I was a rebellious teenager and a radical activist in the squatting and peace movement.
I want to make films that take place in the NOW. For us this is an important subject in a time in which polarization prevails and the fear of "the other" is continuously increasing.
I loved something you talk about in your Director's Statement, the idea that as teenagers, younger adults, we tend to view things in very black and white − it is us against them. It's partly Layla's problem, this viewpoint, what gets her in trouble. And yet it's also at the core of idealism, the viewpoint that the power of one can change the world. Can you talk about how difficult it was to portray this in a film, and make it a fascinating watch as 'Layla M.' is?
de Jong: That was the biggest challenge when making Layla. On the one hand we had to portray the black and white views of the group and the risks that these views pose.
But we also wanted the viewer to understand Layla. The viewer may find her annoying, or she might make the viewer angry, but they had to understand her.
Layla's behaviour isn't much different than the behaviour of many other young girls who are in search of their identity. It's just that Layla lives in an environment in which hate and anger are important motifs and it's a small step to get caught up in this. It's heart-breaking at the same time. Layla made the wrong choices and ultimately will have to face huge consequences.
This is a very real problem. ISIS is losing the war in the Middle East and girls like Layla are returning to the country where they were born. They all have their own story. Are these girls female terrorists and a serious threat for national security or are they disillusioned women who just want to make a fresh start in the country where they were born or raised?
How important is love in the choices we make? And how important is it to Layla's story?
de Jong: I don't think you can say it's a general rule that love has a large influence on a person's choices. However, in my work and in my life, love and intimacy are important motivations — the lack of, the struggle with and of course the desire for these things.
Love definitely plays a role in Layla's life but it has different layers. She's not just blindly in love. Abdel provides the opportunity for her to leave her parental home and choose her own path. She has given it serious thought and formulated her own "prenuptial agreement".
It's undeniable that this young woman in a headscarf, fighting for the rights of her fellow Muslims to practice every aspect of their religion, is a feminist. And yet, that seems to be such a contradiction with the Islam we often see headlined in our news. Can you try to explain this and how you managed to work on making Layla's character so clear in her beliefs?
de Jong: Of course it's a misconception that all Muslim women are suppressed. Also in the Quran there are hundreds of interpretations about the role of the woman. From a Western point of view, Layla's behaviour doesn't seem to align with the opinions of the fundamentalist creed of the group, but that isn't the way it's experienced within the group itself. I've met many girls like Layla. Intelligent, eloquent, feministic and definitely not submissive. At the same time they accept male authority in a natural way. Men and women have their own strengths and responsibilities and these are seen as equal. I was fascinated. In Layla's case, as we can see in the film, there are men like Zine who do ultimately assert their power. That's when Layla comes to the painful conclusion that she shouldn't have anything to do with these men.
Why did you choose to work on the script by Jan Eilander? Do you think the film would be different in any way had it been written by a woman?
de Jong: I wouldn't be able to say, but I'm happy that we made the film together. It was important to us that both the role of Layla and the role of Abdel were layered, which was why both a female and a male point of view were very inspiring during the writing process.
Do you believe cinema can help heal the world − change it in some way?
de Jong: I believe in the power of cinema and telling stories about real people who are struggling with what are often universal emotions. I'm curious and try to understand people. I hope this makes people think, even if it's only a drop in the ocean. I hope that this makes the world a slightly more loving place.
What do you look for when you go to watch a movie? And some recent favourites for example?
de Jong: I want to be moved. By the poetry, by the horror, by the love. I want the film to raise questions which I can think about, so that I leave the cinema in a different state than I entered it.
[Like] 'Room', 'American Honey' & 'Fish Tank' by Andrea Arnold, 'Winter's Bone' by Debra Granik, 'Mommy' by Xavier Dolan and 'Burma VJ documentary: Reporting from a Closed Country'.
If an audience member can only take away one message from your film, what would you want that to be?
de Jong: I hope that girls like Layla, boys like Abdel, and second-generation parents of stubborn daughters are viewed differently and with more nuance.
Never judge a book by its cover, even if the cover is a niqab.
This post was published on the now-closed HuffPost Contributor platform. Contributors control their own work and posted freely to our site. If you need to flag this entry as abusive,
send us an email
.