If you want to better yourself get out of your comfort zone. Never Settle For Less. Simonetta Lein
There are people who inspire me because they never settle for less, and they achieve success in everything they do. I recently was introduced to a brilliant Millennial author - he missed the cut off for my generation by just a couple of years so I decided that we can let him in:) - and immediately got intrigued by his next book, Children Of The Fifth Sun. It is a story about an ancient myth recorded all across the globe. I found out that behind this author is a man that holds a degree in Marine Biology, a PhD in Endocrinology, and currently works in the pharmaceutical industry bringing new cancer therapies to patients the world over. During the past fifteen years, he has lived in the U.S.A., Europe, and Asia; has hand tagged sharks in California; trained in various martial arts, including Jeet Kune Do, Muay Thai and MMA; and was even a model.
He is a published author of fiction, represented by Gandolfo Helin Fountain Literary Management, NYC. His work has received honorable mention at the New York Book Festival in 2012 and 2013 and been optioned for development into a TV series or feature film. He is also the Director of Business development at a unique books-to-screen company: the Vesuvian Media Group. His name is Gareth Worthington, born in England and living in Switzerland while impacting lives all over the globe.
As an author myself and a conscious human being I find it mesmerizing that behind this book there is a multi-faceted author. I am even more astonished when I discovered that behind the words there is someone that is concretely fighting to improve other people's lives.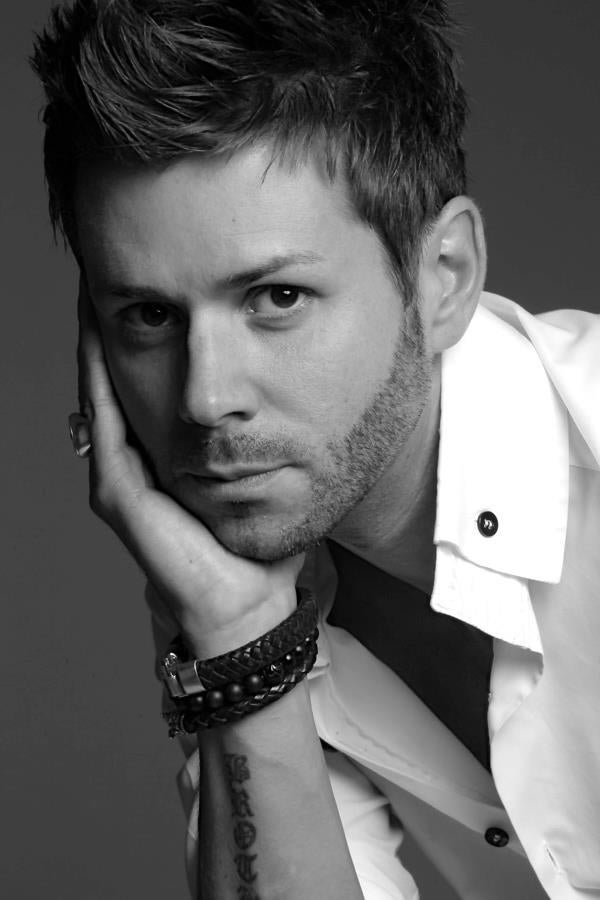 When you were a child, did you wish for the career and for the life that you have manifested today?
I grew up poor in social housing, in a neighborhood known for violence and crime. Home wasn't much better as my father was physically and mentally abusive. My mother did her best, but she was equally trapped, along with my siblings and me.
I don't think I necessarily wished for the career that I have, but instead wished to grow beyond the hand I was dealt and see the world – and if I was lucky, leave a mark on it. Education was my way out. From five years old, I was very aware of my own mortality, and ever since I vowed never to waste a minute of my life – every second that passes is another chance to turn it all around. It sounds corny, but I am living proof.
How does this mindset manifest itself in your multiple careers?
For me, it's always about doing something bigger than myself. For example, in my pharma career, I work in medical affairs. One of the most satisfying feelings is knowing you truly made a difference in patient lives. I worked at a company called Nutricia, which is now part of Danone. They made synthetic foods for children with very rare diseases. If these children eat certain foods they could become irreversibly mentally damaged or die. I worked closely with the children and even spent time at the Denver Children's Hospital. I sat with them, trying out the foods we had created – and watched them pull faces or rub their tummies. It was perhaps the most rewarding experience I've ever had in pharma. Now I work in cancer therapy, and I don't need to explain what this means to others as one in three people will develop cancer. My work impacts millions of lives.
Then, there is my career as an author. I write thrillers, but always try and build the story with real human conditions at the center – for individuals and as a society. For instance, in Children of the Fifth Sun, behind the action and scientific elements, there is a story about one man's loss – the death of his family – and how he does, or doesn't, deal with that. I took it one step further and considered why all people on the planet have an apparent hole in them that only another human can fill. Why we search for another. In my next book, It Takes Death to Reach a Star, co-written with my good friend Stu Jones, we tackle current affairs extrapolated ad absurdum – what will we do if the social classes continue to diverge, antibacterial resistance worsens, and the war on terror escalates. Set two hundred years in the future, using a sci-fi back drop, it's actually a very pertinent story. If one reader can relate, and pick up on these threads among the action, I've done my job.
**Never settle for less. Gareth shows us the spirit of someone who always sets goals to surpass himself and in my opinion makes him a very interesting author. In his words, Gareth passes us this infinite spirit of always looking for more, a constant search between truth and imagination that comes from the mind of a dreamer and an achiever. Please visit the Children Of The Fifth Sun website to better understand what I am talking about.
How did you become an author? Did you always want to write?
I used to write a lot as a kid, probably from the age of 12 to 16 years. Primarily it was something I really happened to enjoy at school as part of my English lessons. And then it became something that bled into my free time. I dabbled in writing for the next ten years or so, but kept coming back to a story that I wrote when I was 16. A short piece about ancient Egypt. One day in 2009, sat on my couch reading a non-fiction book by Graham Hancock on alternate history, the story from back then popped into my mind. I was just compelled to write it. So technically, Children of the Fifth Sun has been 20 years in the making.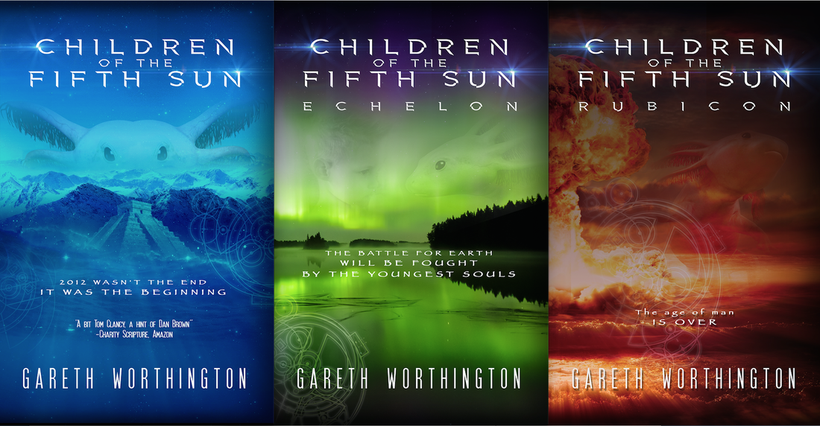 **It is so fascinating to me when I discover the process behind a book. My first novel came out as my life story, so I understand very well when a book is the result of many years. To all the aspiring writers my tip is: start with what you are passionate about and what is true to you. Characters take form while you are developing what you are writing, and you might discover a totally different attitude of one of your characters by the end, or someone that you did not plan into the story that becomes necessary for the narration. They will call you.
You've branded Children of the Fifth Sun 'science faction'. Can you explain what this means?
So this term was thought up by my friend Marie D. Jones, who is best known for her non-fiction work on conspiracy theories and ancient aliens. The reason she called it that is because I like everything I write to have as much realism as possible. So, I combine facts, theories, hypotheses and conspiracies together so that the reader is never sure if its fiction or not.
The basis of Children of the Fifth Sun is a global myth handed down through generations: fifteen thousand years ago a great flood destroyed most of the planet, and after the flood came a race of knowledge bringers who gave humanity the tools and intellect to be what we are today. The myth also says we killed them off.
Research often describes the knowledge bringers as pale men with beards who came from the sea. The alternate historians conclude there is an undiscovered race of humans who were very advanced at that time (think Atlantis). Others suggest the race may be alien.
When I looked at the research, I noted that most of the translations of the old stories were by those who hand conquered those lands, and that the words may have been misused. For instance, in South America, the conquistadors used the word beard – when in fact the original drawings and carvings of the knowledge bringers would suggest they were not bearded, but feathered. In Children of the Fifth Sun, the knowledge bringers are not human or alien – but another species altogether that evolved alongside us. The macro story revolves around the political battle for the only known living knowledge bringer. The heart of the story is about the protagonist, Kelly Graham who, battling his own personal demons of loss, becomes embroiled in the international incident.
Of course I work in everything from the strange alignment of the Giza Pyramids to the constellation of Orion, to the function of the theorized reflecting pools at Teotihuacan in Mexico…
You are now Business Development Director for the parent company that will publish your novel. Can you explain how that happened?
Yes, I'm often asked this question!
Originally I was only a client. I met the Vesuvian Media Group (VMG) through my agents at GHF Literary while submitting Children of the Fifth Sun to publishers. Vesuvian Books, part of VMG, read my novel and wanted to publish it, so we signed the necessary contracts.
Over the months that followed, I learned that VMG was a new company set up by authors for authors. Their mission was to acquire and publish novels that have screen potential and then develop them for Film or TV. All the while keeping the screen story as true to the book as possible. I loved that idea, truly bringing an author's vision to life. The CEO and I hit it off. So I joined the team as their Business Development Director and haven't looked back.
It was the spark that ignited my inner entrepreneur.
**I am in love with Gareth's spirit. To all the entrepreneurs out there: read and reread this interview many times because to succeed you need this exact courage. Be always ready to start something new and don't look back.
What other entrepreneurial activities do you have ongoing?
So my childhood has obviously had a big impact on me. I have two children of my own who are my absolute world, Nikolaj and Mila. Clearly I want to make sure they never go through what I did. But, having built this life for myself and my family I began to wonder what I could do. As I mentioned, I like to create things bigger than myself. There many children in the world suffering.
We regularly give donations to aid in Syria. But again that didn't feel like enough. So, this November, instead of going on a typical vacation, my wife and I will travel to Russia and make contact with orphanages there with the aim of setting up a charity to support them. Following the collapse of the Soviet Union, there are literally millions of orphans in Russia – from babies to teenagers. The charity is embryonic at present, but we'll make it happen.
**As the founder of The Wishwall Foundation this touches me particularly. I hope we could do something together to impact some children's lives. I am creating a special project called "HOPE BOXES" for foster girls and the idea of impacting children's lives makes me very proud of what my foundation can accomplish.
If you were granted one wish for humanity, or for our planet, what would it be?
I would wish for tolerance. I think we have become a society of extremes on both the left and the right. Tolerance means hearing another's point of view and understanding while you don't agree, that person has a reason for their perspective. I see too many people berating others for something they may have said or believe – often without justification or further discussion. Usually on the internet – keyboard warriors, I call them.
A really relevant example for me is my relationship with my co-author, and good friend, Stu Jones. He is a law enforcement and SWAT officer based in Alabama, as well as a practicing Christian. I am an atheist scientist from Europe. You couldn't get two guys with seemingly different points of view. But it works because we respect each other and our views. It is true tolerance. And from it has come a great novel. Imagine what the world could do with tolerance.
If you could go back in time and ask one question from anyone in history, who would you want to meet and what question would you ask?
Oh, that's difficult! There are so many. But if I were to follow my heart, I would go back to ancient Egypt and speak with the first Egyptians who built the pyramids. I would ask them why they did it – and who influenced them? Who were these knowledge bringers? I'm dying to know.
**This is one of the questions I have asked myself since I was a child. I never shared this openly but when I was five years old and my dad asked me what I wanted to do when I grew up I said without hesitation: I will discover the pyramids that are buried under the sand in Egypt. Now I understand even more where your book comes from. This is a brief synopsis: ​IN ALMOST EVERY BELIEF SYSTEM ON EARTH, there exists a single unifying myths: thousands of years ago a great flood devastated the Earth's inhabitants. From the ruins of this cataclysm, a race of beings emerged from the sea bestowing knowledge and culture upon humanity, saving us from our selfish drive toward extinction. Some say this race was "ancient aliens" who came to assist our evolution. But what if they weren't alien at all? What if they evolved right here on Earth, alongside humans . . . and they are still here? ​And, what if the World's governments already know?
So moving on to your time as a model. Please tell me what influences your unique sense of style?
I can't stand to blend in. For me it's better to burn out than to fade away. Part of making a difference in the world means you have to give of yourself. People buy people. If they remember me, I can then become a person of interest. I'm probably one of the most heavily tattooed pharma execs you'll ever meet. But, it gets me noticed, and I can thus achieve my goals.
**You are not only a scientists, an author, an entrepreneur, an activist, you are also fashion!
Who is your favorite fashion designer or brand right now and why?
I am absolutely obsessed with Philipp Plein. There is only one store in Zurich that stocks his line, though I go looking in every city I visit as I travel a lot for work. His leather jackets are amazing – so well cut, and so interesting. They say you can take the boy out of the hood, but not the hood out of the boy. Philipp Plein embodies street style and elegance, reflecting my personality. Of course I also admire Philipp. He has taken the fashion world by storm – I love his attitude.
**Oh well, you are also classy :)
What is your fashion mantra?
Dress for your body type. Always. Not all fashion trends suit all people. Figure out which cuts work for you, and which don't. Oh, and as tolerant as I am – no man should wear speedos. Ever.
What is your final message for our readers?
Consider these words, which I've read in multiple guises, in all that you do both personally and professionally: "We don't see the world as it is, we see it as we are."
**I am totally enamored by this author and human being, please support people that change the world!
As always, make your wishes come true.
From Philadelphia, The Celebrity Wishmaker Simonetta Lein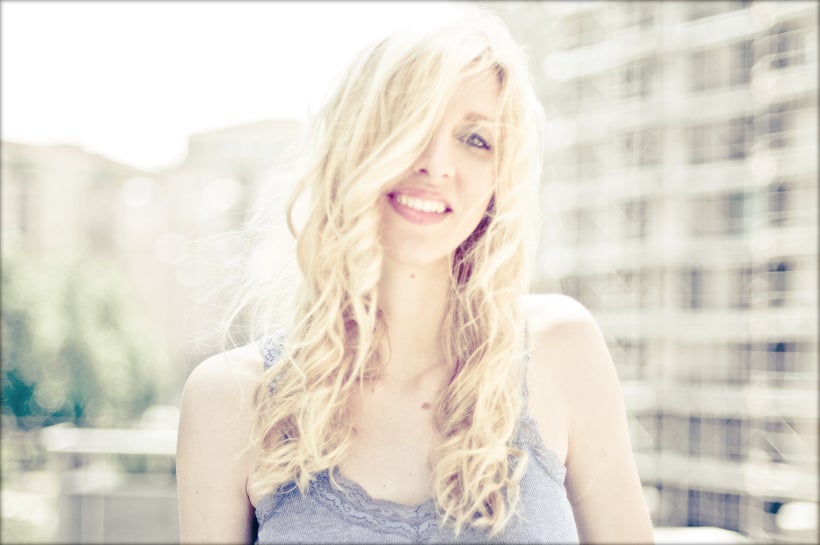 This post was published on the now-closed HuffPost Contributor platform. Contributors control their own work and posted freely to our site. If you need to flag this entry as abusive,
send us an email
.