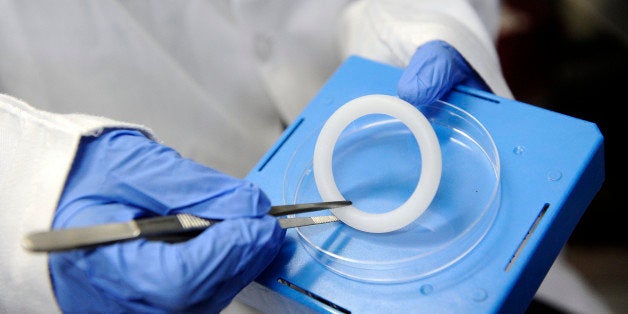 Stopping the spread of HIV infection in women is one of the most urgent priorities for improving the health, rights and well-being of girls and women around the world. It has also long been one of the most scientifically daunting and stubborn challenges. But on this International Women's Day, a different picture is emerging, one that brings new hope for women's HIV prevention into sharper focus.
Last month, two international teams of researchers showed -- in two large, independent clinical trials in sub-Saharan Africa -- that a monthly vaginal ring containing an antiretroviral medicine can safely help protect women from HIV infection. The monthly ring is the first long-acting HIV prevention method specifically designed for women, and the encouraging results are a significant step forward in applying scientific innovation to improve women's lives.

The ring safely prevented HIV in nearly one in three women overall. The studies also uncovered an important age difference, showing that the ring offered increased protection in women over age 21, though little or no protection in women ages 18-21. While we do not yet fully understand what is causing this difference, the data suggest that women over 21 were protected because they were able to use the ring more consistently.

The HIV epidemic among women and girls can only be stopped by giving them practical new tools they can use to protect themselves. In the African communities where trials of the ring were conducted, the HIV infection rates in the placebo groups were extremely high - over 6 percent in one study. This means that unless the current HIV prevention paradigm changes, more than half of women in these communities could become HIV-infected over the next decade.

When women are healthy and empowered to stay that way, they are more likely to have healthy families, educate their children and make positive contributions to their communities. Results of the monthly ring studies -- along with the recent approval of daily oral antiretroviral pills for HIV prevention -- give us new hope that we can create that reality for many women. Generous financial support for scientific research on women's HIV prevention has come from both European and the United States governments as well as foundations because these donors know that ensuring the health of women is a moral imperative and essential to sustainable development.

I am optimistic that with further research we can better understand how to support women to use new prevention tools like the ring consistently and get the greatest amount of protection. My organization, the nonprofit International Partnership for Microbicides (IPM), which developed the monthly ring, is planning an additional study in Africa focusing on how women may use the product in their daily lives now that they are aware it can safely offer protection when it is kept in place. IPM will also apply early next year for regulatory approval to license the ring.

Given the ring's promise as a platform technology -- and the time it takes to take a product from development through licensure -- IPM is already at work on next-generation rings and other products. One such product is a three-month ring that combines HIV prevention with a contraceptive, which could provide an attractive option for women, particularly younger women, who wish to prevent both HIV and pregnancy.

Women in sub-Saharan Africa face an extraordinarily high risk of HIV, a fact that is as unacceptable as it is possible to change. An expanded HIV prevention toolbox that includes, if approved, a monthly ring, would empower women to protect their own health. On this International Women's Day, such a future is beginning to take shape.
Follow HuffPost Canada Blogs on Facebook
This post is part of a blog series produced by The Huffington Post in conjunction with International Women's Day, celebrated on March 8, 2016. A What's Working series, the posts address solutions tied to the United Nations' theme for International Women's Day this year: "Planet 50-50 by 2030: Step It Up for Gender Equality." To view all of the posts in the series, click here.