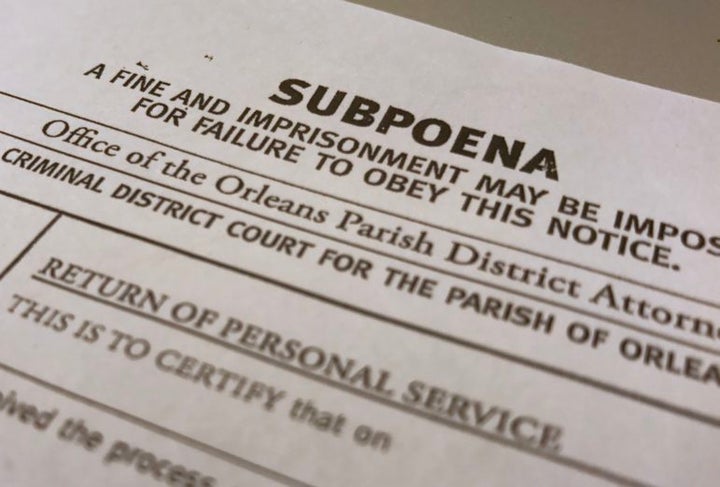 The Lens, an investigative newsroom in New Orleans, has uncovered more cases in which the Orleans Parish District Attorney's office appears to have given witnesses fake subpoenas — legally worthless documents apparently used for years to pressure people into talking to prosecutors.
In one case, a prosecutor delivered a fake subpoena to a teenage girl, the victim in an ongoing child molestation case, according to her lawyer.
After the lawyer told the DA's office not to contact the girl directly, the prosecutor got a real subpoena and had it delivered to her at school. When the girl didn't show for an interview, the prosecutor threatened to put her in jail.
The prosecutor in the case has said was he merely doing his job despite the victim's refusal to cooperate. Her lawyer said his actions ended up victimizing the girl again.
"I think the prosecutor is engaging in unprofessional conduct," said Bennett Gershman, a Pace University law professor and an expert in prosecutorial misconduct, "by using tactics that smack of heavy-handedness and harassment."
The fake subpoenas ordered witnesses to meet privately with prosecutors. Louisiana law allows such meetings, but prosecutors must file a formal written motion saying why they need to talk to the witness, and a judge must approve it.
Instead, the DA's office sent what it called "DA subpoenas." They were labeled "SUBPOENA," cited state law and threatened jail time and fines if witnesses didn't comply.
But the documents had no legal authority. They were a ruse, essentially, to coax reluctant witnesses to talk to prosecutors.
"Maybe in some places if you send a letter on the DA's letterhead that says, 'You need to come in and talk to us,' … that is sufficient. It isn't here," Chris Bowman, an assistant district attorney and spokesman for Orleans parish DA Leon Cannizzaro, told the Lens in April. "That is why that looks as formal as it does."
Defense attorneys and legal experts said the practice was unethical, if not illegal.
Defense attorneys and legal experts said the practice was unethical, if not illegal.
"I would call it an epidemic," Gershman said. "It strikes me as something that was fairly routine and not something that was irregular or abnormal."
The Orleans Parish DA's office hasn't said how often it used "DA subpoenas," and it has refused to provide copies, saying it would be too hard to track them down.
So The Lens hit the streets. We handed out flyers at corner stores, churches and gas stations. We mailed postcards to people in parts of the city with high crime rates. And we searched court records for motions filed by defense attorneys seeking to throw out fake subpoenas.
In addition to the molestation case, The Lens has learned of another fake subpoena.
In that one, a shooting victim willingly met with prosecutors and told them he couldn't identify the man who shot him and killed his stepfather. When the victim showed up at the DA's office, he was handed a fake subpoena ordering him to return for another private meeting the morning of the trial.
Those two new cases come on top of the four The Lens has reported already:
"We're not talking about mistakes, accidents, inadvertence," Gershman said. "These are clear and willful violations of the law that every prosecutor knows. … There should be sanctions. What the sanctions are, I'll leave it to the courts or disciplinary bodies."
Last month, the Southern Poverty Law Center filed ethics complaints against the Orleans and Jefferson DA's offices over their use of fake subpoenas.
Charles Plattsmier, Louisiana's chief disciplinary counsel, said he couldn't comment on those complaints.
He has asked every DA's office in the state "to see if it was a widespread issue." He doesn't believe the practice extended beyond southeastern Louisiana.
Gershman said this is the sort of thing the U.S. Department of Justice could look into. A spokeswoman for the U.S. Attorney's Office in New Orleans declined to comment.