Study Reveals Strong Correlations Between Head Trauma and Speech, Paints Roadmap for Early Detection in Athletes.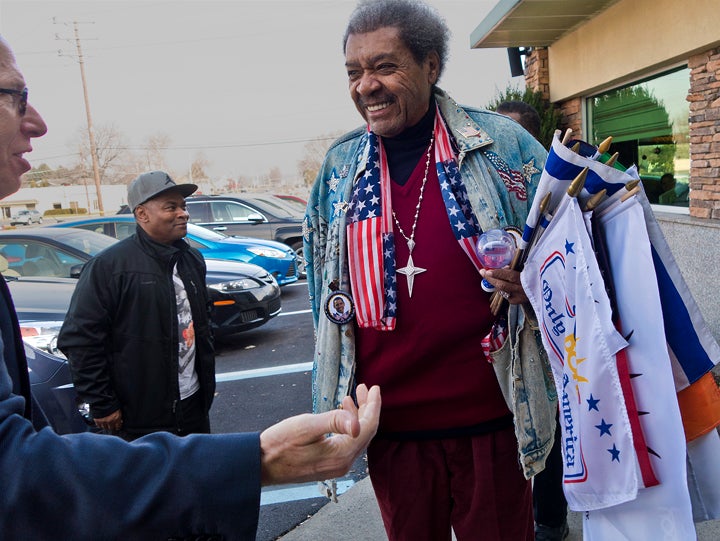 TEMPE, AZ – August 23, 2017 – Heavyweight boxing legend Muhammad Ali was diagnosed with Parkinson's syndrome in 1984, but a new study by New York Times best-selling author Jonathan Eig and researchers from Arizona State University reveals that Ali's neurological decline may have begun as early as 1968.
The study was conducted as part of Eig's upcoming Muhammad Ali biography, Ali: A Life (Houghton Mifflin Harcourt.) The book, which will be published on October 3, 2017, will provide the first complete, unauthorized look at the boxing icon's life.
Researchers Visar Berisha and Julie Liss of Arizona State University used audio from nearly two-dozen interviews spanning 1968-1981 to track changes in Ali's speech prior to his diagnosis. They also utilized a punch-by-punch statistical breakdown of Ali's career, developed by Eig in partnership with CompuBox, to explore the correlation between changes in Ali's speech and the frequency and severity of hits he experienced during boxing matches.
Findings not only reveal that Ali's speech rate fell by a staggering 26% in the decade between 1970 and 1980, but also that his speaking ability was tied directly to the number of days elapsed since his last fight.
"One of the study's strongest implications is its potential application to 'return to play' policies," says Julie Liss, Professor of Speech and Hearing Science at Arizona State University and Co-Founder of Aural Analytics. "Identifying the subtle changes to speech that occur immediately after head trauma provides a non-invasive method for tracking how much recovery time is needed."
The study focused on measurable elements including Ali's speech rate, pitch range, loudness range and vowel precision.
The study revealed changes in speaking rate and articulation consistent with Parkinson's syndrome well before diagnosis, and a relationship between reduced speech intonation and the amount of time elapsed since the most recent fight preceding the interview.
While traditional methods for documenting the relationship between speech changes and neurological disorders have pulled from high quality, controlled recordings, the study suggests that in order to have a considerable impact on early detection, speech changes should be measured through uncontrolled conversation in natural recording environments over extended periods of time.  
"Changes in speech are one of the most powerful early indicators of neurological impairment," says Visar Berisha, Assistant Professor of Speech and Hearing Science at Arizona State University and Co-Founder of Aural Analytics. "The study provides additional evidence that subtle changes in speech may be an effective way of predicting long-term neurological changes in athletes participating in high-impact sports. That's exciting since speech is abundant and easy to collect. "
In addition to the study, Eig conducted more than 500 interviews and gained unique access to almost every one of Ali's family members, close friends, and business associates during the compilation of Ali: A Life.
"I wanted to look at every aspect of Ali's life," said Eig. "That meant understanding his boxing abilities, his family, his finances, and the effects of boxing on his long-term health. Ali was one of the greatest fighters of all time and one of the greatest talkers of all time. For his fans, watching him lose his speaking ability was nothing less than tragic."
Amy Zellmer is an award-winning author, speaker, and advocate of traumatic brain injury (TBI). She is a frequent contributor to the Huffington Post, and has created a private Facebook group for survivors and also produces a  podcast series. She sits on the Brain Injury Advisory Council (BIAC) through the Brain Injury Association of America's and is involved with the Minnesota Brain Injury Alliance. She travels the country with her Yorkie, Pixxie, to help raise awareness about this silent and invisible injury that affects over 2.5 million Americans each year.
This post was published on the now-closed HuffPost Contributor platform. Contributors control their own work and posted freely to our site. If you need to flag this entry as abusive,
send us an email
.