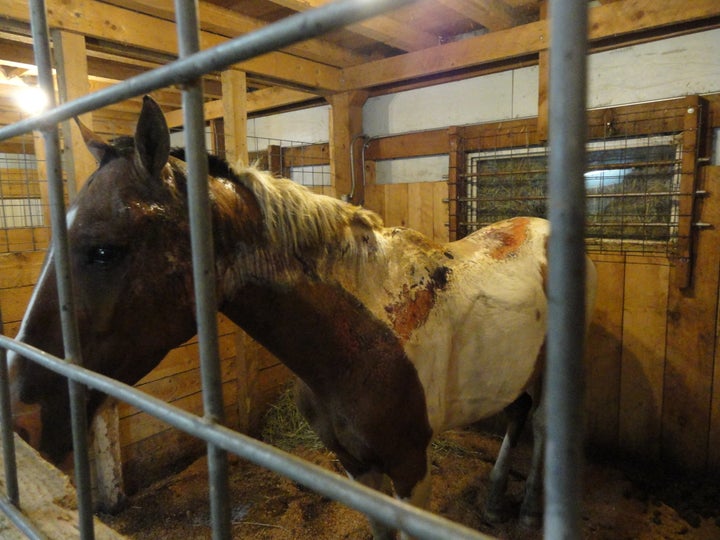 Northstar, the 6-year-old quarter horse who was doused with a flammable substance and set ablaze last month, is receiving specialized care at The Ohio State University.
"He's been here almost a week now and we're extremely pleased with how the healing process is progressing," Dr. Samuel Hurcombe, assistant professor of Equine Emergency and Critical Care, told The Huffington Post.
"I would say his prognosis for life is good," Hurcombe continued. "We have a lot of infection that had developed under control and we're clearing away dead tissue every day. It's going to take a lot of time. We have to see what his body is able to do before we consider skin grafts."
Northstar's owners, Bob and Jessie Woodworth, of Union City, Pa., boarded the gelding at a 60-acre ranch in Athens Township. Family members found him severely burned and hiding in the woods on Aug. 26. According to police, an individual or individuals used an unknown accelerant to set the horse on fire.
The Marley Veterinary Clinic in Titusville had been treating Northstar with pain medication, antibiotics and prescription ointments. The animal, however, suffered from first-, second-, third- and fourth-degree burns and was in need of round-the-clock care, Hurcombe said.
"They should be commended for what they were able to do to keep him going as well as they did," the professor said. "The intensity of his wound management is pretty labor intensive, so it was difficult for them to keep infection under control."
According to Jess Lybrook, founder of the Erie Animal Network, it was the generosity of strangers from around the world that made it possible for Northstar to be transported to the university. Lybrook created the website www.helpnorthstar.com to solicit donations for his care. With the help of Jayne May, an Erie woman who also led fundraising efforts, around $10,000 dollars in donations has been collected.
"Erie Animal Network provides a community for our fellow citizens who care about animals in need of a place to connect with each other to help locally," Lybrook told HuffPost. "We encourage citizens to step up when they see an animal in need -- be it lost, found, abandoned or abused."
The $10,000 and the donation of Northstar's transportation by Tim Girtin, a trainer at Presque Isle Downs & Casino in Erie, Pa., allowed for the horse to be transported to Ohio. The funds have paid his preliminary care expenses. However, according to Hurcombe, more donations are needed for the horse's ongoing care.
"Right now, we are in the realm of the unknown," Hurcombe said. "I have never seen a horse burned this severely. At the rate of his tissue healing, we're probably looking at a minimum of 30 days in ICU, if not several months. His complete recovery will probably take at least a year. I would say, by the time all is said and done, his care will cost 20 to 30 thousand dollars, possibly more."
Despite the infections Northstar is battling, he is eating and drinking well and appears to hold no ill will toward humans.
"The horse is actually, as far as his spirits, doing great," Hurcombe said. "He shows a high level of engagement. He's very interactive. He likes people and he is very personable."
WARNING: GRAPHIC CASE PHOTOS: (Story Continues Below)
According to the Pennsylvania State Police, the investigation into Northstar's assault is ongoing, but there have been no solid leads.
Pennsylvania is a state with relatively lenient animal cruelty laws. "It's frustrating how lackadaisical the law is about animal abuse," Hurcombe said. "What happened to Northstar is considered no more than a misdemeanor. If someone set a car on fire, it would be arson. If someone did this to a human being, it would be attempted murder. The fact you can cause this sort of injury to an animal and it's a misdemeanor, is terrible."
Northstar's assault has outraged animal lovers and prompted an online petition at change.org. The petition calls for Pennsylvania lawmakers to reform animal abuse laws so there are harsher penalties for offenders. As of Wednesday, more than 1,900 people have signed the petition.
Bob and Jessie Woodworth could not be reached for comment. In an interview with the Erie Times-News, Jessie Woodworth said she's been touched by all the support her family has received.
"The support that's come in -- I'm in awe of it," she said.
To help with Northstar's expenses, a fund has been established. Anyone wishing to contribute can donate to the "Donations for Northstar" account at any PNC Bank branch or at www.helpnorthstar.com. Northstar's Equine Foundation, Inc. is also raising funds with T-shirt sales and a silent auction. For more information on the fundraising efforts, go to the "Donations for Northstar" Facebook page.

Anyone with information about this case of animal cruelty is asked to contact the Pennsylvania State Police at (814) 663-2043 or toll-free, at (800) 922-1975.
ANIMAL CRUELTY FACT SHEETS: