I met my homies at the venue and missed Skeletonwitch and Tribulation. However, I was on time for power trio High On Fire's red-hot set. Over the years I've listened to a number of High On Fire records but not with much consistency. It's easy to miss records by certain bands these days/years. I was not altogether familiar with every record in their discography. Once they started I was mesmerized.
At this point my second drink helped the pot candies I had taken 2 hours earlier along. I started to have a mini psychedelic experience. I closed my eyes and a full sonic pastiche emerged. There were layers and textures of reverb and echo, washes of color. There is a Motorhead-like groove that harkens back to the metal of the 80's seated within a contemporary setting. It was a very powerful performance.
Spatiotemporalism is a term used to describe how we perceive sound within the space-time continuum. This book I'm reading called Digital Signatures: The Impact of Digitization on Popular Music (MIT 2016) describes, "A certain kind of reverb might indicate the emptiness of despair." The authors also go on to say "musical spatiality evokes not only actual spaces but also metaphorical ones." When seeing metal bands on this level of emotional intensity with paralleled technical proficiency, you become drawn to the distortions of spatiality. Sometimes when metal is really working well it seems to absorb some of the disorienting, heady, psychedelic rock of the 1960's.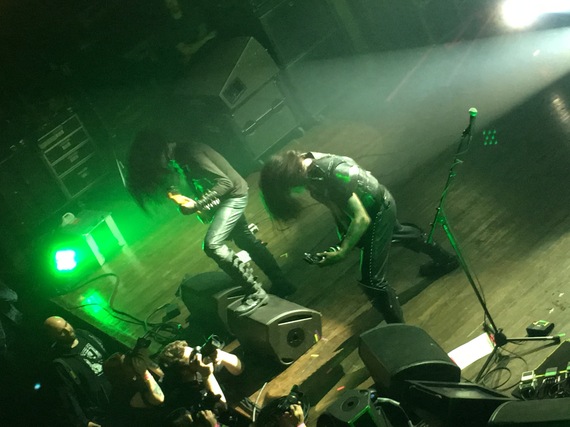 Decibel's choice in curating Abbath's cold, dark headlining set was complimentary against the heavy groove of High On Fire. Abbath's set was an existential tunnel in the classic Scandinavian model. Despite the severity of this particular type of music, Abbath Doom Occulta is himself aware of his own comedic charisma. In this way Abbath plays with the notion of black metal comedic showmanship via Kiss. Furthering this idea, I've noticed a proliferation of Abbath memes appear on social media. It's funny that it's taken so long for an artist to emerge with a streak of humor in the black metal genre yet still make compelling and heavy music. I loved his former band Immortal, however I don't recall Immortal being so tongue in cheek about the black metal theatrical presence. Metal Injection reported that he was drunk but I don't think that was the case. I think he's just funny.
Abbath's set was composed of songs from his debut album in addition to six Immortal songs from what I recall. During Abbath's set I began to think about how interesting it is watching a genre grow up. I suppose there are terms like 'adult metal' out there. Like hip-hop or jazz, metal is very generational. The crowd looked like it was mostly New York intellectuals rather than the stereotypical metalheads that crawled out their parent's basements. I figure Abbath himself must be somewhere around my age and that we both saw the same photos of Celtic Frost in the metal magazines back in the day. This show had a lot of history under the surface as metal has moved away from the fringes cementing itself in the ivory tower in addition to your parent's suburban basement.
iPhone snapshots by John Torrani who was standing next to me and was a little closer.