President Barack Obama on Wednesday addressed the ongoing protests occurring during the national anthem at sporting events, saying he hopes those protesting and those standing during the anthem will at least consider each others' pain.
During a CNN town hall, a veteran asked Obama how he feels when he sees athletes like the NFL's Colin Kaepernick kneel during the national anthem.
Obama, who has spoken about the issue before, said he hopes athletes like Kaepernick can understand how kneeling may hurt those who've lost a loved one in combat. But he also said he wants military members to understand Kaepernick's pain over racial discrimination.
"I want them to listen to the pain that [kneeling] may cause somebody who, for example, had a spouse or child who was killed in combat," Obama said. "But I also want people to think about the pain that [Kaepernick] may be expressing about somebody who's lost a loved one that they think was unfairly shot."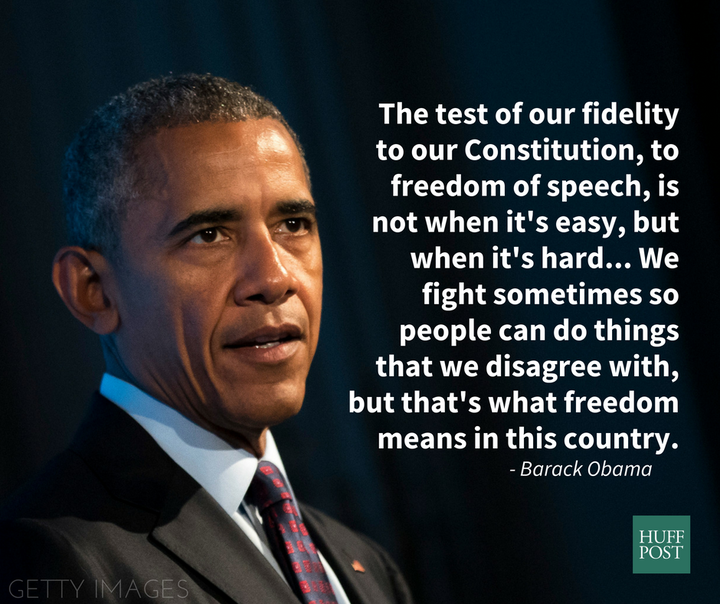 Kaepernick, the quarterback for the San Francisco 49ers, began kneeling during the anthem in this year's pre-season.
"I am not going to stand up to show pride in a flag for a country that oppresses black people and people of color," Kaepernick told NFL.com's Steve Wyche. "To me, this is bigger than football, and it would be selfish on my part to look the other way. There are bodies in the street and people getting paid leave and getting away with murder."
Professional athletes like soccer star Megan Rapinoe and two-time NBA MVP Stephen Curry have spoken out on the quarterback's behalf. Student athletes have followed in Kaepernick's footsteps, kneeling during the anthem at high schools and colleges around the country.
Obama first acknowledged the protest on Sept. 5, saying he thought Kaepernick cared "about some real legitimate issues that have to be talked about."
During Wednesday's town hall, Obama said he recognizes what the flag means to men and women in the military, but also said it's every American's right to have their own opinion.
"We fight sometimes so that people can do things that we disagree with, but that's what freedom means in this country," Obama said. "So my hope would be that as this debate surfaces, we're always reminding ourselves that in a democracy like ours, there are going to be a lot of folks who do stuff that we just don't agree with, but as long as they're doing it within the law, we can voice our opinion objecting to it, but it's also their right."
BEFORE YOU GO
PHOTO GALLERY
Obama Playing Sports