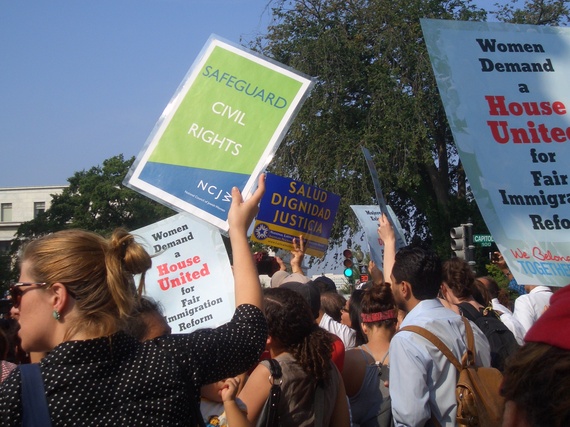 Once again, immigration policy has taken a front seat in our nation's policy debates. The focus of much misleading and even hateful campaign rhetoric, the fight over changes in immigration policy proposed by President Obama has now landed in the US Supreme Court for oral argument April 18. The case United States v. Texas focuses on a challenge by the state of Texas to proposed changes in deportation enforcement.
In November 2014, President Obama issued an executive action that would affect nearly half of the 11 million immigrants now in the country who lack legal status. He expanded the current Deferred Action for Childhood Arrivals (DACA) program, which allows young immigrants brought to the US at an early age by their parents to stay in the country temporarily. And, he created a new deferred action program, Deferred Action for Parents of Americans and Lawful Permanent Residents (DAPA), which also allows the parents of children who are US citizens to stay if they meet certain other criteria. These important actions would prevent close to five million hardworking immigrants -- some of whom have been in this country for decades -- from being needlessly torn from their homes, jobs, communities, and families.
However, despite evidence that the state of Texas has in fact experienced a net economic benefit from immigration, the state sued the federal government based on alleged harm caused to the state by Obama's new policy. Suspension of Obama's executive action by an appeals court has produced an easily predicted result -- more hardship, more arbitrary and capricious enforcement, and more uncertainty and fear. United States v. Texas calls on the Supreme Court to decide four separate legal issues. At least one -- whether Texas can sue at all -- could have lasting legal significance. But if ever a case can demonstrate the overriding importance of the courts in the lives of millions women and families, United States v. Texas fits that bill.
Stories brought forward in a friend of the court brief filed by several religious organizations illustrate the folly and inhumanity of the state's attempt to overturn DAPA and the DACA expansion.
For example, Iowa City Mennonite Pastor Max Villatoro, married with four children, lived more than 20 years in Iowa. More than 16 years ago, he was convicted of driving under the influence and attempting to obtain a driver's license with a false ID. But since then, Villatoro has become a church pastor and community leader, assisting others in his community who are struggling with drug and alcohol addiction.
Nonetheless he was detained by US Immigration and Customs Enforcement (ICE) and deported. His wife remains temporarily, allowed to work under the original iteration of DACA. All four of their children, ranging in age from 7 to 15 years old are US citizens. But Villatoro's deportation has shattered his family, and devastated his church and the community where he has been a leader for years.
In another case, both parents in the Moreno family work every day to support their family and have been in the US for over 12 years. Their 18-year-old son, brought to the US as a 6-year-old, was diagnosed with a severe mental illness when arrested two years ago. His older sister has permission to stay in the US and to work. His parents would qualify for deferred action under the new policy since their youngest son, age 11, is US-born. And the Moreno's eldest son would also have qualified for deferred action while in detention. Instead, he was deported several months ago to Mexico, a country he barely knows, with no support, and where treatment options for mental illness are limited and seen as taboo. The Moreno family has been devastated by the deportation of their mentally unstable son.
These stories bring immigration policy to life, and highlight the importance of US federal courts and of those who fill the federal bench. In United States v. Texas, the fate of an estimated 4.3 million people, plus millions more parents, children, siblings, and loved ones, hang in the balance. We know DACA has already helped more than 700,000 children, and we must commit to achieving a new immigration process that strengthens the opportunity for immigrants to contribute to our society and live out the American dream.
As Jews, we know intimately what it is like to flee religious persecution and be strangers in a strange land as immigrants and refugees. In the spirit of Passover, a time when we are reminded to welcome the stranger, this relief can't come a moment too soon.

Nancy K. Kaufman is the chief executive officer of the National Council of Jewish Women, a grassroots organization inspired by Jewish values that strives to improve the quality of life for women, children, and families and to safeguard individual rights and freedoms.