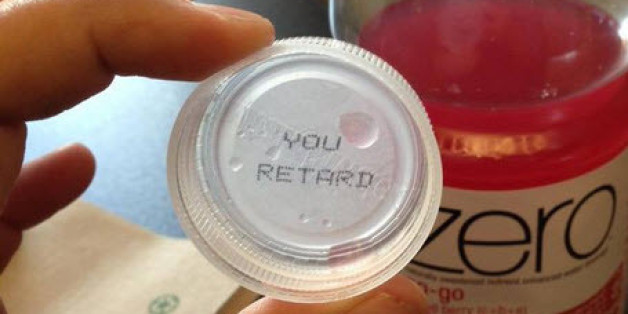 Coca-Cola apologized on Thursday for a marketing promotion for its Vitaminwater brand in Canada that went terribly wrong. The campaign, targeted at French and English speakers, featured words in both languages printed on bottle caps. Customers could put the caps together to form phrases and send them in for prizes.
The whole thing fell apart this week when a woman in the province of Alberta found the words "You Retard" on the underside of her bottlecap. "Retard" is the French word for "late."
"[My husband and I] immediately thought 'You have got to be kidding me,'" Blake Loates, 32, told Huffington Post Canada. The phrase was particularly painful because her sister Fiona has cerebral palsy and autism.
Blake's father Doug quickly dashed off a letter later that day to Coca-Cola, which owns Vitaminwater.
[Fiona] has had 22 surgeries. She has Cerebral Palsy and still gets fed with a feeding tube. She is cognitively delayed. Fifty years ago they might have called her retarded ... What would YOU do if you opened up your bottle of Vitamin Water and on the bottom of the lid it read "YOU RETARD"?
Blake then posted the letter to Facebook, and it has since been shared nearly shared 1,000 times. The post includes a photo of the bottle cap as well as her sister:
Coca-Cola apologized to the family on Wednesday by phone, according to Metro News, and issued a formal apology letter dated Thursday, which Doug posted on his Facebook account.
"We sincerely apologize for this mistake. It was certainly not our intention to offend anybody. The process of printing [English and French] words on the caps is completely random, and it's unfortunate that in this instance, it resulted in an offensive pairing," a Coca-Cola spokesperson told HuffPost Business. "It was an oversight on our part that we didn't review the words from both an English and French perspective."
The company said it has canceled the contest and destroyed the promotional bottle caps in its facilities. Blake told HuffPost Business that she is "happy with their response."
You can read the full text of Doug Loates' letter to Coca-Cola letter here:
BEFORE YOU GO
PHOTO GALLERY
Major Company E-Mail Fails