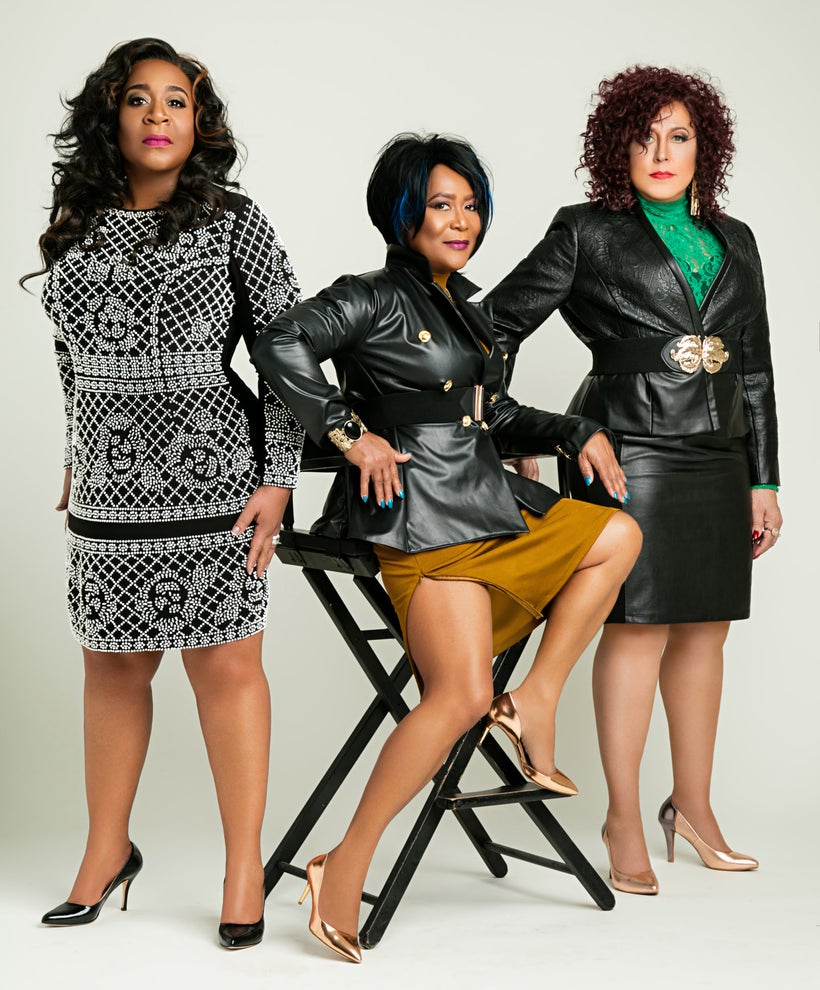 During the 1970s disco era the music marketplace was saturated with popular dance anthems. One of those hits was "The Best Disco in Town," by The Ritchie Family (RTF). Shortly after that 1976 hit the trio comprised of Cassandra Wooten, Cheryl Mason-Dorman (formerly Mason-Jacks) and Gwendolyn Wesley (formerly Oliver) quickly disbanded. But recently they returned—with new member Renée Guillory-Wearing replacing Wesley—to the Billboard dance charts via their new single "ICE." The track is produced by legendary singer Martha Wash's boutique label Purple Rose Records.
We caught up with original member, Wooten to find out about life for the group after the music stopped, how social media inspired the group to reform, and what they now hope to achieve as they get back on the beat.
"After we ended we had an opportunity to do background on John Lennon and Yoko Ono's Double Fantasy album, which was John's last album. Cheryl and I and Michelle Sampson did background on 'Starting Over.' We thought that'd be our way back into the industry. There was talk about a separate recoding contract for us but unfortunately John was assassinated. That was devastating and made us feel that maybe we weren't supposed to be in business. I also discovered I would be a mom at that time. We misread the signs and we stepped off. It was a clean break. I was still left with a bitter taste in my mouth after our relationship ended badly with our producer and manager, Jacques Morali. I thought without that relationship nobody really cared [about us]. For years, I never told anybody I sing because I felt bad things hadn't ended the way we wanted it to. I felt cut off from the industry. Part of it was my own doing since I didn't reach out to people who could have helped us."
On getting back together:
"The reason we regrouped is because around 2011-2012 we were aware via social media that there was still a following for The Ritchie Family. At first I didn't have a desire to get back into the business. Although I love music more than anything I ever did in my life, I thought it would be too difficult. But in 2011 we got our third singer not knowing if we'd ever get a show or anything. Then we saw another lineup of the Ritchie Family online doing a 30th anniversary of Studio 54 in the Netherlands. Since people didn't know the originals were trying to perform they called the second lineup. But they were lip-syncing our songs to the original vocals. When I saw that a fuse was lit inside of me. I thought we have got to do this again. Our legacy is at risk and people cannot think that these ladies are the originals. That got us back on the trajectory to represent ourselves and do music again."
On who's really 'Family' when it comes to the music:
"Cheryl and I got the name trademarked so we own the name. We've told the second lineup that they cannot use the name anymore. We are the originals and we are back in business. They still try to do some things. From time to time they go to Italy to work, where we have no jurisdiction. But in 2017 the original Ritchie Family will go to Italy. Hopefully that will give us an opportunity to reestablish ourselves in Italy."
On the second time around:
"Our sound has changed. But we are able to do old music in a way that is recognizable. It is interesting because we have to find out where we fit in. We hope a lot of the newer and established artists will look at us and be inspired. We don't want people to ever give up on their dreams. We are living proof that if you still got the goods—do it!"
The column, On the "A" w/Souleo, covers the intersection of the arts, culture entertainment and philanthropy in Harlem and beyond and is written by Souleo, founder and president of arts administration company, Souleo Enterprises.
This post was published on the now-closed HuffPost Contributor platform. Contributors control their own work and posted freely to our site. If you need to flag this entry as abusive,
send us an email
.