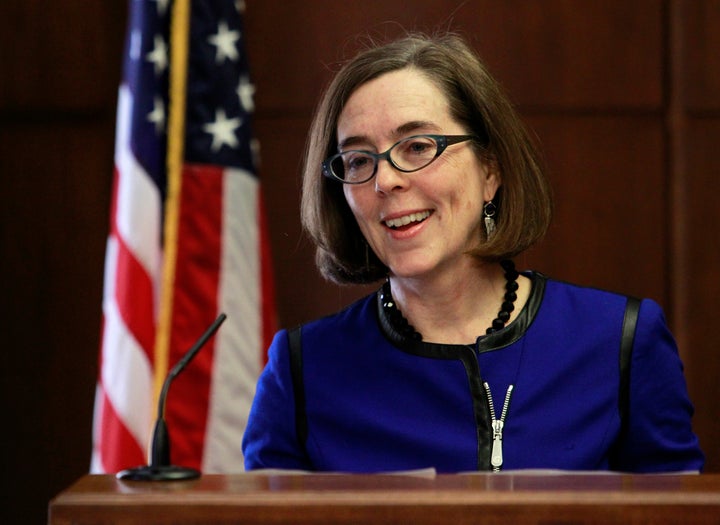 WASHINGTON ― Oregon Gov. Kate Brown (D) announced Monday that she's running for reelection and, without naming names, vowed to fight President Donald Trump if he tries to strip away rights from her constituents.
"While Washington, D.C. falls apart, Oregonians are coming together," Brown said in a new campaign video, which opens with dark imagery and flashes Trump's face. "As your governor, it's my job to make things better, to stand up to anyone who would take our rights away."
Brown, who became governor in 2015 with five days notice after the previous governor resigned amid scandal, has emerged as one of the most progressive governors in the nation. She's overseen a historic minimum wage hike, enacted one of the nation's strongest mandatory paid sick leave laws, and signed bills requiring background checks on private gun sales, phasing out coal-fired power plants and instating a first-in-the-nation law that registers residents to vote when they get a driver's license.
She's also specifically taken action to counter Trump's policies. When the president issued an executive order in January banning people from seven majority-Muslim countries from entering the country, Brown issued her own executive order forbidding all state agencies from helping federal immigration officials apprehend undocumented immigrants. She also barred state agencies from using public money to create a religious registry.
"These conversations around the Affordable Care Act, I was committed to expanding access to health care and not going backwards," Brown told HuffPost in an August interview. "What is happening federally makes me want to fight, fight, fight."
Her election isn't until 2018, but she's already got a well-funded Republican challenger vying for her seat.
Oregon state Rep. Knute Buehler got a $500,000 contribution from billionaire Nike founder Phil Knight and has brought in another $500,000 in donations. That amounts to $1 million in the first 30 days of his campaign. Oregon has no campaign finance limits, which opens the door to other large checks pouring into the race.
BEFORE YOU GO
PHOTO GALLERY
Recreational Marijuana Sales Legalized In Oregon