Elisabeth Shue's resume boasts no shortage of memorable roles. The pretty blonde from Delaware first found fame in '80s favorites like The Karate Kid, Adventures in Babysitting and Cocktail. It was her wrenching role as a prostitute in Leaving Las Vegas, though, that cemented her as a dramatic powerhouse.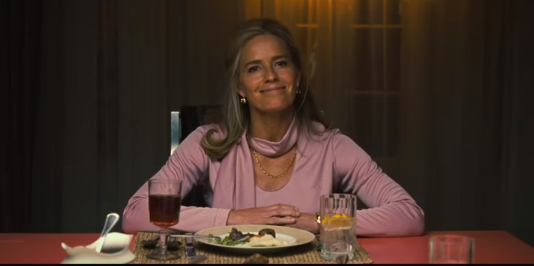 "People don't realize how rare it is to be in movies you really care about and you're proud to be in," Shue told Party Foul Radio with Pollo & Pearl, reminiscing on the part which garnered a "Best Actress" nod at the 1996 Academy Awards.
"Obviously Leaving Las Vegas is one of those for me," she said amid discussion of new film Battle of the Sexes, which opens in select theatres Sept. 22. "This is another one; I'm grateful I got to be in another film that means as much to me."
Rolling out nationwide Sept. 29, Battle of the Sexes is a biographical dramedy recounting one of the biggest matches in professional tennis history. In an epic 1973 confrontation, the world's top female player Billie Jean King met self-professed "male chauvinist pig" Bobby Riggs at the sold-out Houston Astrodome, gender-equality hanging in the balance.
Emma Stone, fresh from her Oscar-winning turn in La La Land, gives life to King's struggle not only for pay equality in the sport but acceptance of her own budding identity as a lesbian. As Riggs, Steve Carell makes the former great – whose star is fading even faster than his marriage to Shue's Priscilla crumbles – both charming and infuriating.
While necessarily addressing King's emerging sexuality, Shue says Battle of the Sexes does not fit neatly into an LGBTQ "pigeonhole" – one which might cause many to dismiss it as "a movie about gay people." At its core, she insists, is female empowerment.
"It's about sexuality," she admitted, "But it is also about power — and taking back your power ― accepting yourself for who you are, being brave, all these qualities women really struggle to have in our society."
By shining a light on one woman's historic battle for equality in a male-dominated world, it reminds viewers that – though progress has been made – the Battle of the Sexes is far from over. Its story rings as true today, Shue declared, as it did more than 40 years ago.
"I wake up almost every day and hear something about women struggling against sexual harassment or equal pay or self-respect," the actress told Podomatic's No. 1 LGBTQ Podcast. "It's an ongoing struggle; it really is."
Shue is optimistic Wonder Woman started a trend in female-led movies earlier this year. Buoyed by particularly strong female viewing demographics, it not only became summer's biggest blockbuster but also the highest grossing film of all-time directed by a woman. She hopes Battle of the Sexes can strike a similar cord with moviegoers, inspiring ladies to buy tickets to "take a stand."
"There's a power in films that are good films that show women who are brave and give young women an example of somebody who is willing to put their life on the line for something larger than themselves," she said.
"That's really important, I think, in our culture," Shue concluded. "That sends huge signals to the rest of society that women are just as strong as ever."
LISTEN: Elisabeth Shue Discusses Battle of the Sexes, Ross Mathews Talks RuPaul's Drag Race on Party Foul Radio.