The 2016 Oscars was a big night for calling out world problems: Chris Rock slammed Hollywood for its lack of diversity, Vice President Biden pushed people to step up on sexual assault, and Leo called for faster progress on climate change.
And one of the most powerful moments of all came from a little-known award category, Best Documentary Short, when Sharmeen Obaid-Chinoy won for her film, "A Girl in the River," about a Pakistani survivor of an honor killing.
Last week, after viewing the documentary, the Pakistani Prime Minister, Muhammad Nawaz Sharif, vowed to change the laws to punish those who commit honor killings, said Sharmeen Obaid-Chinoy in her acceptance speech.
"That is the power of film," exclaimed the filmmaker from the Oscars podium.
The documentary tells the story of Saba Qaiser, a young woman whose father and uncle shot her, threw her in a river, and left her for dead, all because she married someone they disapproved of. Luckily, she lived to tell the tale.
Honor killings occur when a family believes a woman or girl has violated her chastity, thereby allegedly ruining her family's honor, according to the UN. Women can be killed for being victims of rape, engaging in premarital sex, marrying someone the family disapproves of or committing adultery.
"It's such an important story because it highlights that even today in 2016, this barbaric practice is still taking place, and there aren't enough laws preventing people from killing people," Obaid-Chinoy told The Huffington Post in January at the World Economic Forum in Davos, Switzerland.
In the past, legal loopholes have allowed families to perpetrate honor killings with impunity, despite the fact that they are considered murder under Pakistani law. Families have been able to skirt the law by nominating someone to commit the murder and then forgiving them, according to DAWN News.
"This is a huge flaw in the law," said Wasim Wagha of the Aurat Foundation to the news site. "We are really struggling on this issue."
In March 2015, the Pakistani Senate passed an "Anti-Honor Killing" bill, but it lapsed in parliament later that year, according to the New York Times. Obaid-Chinoy launched a petition urging the Prime Minister to bring the bill back in Parliament and ensure that perpetrators face consequences regardless of family forgiveness.
"Many of the men that perpetrate these crimes go unpunished," reads the petition. "Sign this to end impunity for #honourkillings in Pakistan. It's urgent."
In January, when the documentary was nominated for an Oscar, the Prime Minister published a press release congratulating Obaid-Chinoy, and announcing the "government's commitment to rid Pakistan of this evil by bringing in appropriate legislation."
"Now that he has very publicly said that he's going to work on [ridding Pakistan of honor killings], I think that we, the women of Pakistan, need to hold him accountable," the filmmaker said to the Huffington Post in January.
The Prime Minister screened the film at his house on February 22, introducing it with a powerful statement to the attending leaders from government and civil society: "There is no honor in honor killing," according to UN Women.
It remains to be seen if the PM will follow through on his promise, and bring the amendment back before Parliament so they can pass it into law and close the loopholes that prevent perpetrators of honor killings from being punished. 
"Even if the proposed amendment is passed, this still leaves a large loophole in the law," said Amy Logan, President of the US National Committee for UN Women, SF Bay Chapter, via email to the Huffington Post on Monday. "The courts instead of the family will be able to decide if an honor killing is punished or not — and that's no guarantee. Honor killing should not be negotiated on a case-by-case basis."
In Pakistan, over 1,000 women are killed per year in the name of honor, according to Pakistani rights group the Aurat foundation. The United Nations estimates that the figure for women worldwide is closer to 5,000.
The real figure may be closer to 20,000, according to Logan. 
"The honor killings go unreported for the same reason they happen — women and girls are largely undervalued," she explained. "People look the other way. Honor killing is community-coerced, so who is going to call the police?"
Obaid-Chinoy dedicated her Oscar this year to both men and women: to women, because "this is what happens when determined women get together," and to men, for "all the brave men out there who push women to go to school and work, and who want a more just society for women."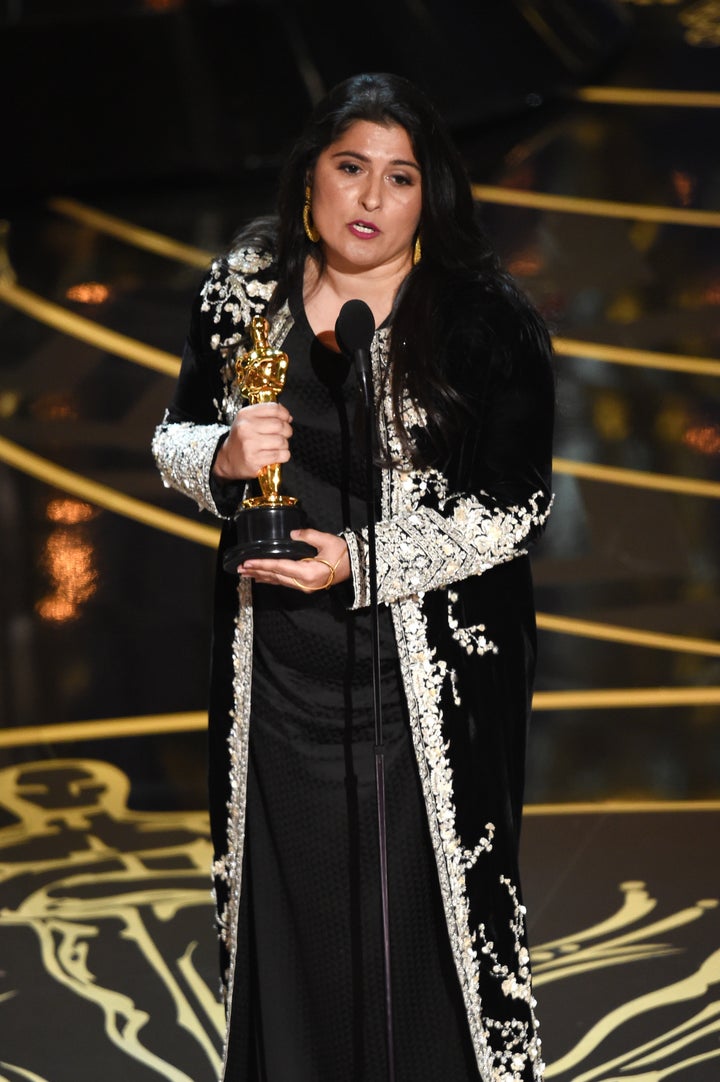 This isn't the first win for Sharmeen Obaid-Chinoy: she won Pakistan's only Academy Award to date for Saving Face in 2012, a documentary about women disfigured by acid attacks.
BEFORE YOU GO
PHOTO GALLERY
Black History At The Oscars