For many, initial reports of Alexis Arquette's 2016 passing as the "result of a prolonged illness" triggered memories the early AIDS epidemic. The terminology was used often as the disease swept the world in the '80s, even as Arquette's pre-teen acting career moved into full-swing.
"There's still a giant shame around HIV," said Patricia Arquette, opening up about her younger sister's struggle with the illness on Party Foul Radio with Pollo & Pearl. "I even saw it with Alexis."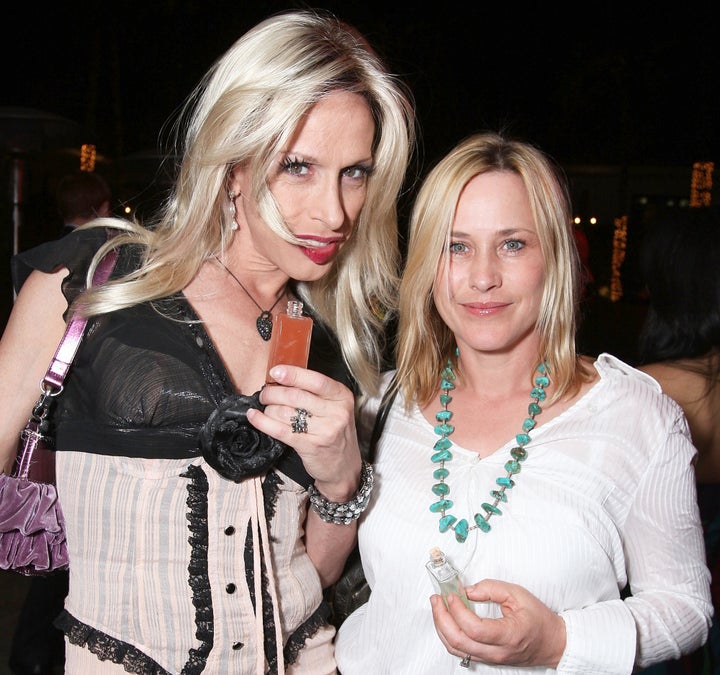 Prior to her untimely, AIDS-related death Sept. 11, 2016, the 47-year-old's life unfolded in the public eye. Like famous siblings Rosana, Richmond, Patricia and David, Alexis became an actor. At 12, she landed her first gig in the music video for The Tubes' 1982 hit "She's a Beauty."
By career's end, her impressive resume boasted more than 40 film and television credits. The world knew her for roles in Pulp Fiction, The Wedding Singer and cult horror favorite The Bride of Chucky in addition to guest spots on favorites like Friends and Xena: Warrior Princess.
Not so public, her Oscar-winning sister conceded, was Alexis' struggle with HIV and its stigma. She shared one emotional conversation on the subject with Podomatic's No. 1 LGBTQ Podcast.
"I would say, 'Alexis…'" Patricia pauses, audibly choking back a swell of feelings brought on by the recollection, "'There are kids who die of leukemia, and it's not because God is mad at them. You just have a disease, that's all, just like Mom had breast cancer.'
"But there's still such a societal shame about HIV and AIDS, that people carry around with them," Arquette continued. "I think that's part of the reason they sometimes don't take as good care of themselves."
LISTEN: Patricia Arquette Shares Sister Alexis' Battle With HIV
After years of portraying androgynous roles as an actor, and extended forays as a drag performer, Arquette announced publicly her intent to pursue gender confirmation surgery. She lived the last quarter of her life authentically, with her family's support.
"I'm so proud of Alexis for really living her truth and putting it out in the world," the elder Arquette stated in the second-half of an extended interview, yet admitted doing so took a tremendous toll on her sister.
"Bigotry, homophobia, a society that doesn't accept, embrace and celebrate you adds a subconscious layer into your life experience of…of pain," said the star, whose role in Boyhood earned the Best Supporting Actress statuette at the 2015 Academy Awards. She discussed how Alexis' gender identity played into her inability to manage HIV infection.
Arquette recalls the maddening battle to keep her sister's anti-retroviral regimen consistent. Whether it was side-effects or other determinants, she said the Threesome star would "go on and off, on and off her meds."
"It was really frustrating, as somebody who loved her," shared Patricia. "It was like, 'Alexis, you have to take care of yourself, and if you don't care about you, care about me caring about you! It really freaks us all out when you don't take your meds, when you get sick.'"
Arquette also noted the intersectionality between marginalized or oppressed communities and attitudes toward personal well-being. When the world devalues an individual, she suggested, they not only have decreased access to proper care or health-related educational opportunities, adopting those societal views as their own can guide decision-making.
She reflected on a much older gay man she knew growing up, who remained a virgin into his 40s. The first time he had sex, she said, he contracted HIV.
"He knew about AIDS, but part of it was the societal shame of even being gay," Arquette stated. "He was still carrying around society's shame about even being who he was, so it was the world punishing him -- and him punishing himself."
The Emmy-winning star of TV's Medium turned her attention to a more recent feature in the New York Times Magazine. "America's Hidden H.I.V. Epidemic" details infections among African-American men in the rural South.
"It's amazing – and it's super disturbing," said Arquette of the article published June 6. "Because of funding cuts…they don't even know about PREP. All these things that haven't even been made available there."
In the extended expose, journalist Linda Villarosa profiles many currently living with HIV while giving the how and why of staggering figures which now suggest 50-percent of African-American gay and bisexual men will become infected (if nothing changes). The piece also describes a super-infection sweeping the area, escalating AIDS-related deaths even in a generation where HIV is considered manageable rather than terminal.
"These kids are dying in months," an exhausted Arquette relayed. "And nobody's talking about it, nobody's doing anything about it, because these kids are poor, black men, young black men."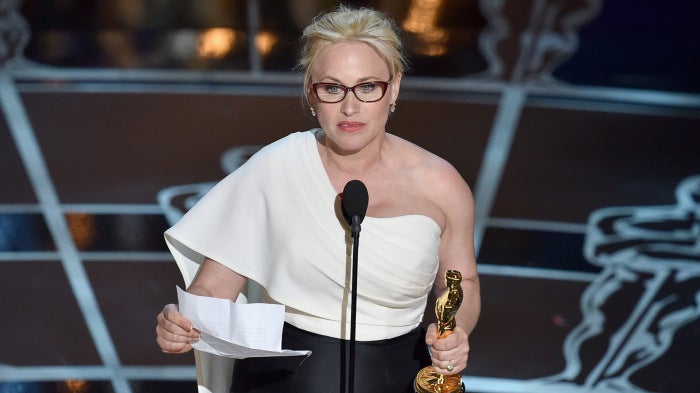 Of course, given her sister's experience, Arquette is particularly empathetic to the transgender experience in today's society. As a community, she said, these individuals are the least supported, both financially – "They live on the lowest income of any group in America," she stressed – and otherwise.
"Every transperson living their reality is so brave – so brave ­– living their reality every, single day with the onslaught of what they deal with in our world," Arquette noted.
"It's very difficult to even get a job as a trans person, and if you're a transwoman of color, really, good luck to you!" she said. "It's like being at the bottom of the barrel of American brutality, of American employment."
With scarce opportunities "in a very threatening world," trans-identified individuals are not only at heightened risk to physical violence, but too often face limited decisions – such as sex work – which increase risk of HIV infection. Arquette went on the say: "These are full, talented, brilliant human beings who are being marginalized."
When all of these factors come into play at once, especially when HIV is added to the mix, Arquette said it becomes "exhausting." She suspects this contributed to her sister's health decline – and is sure she is not alone.
"There's a lot of people who don't take great care of themselves -- like Alexis," she said. "Part of it, I think, is self-love, self-care -- the society we live in -- and part of it is there's a subconscious not wanting to be here any more, in this world that is so shitty."
While Arquette has few answers for the bigger picture – readily saying "whatever it takes to bring down the HIV infection rate, I think we should support all the way" – she feels strongly about the solution on a personal level. She encourage everyone to "openly discuss it and support people who are HIV-positive."
"Hopefully we can make the shift to where people do not feel HIV is something they need to carry as a burden," Arquette said. We can do that, she outlined, by "demystifying it and telling all our brothers and sisters out there who are HIV-positive we love them and it's OK."
"They have nothing to be ashamed of," she concluded.