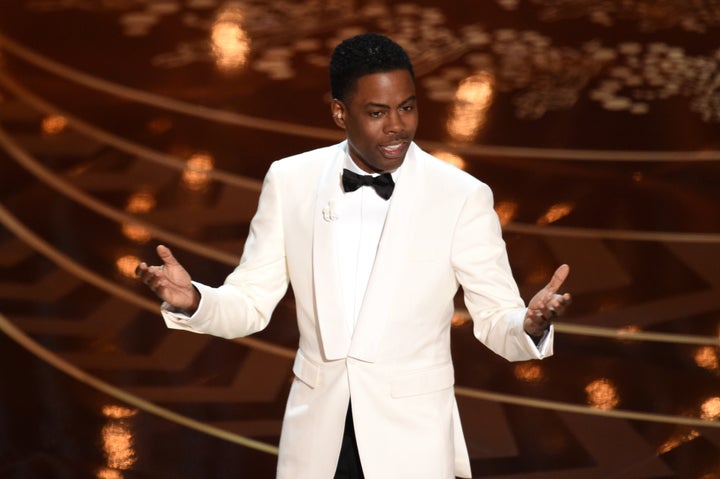 "I'm the Danish Girl!" Tracy Morgan cried before chomping down on a giant breakfast pastry. His signature, matter-of-fact delivery had the crowd at the 88th annual Academy Awards in stitches. It was part of a montage of Best Picture contenders where Morgan, Chris Rock, Whoopi Goldberg and Leslie Jones stood in for major characters, taking a funny shot at the glaring absence of black nominees in this year's lineup.
Along with a slew of other tweaks, it was an attempt to address complaints that the Oscars are boring, irrelevant and unquestionably white dude-centric. On the first two points, this year's ceremony was an improvement. But when it comes to confronting a field of lily-white contenders, there's only so much an opening standup routine can fix.
If you boycotted the Oscars or forwent them after the drudgery that was the 2012-2015 ceremonies, you weren't alone. Thanks in large part to the organizers of #OscarsSoWhite, actors and fans alike abstained. In a poll on The Huffington Post that asked whether readers will be tuning in, 43 percent of respondents said "Hell no," while 41 percent answered, "Only for Chris Rock's monologue."
Those who tuned in to support Rock were likely pleased. His opening sketch didn't shy away from diversity issues. Instead, he questioned them head-on, if glibly. Eschewing a song-and-dance routine à la Hugh Jackman, he walked onstage, picked up the mic, and quipped, "I'm here at the Academy Awards, otherwise known as the White People's Choice Awards. You realize if they nominated hosts, I wouldn't even get this job."
He continued to pack his hilarious routine with real talk, mentioning that women are probably only represented by the Academy by virtue of gendered acting categories. "Robert De Niro's never said, 'I better slow this acting down, so Meryl Streep can catch up'," Rock said. "No, not at all, man. If you want black people every year at the Oscars, just have black categories like Best Black Friend."
Rock's observations were tricky suggestions wrapped up in stereotype-busting jokes. Breaking Oscar categories down by race to ensure representation suggests that black actors, directors, writers and designers aren't up to par with the white nominees, which of course is far from the truth. But, if racial representation functions anything like gender representation, distinct categories would work as a short-term remedy. A quick look at how women are represented in categories that aren't gendered is pretty bleak. Separating the prizes may be a choice bloated with upsetting implications about gender rigidity, but it does get women nominated, where otherwise they wouldn't be.
"Everything's not sexism, everything's not racism," Rock continued, this time addressing Reese Witherspoon's #AskHerMore campaign, centered on the fashion-centric questions hurled at women -- but not men -- during red carpet interviews. "They ask the men more because the men are all wearing the same outfits, OK? Every guy in there is wearing the exact same thing. You know, if George Clooney showed up with a lime green tux on, and a swan coming out his ass, somebody would go, 'What you wearing, George?'"
While funny, the bit brushed over some pretty basic considerations related to gender-based discrimination, including why, exactly, men feel free to wear pared-down getups, while women are expected to dress ostentatiously and Jared Leto's froofy carnation ties seem to legitimately wig people out.
The most overtly not-OK comment? Rock's jokes about child labor and Asian kids' math skills. While trying to battle institutionalized racism, he blatantly proliferated a stereotype about a race other than his own, spurring justifiably angry comments from viewers, voiced under the hashtag #AsiansAtTheOscars.
Aside from these big missteps, Rock's bits were on point and well-received. And, that the notoriously cagey Academy allowed him -- or, more likely, asked him -- to address racism and sexism bodes well for change in the future. If years past are any indicator, the Academy would love nothing more than to make the ceremony itself a big ol' pat on the back, a swelling homage to cinematic history and the contemporary films that uphold those ideals ("The Artist," "Argo," and "Hugo" are just a few recent winners that pay direct tribute to filmmaking).
Rock's speeches and Tracy Morgan's mashup weren't the only markers of progress this year. In other changes, thank-yous scrolled across the screen as winners read truncated acceptance speeches, technical categories were explained visually rather than via wordy descriptions, and standup comedians were invited to present, pepping up the overall mood.
There were also fewer homages to classic movies, and notably less back-patting. Instead, political and social concerns were discussed. Joe Biden and Lady Gaga used the award show as an opportunity to raise awareness for sexual assault; Leonardo DiCaprio and "Mad Max" designer Jenny Beavan called attention to global warming. "Spotlight," an overtly altruistic film, trumped industry darling "The Revenant," an aesthetically beautiful film that's arguably more in line with Best Picture winners past. 
For once, the theme of the night wasn't "remember when?" but "listen up now."
So, are the Oscars finally getting with the times? Not quite. But think of them as a massive, slow-shifting planet: their pull is still strong, and big reversals can happen, if enough outside force is exerted.
PHOTO GALLERY
Oscars After-Parties
BEFORE YOU GO
PHOTO GALLERY
Black History At The Oscars