 It just so happens that there is more to Del Mar than horse racing. Although the coastal community in north San Diego County is synonymous with its racetrack and plays host to the county's annual fair, there is a burgeoning food scene worthy of attention. One of the restaurants responsible for establishing that reputation is Pacifica Del Mar.
Located two stories up, in a swath of bars and restaurants, overlooking the chic downtown village and the ocean, Pacifica Del Mar is without doubt a romantic place to catch the sunset, but it's also an ideal place to enjoy creatively prepared dishes, including, as one might suspect, fantastic seafood.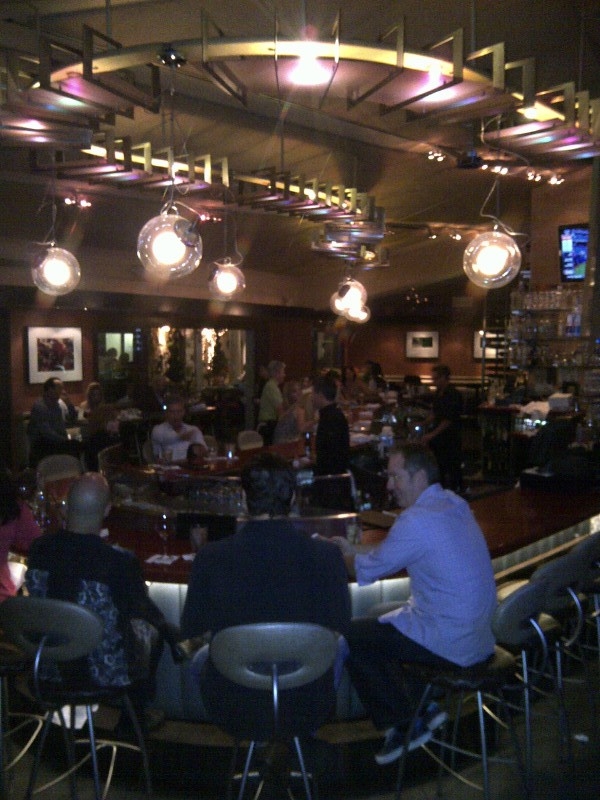 The Ocean Bar at Pacifica Del Mar. (Photo by Scott Bridges)
Not to be outdone, however, the Ocean Bar -- an elegant first-stop of this dining destination -- is first-rate. The list of specialty cocktails, rather than the of-the-moment elaborate 15-minute cocktails made with various herbs and botanicals, are simple takes on established classics, for the most part.
The Irish Mule is a case in point -- as simple as Jameson Irish whisky and ginger beer over ice, and served in a pewter mug. It and its cousin, the Warsaw Mule -- featuring Sobieski vodka -- are as refreshing a cocktail as you'll find. And for something with more bite, the Pineapple-Chipotle Margarita is a must-try. I'm not really a margarita drinker, which is fine, because it's not really a margarita. It's served in a low-ball glass, and features the fire of chipotle peppers contrasting the cool sweet-and-sour of pineapple, blending perfectly with the sting of tequila.
But one of the most impressive features of the restaurant/bar is the wine list. Red, white, sparkling, international and regional wines, suitable for every pocketbook, are displayed on a computer tablet list, which not only offers descriptions of the wines, but will pair them with courses on the menu.

The seared rare Ahi tuna but one example of the many great seafood entrees. (Photo by Scott Bridges)
As for that menu, it is a farm-to-table philosophy, and incorporates as much as 80 percent of its fresh produce from nearby Chino Farm in Rancho Santa Fe -- known as the Mecca for San Diego's top chefs.
The bounty from the sea is particularly special here -- from oysters on the half-shell to Japanese clam chowder to Hamachi (Pacific Yellowtail) and Ahi tuna tartare, baked oysters, grilled tiger shrimp, Peruvian ceviche, crispy calamari, Dungeness crab cakes and entire iced seafood platters -- the list goes on. And that's just the starters.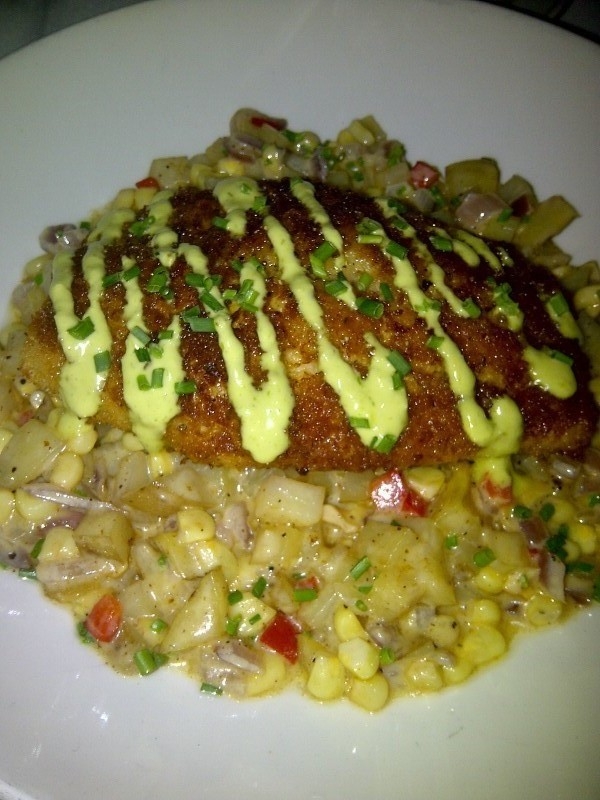 The mustard catfish is served over a delicious corn succotash. (Photo by Scott Bridges)
Entrées include pan-seared Opah, grilled swordfish, seared Atlantic sea scallops, grilled Mahi Mahi, slow-poached Maine lobster, pan-roasted sea bass, sugar-spiced salmon, seared rare Ahi and mustard catfish. In addition, there are fine steaks and pastas, but the seafood selection is quite extraordinary.
The desserts were good, but lacked the sophistication of the rest of the menu. The signature Pacifica burnt cream with caramelized bananas was very good, don't get me wrong, but beyond that, there was little more to be dazzled by.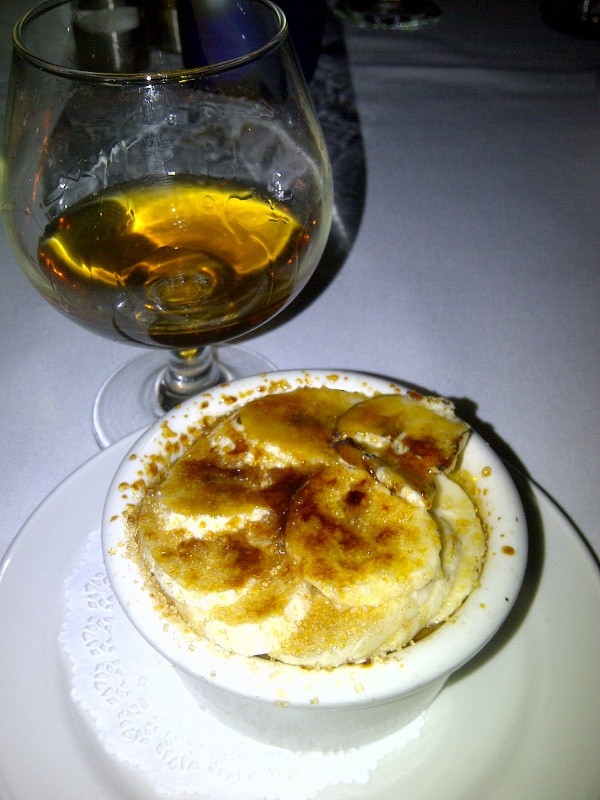 The Pacifica Burnt Cream and a glass of "Centurion" Grand Marnier is the ideal way to finish a meal. (Photo by Scott Bridges)
The restaurant is well-designed, providing great ocean views from most tables. Ambient lighting, sports on the bar TVs, and good energy contribute to a lively but refined crowd.
Pacifica Del Mar is proof that San Diego's dining scene is keeping pace with the rest of Southern California.