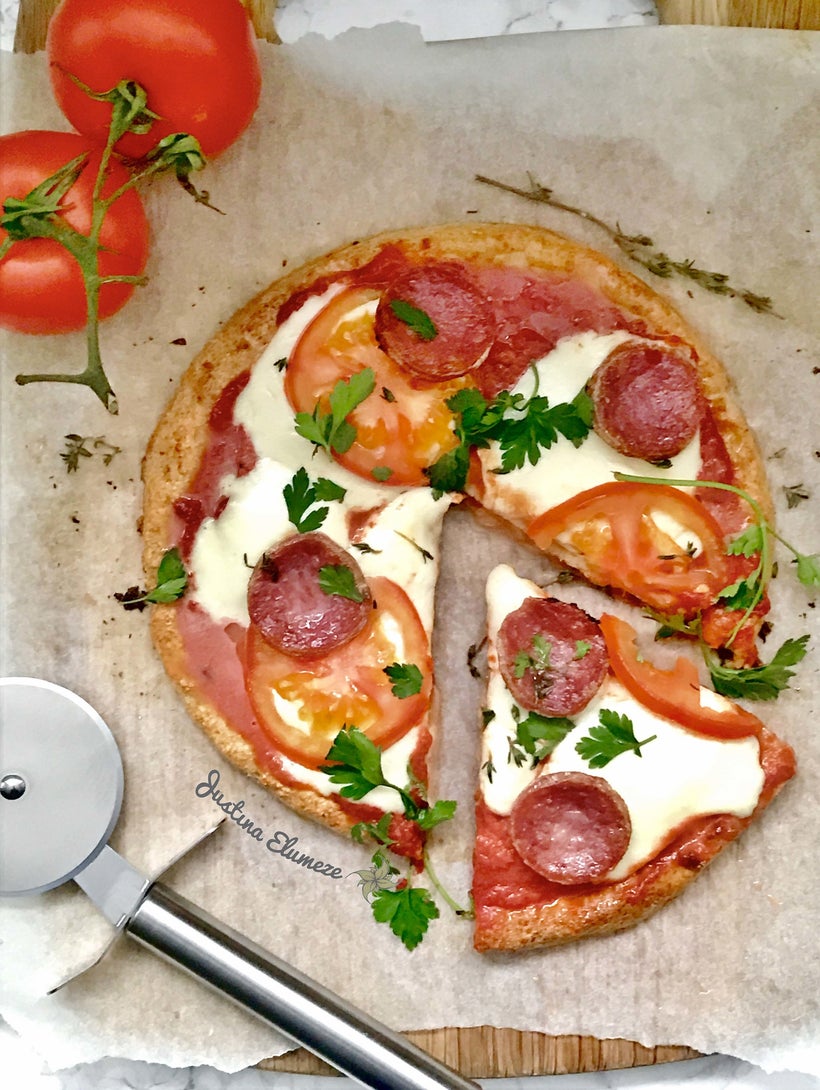 This pizza is so exceptionally delicious and authentic, with the cauliflower crust resembling a 'normal' pizza base to perfection!
I've made several paleo pizzas in the past, each time using different ingredients in an attempt to replicate a normal pizza crust and base.
From experimenting with almond flour to sweet potato, I've tried them all.
However, I can honestly say that nothing comes closer to tasting – and feeling – like the real thing than cauliflower.
When it comes to including an ingredient to create an authentic tasting paleo pizza, this humble vegetable wins hands down!
You'll never look back or try any other recipe to create a pizza base. The crust turns out light, crispy and fluffy and exactly how a pizza base should be.
Just take a look at the crust on this bad boy…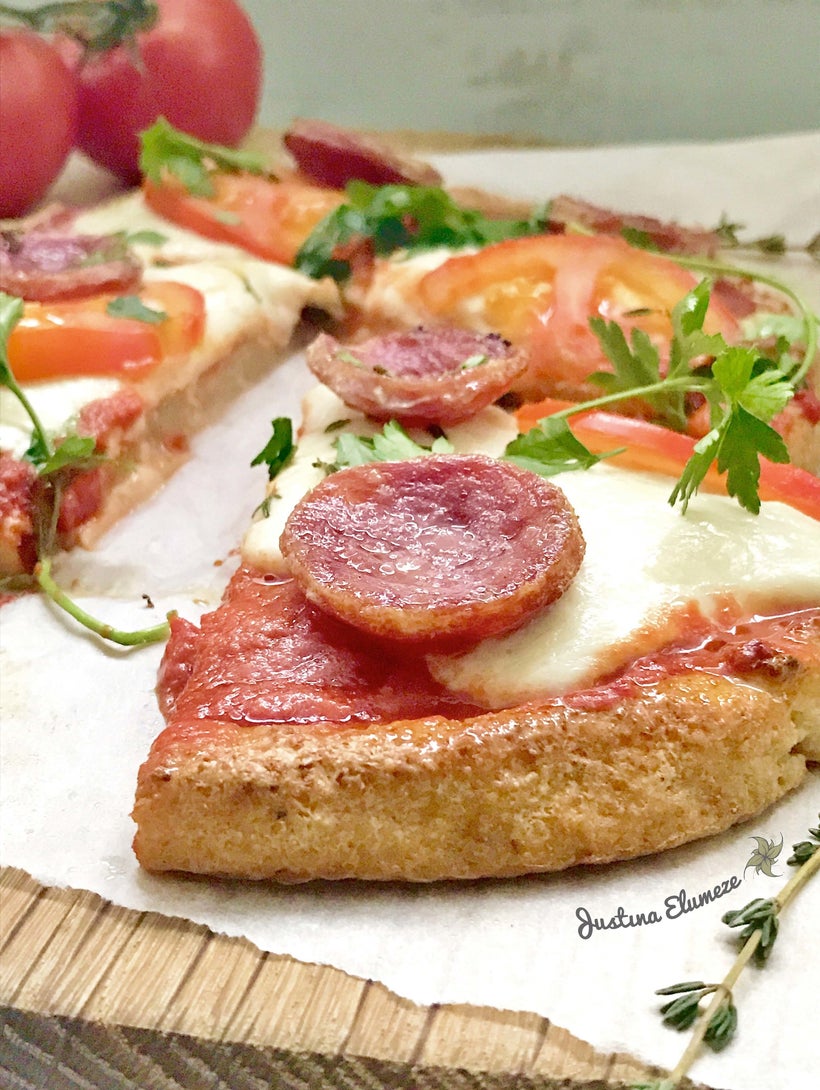 Looks amazing, right? Take a another look…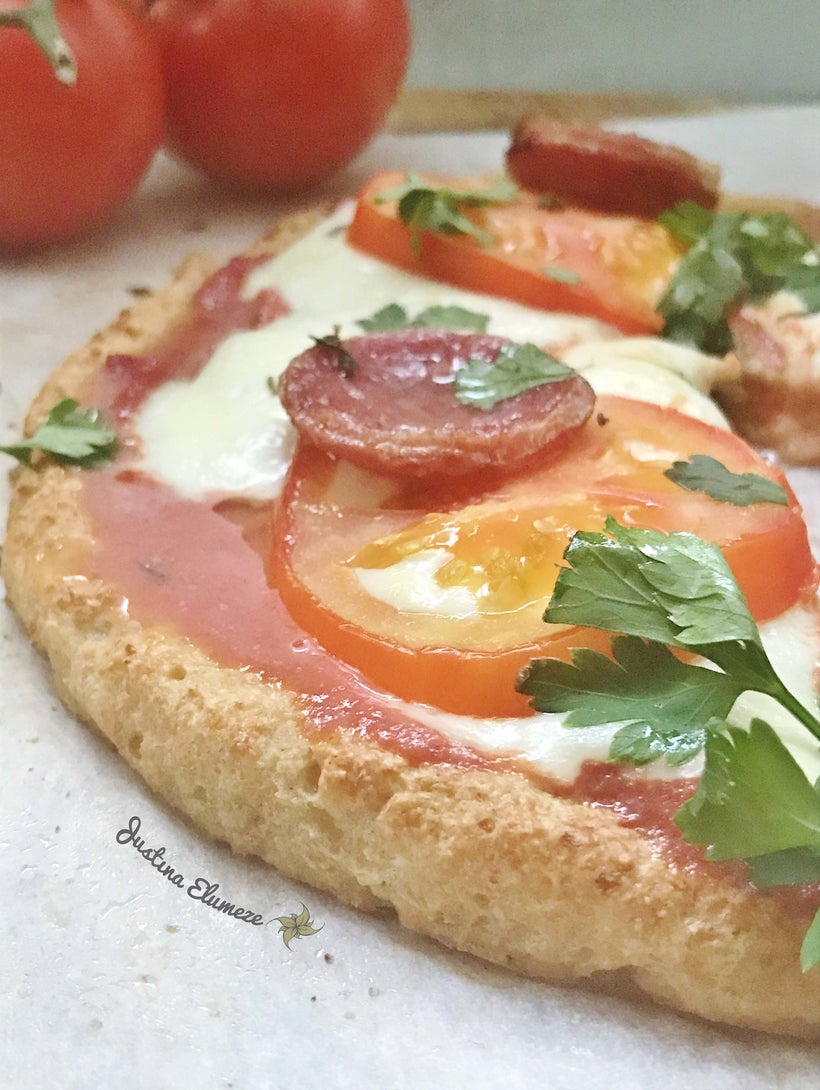 Trust me when I say that this pizza tastes even better than it looks and that every bite will make you a happier person!
The juicy tomatoes, the succulent salami and moist buffalo mozzarella all combine exquisitely to sit on top of the perfect pizza base.
Paleo or not, this pizza is the best!
The secret to creating a perfect paleo pizza base with cauliflower is to squeeze out every drop of liquid from the cauliflower after grating/blending.
You seriously have to wring out every last drop of liquid from the grated cauliflower as if your life depended on it, as the drier the cauliflower is, the better the pizza base will be.
Then it's just a case of seasoning the cauliflower before baking and topping with whatever you fancy.
In the past I've made fancy pizzas with ingredients such as feta cheese and rocket salad and, as nice as these 'fancy' pizzas can be, there are times when you're body really just craves something authentic and tasty like this delicious mozzarella and salami pizza… or a tall, fit and handsome Italian!
1 medium-large cauliflower
1 egg
Half cup almond/coconut/tapioca flour
1-2 tsp. salt
1-2 tsp. pepper
1-2 tsp. mixed herbs
1 tsp. garlic powder
1 tomato
Handful sliced salami/chorizo
100g buffalo mozzarella
100g tomato puree
Fresh herbs (to garnish)
Cut up the cauliflower and blend (just the flowers, not the stems) until the cauliflower is a rice-like consistency.
Remove the cauliflower from the blender and place in a cloth.
Squeeze out as much water as possible until the cauliflower is a s dry as possible.
Then, in a bowl, place the cauliflower, egg, flour, salt, pepper, mixed herbs and garlic powder.
Mix all the ingredients well.
Grease up some parchment paper and place on a tray.
Place the cauliflower on the tray and use your hands to flatten into your desired shape, making the edges thicker to form the 'crust'.
Place in the oven for approximately ten minutes or until browned and hardened like a pizza base.
Remove from the oven and top with the puree, mozzarella, tomatoes, herbs and salami before placing back in the oven and baking for a further ten minutes or until the cheese has nicely melted.
This post was published on the now-closed HuffPost Contributor platform. Contributors control their own work and posted freely to our site. If you need to flag this entry as abusive,
send us an email
.