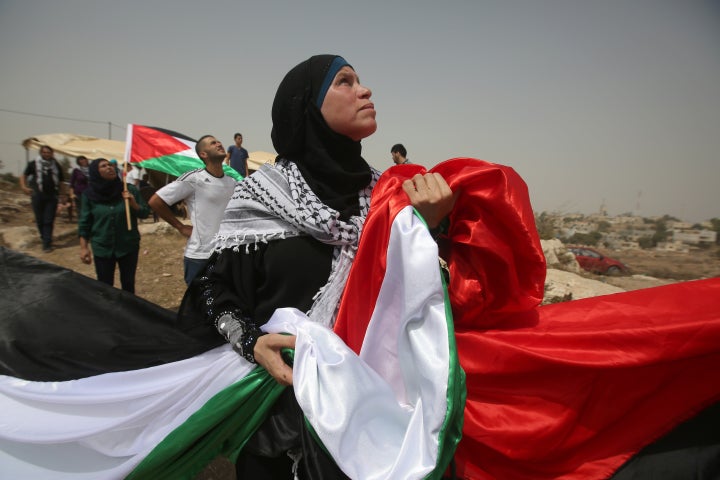 In villages and towns across the West Bank, Palestinians march through the streets every Friday to protest the Israeli military occupation. 
"Peaceful resistance is the most important thing in Palestine," Yousef Abu Maria, an activist and protest leader from the West Bank village of Beit Ummar told The WorldPost last week. "I've participated in nonviolent resistance since 2004 ... I just want Palestinians to have freedom and safety."
Nonviolent activism has a long history in Palestine, as do armed insurgency by Palestinian militant groups and "lone wolf" terrorism.
It has been a difficult road. Many protests end with clashes between stone-throwing youths and Israeli security forces, often with deadly consequences. In areas of the West Bank under Israeli military law, the assembly of more than 10 people for political purpose is technically illegal. Many protest leaders have spent years in Israeli jails, on charges including organizing illegal demonstrations or inciting violence.  
Now, some Palestinians fear that the daily stabbing and shooting attacks in Israel could further undermine advocates of nonviolence. 
"It reinforces a negative stereotype of Palestinians that the well-oiled Israeli state public relations machine has invested millions in over the years," Sam Bahour, a Palestinian entrepreneur and analyst, told The WorldPost. "Our challenge now is to stay focused on holding Israel accountable in all venues available to us, nonviolently," he said.
The challenge appears to be immense. Nine Israelis and over 40 Palestinians have died in the violence in the past month. Israel says the Palestinian attackers, most of whom are in their teens and early twenties, do not seem to be organized or officially sponsored by a militant group. The apparently unpredictable natures of the attacks has caused immense fear on the streets of Israel and the West Bank -- among Israelis fearing they will be the next targets, and among Palestinians fearing they will caught up in the Israeli crackdown or targeted by vigilante attacks on terror suspects. Some fear that militant groups, including Hamas, the Palestinian political and militant group that rules the Gaza Strip, and the Islamic State, the global extremist network based in Iraq and Syria, are trying to capitalize on the outbreak of violence.
Many Palestinians say the motivation for the attacks is youth alienation amid a general despair​ among Palestinians that there's no end in sight to occupation. Several factors contribute to the absence of hope -- including a nonviolent protest movement that has never gained national traction, the absence of peace talks, the policies of a right-wing Israeli government, and a lackluster and divided Palestinian political scene.
A recent opinion survey by the Palestinian Center for Policy and Survey Research highlights a striking generational divide. It found in a September poll that 67 percent of Palestinians between the ages of 18 and 22 in the West Bank support an armed intifada against Israel, more than any other group and 10 percent higher than the average of all Palestinians surveyed. 
PCPSR director Khalil Shikaki told The WorldPost that one important factor is that Palestinians in this age group get most of their information from social media, where they are flooded with vivid images that inflame tensions.
Yet just three months earlier, a June PCPSR poll found a much lower proportion of this age group, 49 percent, support an armed intifada. Shikaki pointed to several factors that may have contributed to the rise, including increasing confrontations between Israeli forces and Palestinians at the Al Aqsa Mosque compound in Jerusalem, deadly attacks on Palestinians by Israeli settlers in the West Bank, and Palestinian President Mahmoud Abbas' announcement at the United Nations last month that he was no longer bound by the 1993 Oslo Accords that were meant to pave the way for a final peace deal. Abbas' speech, Shikaki said, "communicated to Palestinians that the death of hope includes even their 80-year-old leader." The youth feel they "need to take matters into their own hands," he said.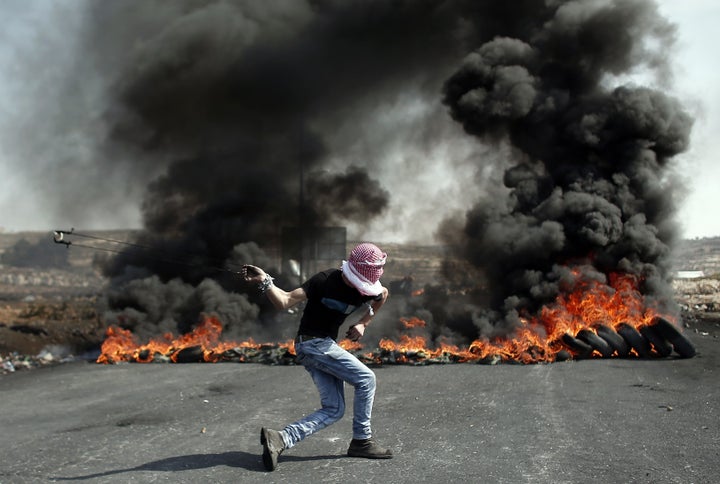 American and European diplomats have expressed concern about the wave of violence, and called for a revival of peace talks. For some, this is a bitter irony. 
"The international community doesn't talk about nonviolent resistance unless the lives of Israelis is being endangered," Mariam Barghouti, a 22 year-old Palestinian student and blogger based in the West Bank city of Ramallah, told The WorldPost. "We really need to discuss the root causes. ... We are completely dissatisfied with anyone speaking out for us, from the Palestinian Authority to the international community."
While Abbas has staked his legacy on rejecting violence and pursuing Palestinian statehood through legal and diplomatic channels, the aging leader has little to show for it. The PCSPR poll in September found Abbas had an approval rating of 38 percent.
"During the second intifada, Abu Mazen (Abbas) was constantly calling for peaceful resistance instead of armed resistance," Mouin Rabbani, a senior fellow with the Institute for Palestine Studies, told The WorldPost. "But once armed resistance ended, he didn't have a word to say about it and has done virtually nothing to support these activities."
The current violence, Rabbani says, highlights the "complete failure" of Abbas' strategy. He believes it's too early to tell whether the sporadic, unorganized attacks will develop into a new intifada, and whether that will be violent or nonviolent. So far, he argues, nonviolent protests have remained focused on localized issues and "largely failed to take off as a broader, national movement."
But others remain optimistic that nonviolent activism will prevail.
"We chose popular peaceful resistance in response to the occupation and its violence," Bassem Tamimi, a protest leader from the West Bank village of Nabi Saleh, told The WorldPost last week. Since the outbreak of violence, "the protests have only increased in size and number," he says.
PHOTO GALLERY
Palestinian Street Workout