It was the very middle day of July this summer, I got an email inviting me to join a group of Broadway performers in a televised performance at The Democratic National Convention.    I was having an ordinary summer, going to parent night at my twins day camp and having so much fun that one kid ended up vomiting all the way home from exhaustion.   Then I opened my Gmail to see a note from (popular Sirius radio host, musical director and Broadway composer of the recent Broadway musical comedy Disaster!) Seth Rudetsky: "It's a secret but we were asked to sing "What The World Needs Now" at the Democratic National Convention! And its going to be aired during prime time on TV!!!!"  (I hadn't been on the original recording, but I had sung with "Broadway For Orlando" several times since.)  The letter stated that "we" would be taking a chartered bus down to Philly and Wednesday morning July 27, rehearsing and singing sometime after 8pm then "getting the hell home that night."    I wrote back "I'll find a way to be there!  Keep the info coming XO"
           An email screamed out for attention: "Info needed from SETH!" which said that  "by the end of the day" everyone attending the convention had to submit information: our full legal name, date of birth, Citizenship, SS#, Country of Birth, current city and state of residence, and personal address and email. I sent it all back immediately, only to have a quick reply come back "They need ye old birthdate too." I had not noticed the request for a birthdate. Honestly!
         I can see I am going to have no time to find a dress. Maybe I should use Rent The Runway. I rented four dresses using the app and walking the dog, while my kids made friendship bracelets on a bench in 90 degree heat in Washington Square Park.
Three are computer-screen blue(or should I call it Facebook blue?) because it seemed American. The fourth one is patterned and has long sleeves. Melania Trump is always wearing long sleeves and maybe there is a reason that arms look better covered or are more patriotic when covered.
       The dresses arrived.  I look absolutely awful in all of them.  Several are too tight and I wasn't sure if that much cleavage was inappropriate for a convention.  Others were too short and a Melania-like dress was… well… for Melania.  Now I had a fashion emergency. 
         Made an appointment at the Rent The Runway headquarters and tried on 20 dresses.  While I was in the dressing room, I could hear my kids running around in the store, asking people a million questions like "Do men come here?" and trying on the clip earrings from the big accessories table.  I knew I had to move fast.  I chose one that wasn't available in my size but would be delivered. Teal Green. Patriotic long sleeves. An added bonus: it was by designer Monique L'Huillier, she had made my wedding dress. Fun. Done. I couldn't find my kids in order to leave because they were all hiding behind dresses and wanted to scare me.
           At 11:40pm, an email arrived with the schedule and instructions for Wednesday. They requested we get our Starbucks in time to get on the bus, ready to drive at 8:45am sharp. "While on the bus, we will sing through the number, per Seth, "bus & truck non-equity tour" style.  This news particularly thrilled me.  I imagined the circus of my dreams, everything I had gotten into show business for.  Being the naughty kids, raucous on a bus but in four part harmony; the hyper ones with loads of jokes, the pack who like to put on shows.   
      By noon, I noticed some very bold typed emails coming in. Font was different, and thicker as if marching into my eye line demanding attention. They were pasted from messages to us from the actual Secret Service.  We needed to provide more information, scan some forms and ID and list all bags that would be in the vehicle and a description of the contents, including nothing metal.
   A problem:  I am almost always stopped in airports for being a singer—meaning I have hair products that are more than 4 ounces, and I travel with a raw New Zealand Manuka honey which tastes nice in tea before I sing.  I have learned it is regarded as a medicine to TSA officials, but only after explanation.  Singers travel with potions and lotions and hair oils and steamers and sprays and the seemingly lethal curling irons which are definitely metal.   The letter added that there would be a bomb sweep of the bus.    
         The day has come.  I got to the bus at Columbus and 72, and saw Tyne Daly right away and enjoyed a lovely hug.  Walking down the aisle of the bus, I saw Stephanie J Block, Anika Larsen, Carmen Cusack, BD Wong, Montego Glover, Lena Hall and Alice Ripley (and more!!), said hello to every face, and stopped for Sweeney Todd himself, the majestic Len Cariou.  Brian Stokes Mitchell was in a sort of sleep in the back seat and Tom Wopat was back there too, looking like a disheveled handsome teenager in a baseball hat.  Everyone was chatty and excited for an adventure.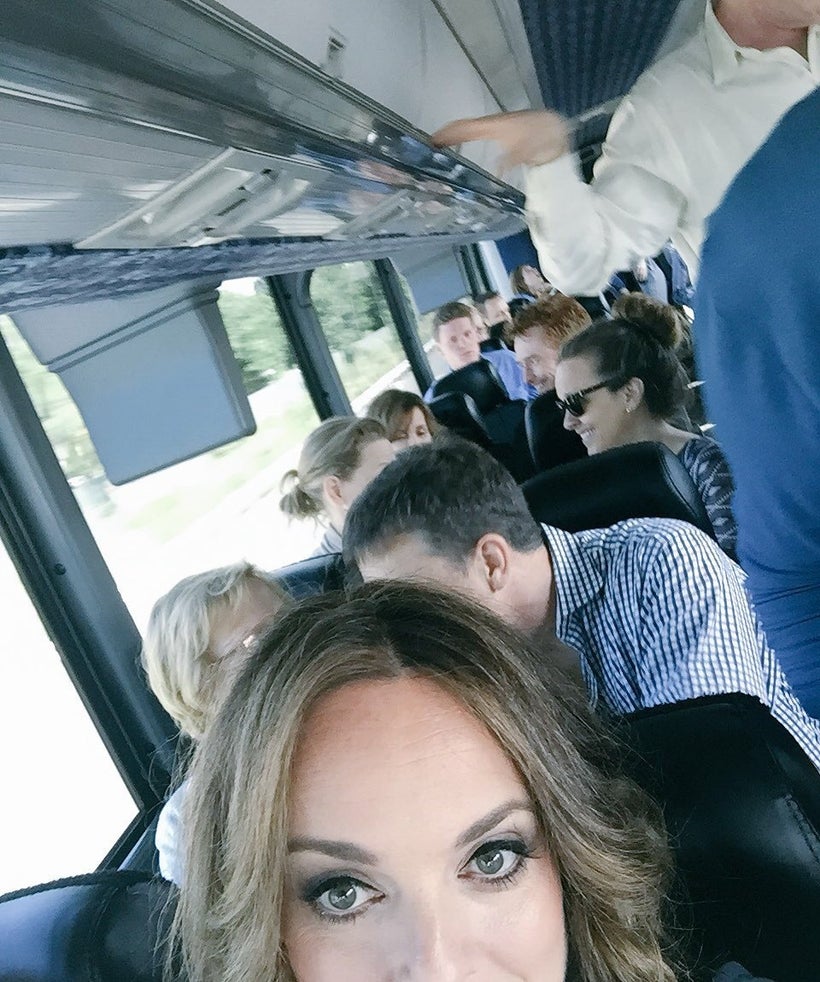 Let me pause a moment to explain how deeply a moment like this hits me. 
I have always loved a few things about being an actor, and one was/is the collective energy of everyone together. The madness of so many dynamic people together- the competition for attention, the sensual flow of flattery and even touch, and the non-stop jokes and songs, or quotes and gossip and then usually quickly followed by something good natured and simple, as I believe to the core that actors are good hearted, every single one of them. I just love being in a group of theater people.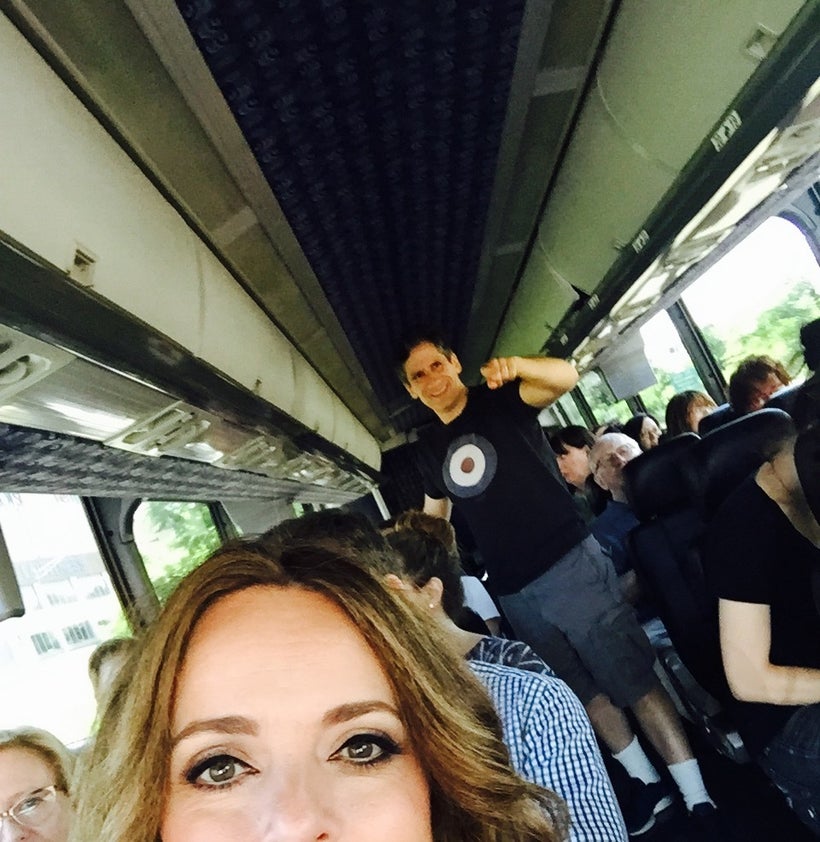 I settled in, and it was only a few minutes before James Wesley, the real brain behind the project, Seth Rudetsky's husband, started sweetly saying his greeting and letting us know about the really amazing people in the disco world who have done four dance remixes already of the original #BroadwayForOrlando " WHAT THE WORLD NEEDS NOW" recording (Broadway Records) released this past June.  I actually liked it even better than the utterly lovely, more traditional, "We are the World" style version that was recorded.
         I always find it fascinating when Broadway people sing pop songs and any music not from the theater canon. Even in watching videos of the making of the recording, you can see the stars mining every Bacharach word for truth.  Stokes manages to make the bridge feel more religious than anyone who ever sang that one sentence.  Audra, as she sings, makes you think: "no not just for some…".  Everyone wrings meaning out of their every word, which is not what pop singers tend to do when faced with a good hook.  They may understand the words but theater people layer the words.  They commit.  They express.  They flirt with the edge.  They are words people. The Burt Bacharach song has a lot of repetition: what the world needs now is love sweet love. I can feel each actor thinking, What the world needs… stressing the need.  Or sweet love, how sweet, so so sweet.  That love is so sweet. Coloring it with every inch of poetic intelligence.  We aren't the kind of people who just sing a vibe.
           So on the bus, after the disco mood had settled, Seth stood up and started a sort of acapella rehearsal all the way to Philly. I was given Bernadette Peter's solo line from the recording which begins the second phrase of the first verse.   It's a nice line.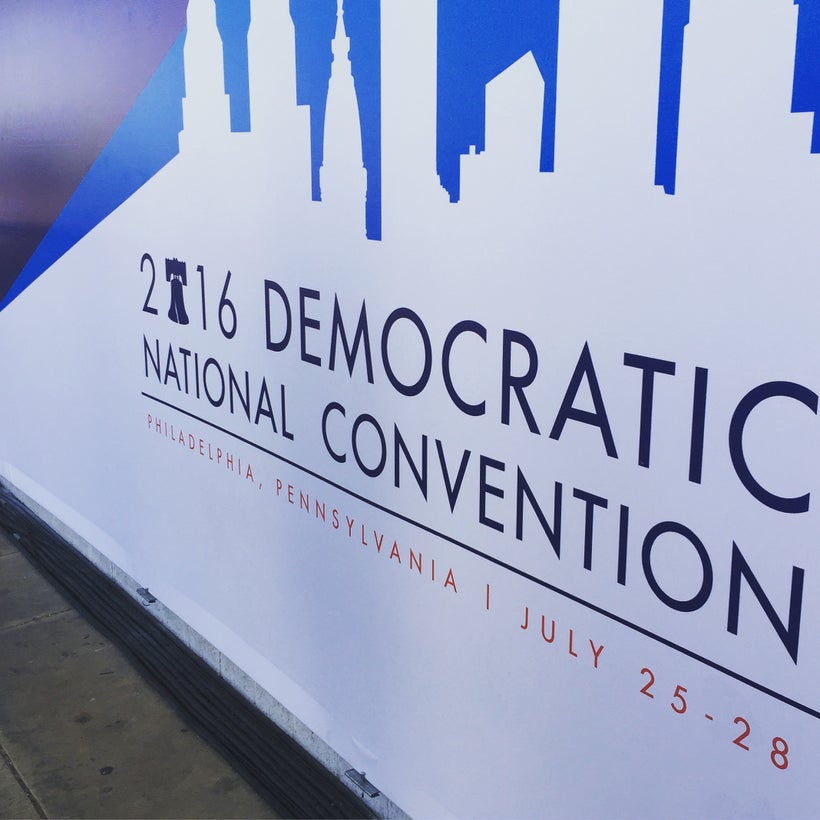 When we arrived at Wells Fargo, the security was intense.  A uniformed guard came on and reminded us that we were not to transport members of congress or carry any bombs. Everything in the underneath bus storage would be searched and returned to us "in a few hours."  A convention organizer handed out credentials on lanyards that we were to wear on our necks all day. I took my lanyard, hung it up and followed the train out and into the shuttle.  We got to the TSA-style security and my Manuka honey in my purse was inspected.  The guard took a look at the bottle and read the label which said "What makes our honey extra special is our beekeepers talk to the bees."   He looked up at me.  I wanted to tell the secret service guy that talking to bees is actually a traditional English custom dating back to the early 1800s known as "telling the bees" (resulting in happy bees).  I figured this wasn't the moment to tell anything. We wanted to get into the building. The guard then pulled a pair of gold stiletto heels from my purse.  The special honey and the sexy shoes sat there, and he looked at me.  I cracked a little smile and said nothing.  I got in.
            We were taken down many hallways and got to feel the energy of a very upscale Superbowl or Madison Square Garden event x 10.   The halls were wide and cement, with no windows, all wrapping around the Convention Hall, which I would get a peek of occasionally.  Everyone moved from place to place, or halted in a huddle.  It reminded me of a TV set where extras are told to carry this clipboard briskly through the scene, and another three people are told to huddle in the corner in conversation.   Occasionally someone from the media walked by with the telltale makeup face, a clean straight hair-do and those perfect earrings they wear.  The uniform of this place was the cocktail length one-piece dress in thick fabric. Red, steel grey or computer-screen blue which I was told is called "Democratic Blue."  (Is that true?)
       We were taken to the basement where all 30 of us were given four small rooms, two for women and two for men.  After the first six people settled, there was literally nowhere to put down a bag or sit.   We moved some things around and many chairs were lined up so there was at least seating for half of us.  We sat on the floor.  Everyone was having fun.  One of the two makeup ladies was a lovely woman who told us her mother said hi, and I asked who her mom was.  Her mother was none other than Andrea McArdle, the original Annie from ANNIE on Broadway.   
      After a great lunch in a tent, we were taken through another byzantine route to the stage.  We were stopped at one point in a cramped glassed area, and there were many people holding us up and much commotion, until a group of people in green T-shirts walked by.  After they passed, we were told that they were all in the nightclub on the night of the Orlando shooting.
      We were taken up a ramp.  Then suddenly I found myself standing in that famous space with the blue carpet with the stars.  Thousands of seats.  There were a lot of media in the room, at least 20 cameras.   We set up according to our planned formation, and I was at microphone A with Idina, Lena Hall, a stand-in for Audra, Brian Stokes Mitchell and James Wesley.  We were in a half circle around a mic stand far stage right.  We were told that there were only 5 microphones for all 40 of us.  We would have to share.  This caused a lot of confusion as we weren't sure how we could possibly pass a microphone in time to sing.  Solo lines came pretty close together and it would be a challenge to grab and sing (and seemingly rude, I thought).  But we rehearsed it and it was like a high stakes vocal relay race on national television.
     Back in the basement, I stepped into my green dress and Alice Ripley and I joked since she had "rented the runway" too. The whole Broadway group, a bit jittery and giddy, were all shepherded to the ramp again, moving steadily in high heels and our best cocktail dresses and crisp suits.  Idina and Lena Hall and I all found each other on the ramp, only to realize (only then!) that we had chosen the same color outfit. We called ourselves "The Verde Sisters."  Idina wondered if the matching was a good thing or a bad thing, but we had no chance to reconsider.  Verde Sisters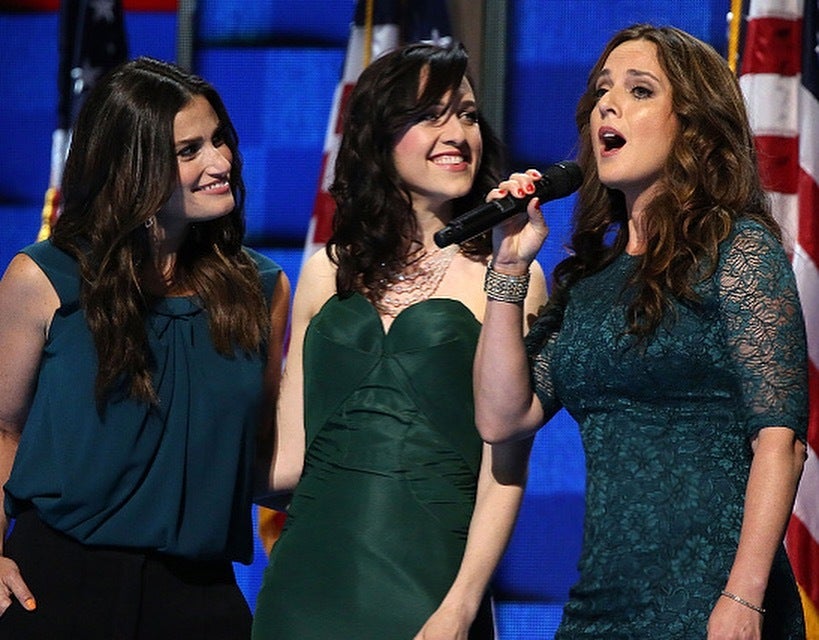 It was a long wait standing on the ramp for over an hour. A chair was brought for Audra to sit.  I shared my small water bottle with Kristen Bell who was really thirsty.  Luckily, water bottles were delivered after about 45 minutes of waiting.  Many singers took off their shoes. No one complained. We could feel the enormity of the convention hall.  Stokes took a selfie.  We could see the big screen above and we could hear the speakers as they addressed the theme of gun violence.  Erica Smegielski spoke of her mother who was the principal of Sandy Hook Elementary and was killed trying to protect her students.  Angela Bassett. And a woman spoke whose son was killed in Orlando.  Many of us were choking back tears and also becoming aware of how we fit into the story of the evening.   What a world.  What can we, just singers, do to help.  A few made comments, "we are a team" and "let's do this."
    We shared the mics, and we sang the song.  While I was singing, I found myself trying to deal with the pleasure of listening to Lena Hall and also timing my mic grab. I didn't want to cut her last note short ―but unless I leaned my face in to her lips, as if to kiss her, I wouldn't get my own lips to the mic on time. I hardly had a chance to think about my own singing as I wanted to comfortably hand the mic to Audra in time, and give her all her due respect as a pregnant performer who had been resting during rehearsal and who just gets respect anyway because let's face it, she's Audra! Hearing the audience cheer as she sang, I felt the same as them and I guess I burst into a smile that was captured and would appear in newsfeeds throughout the following day.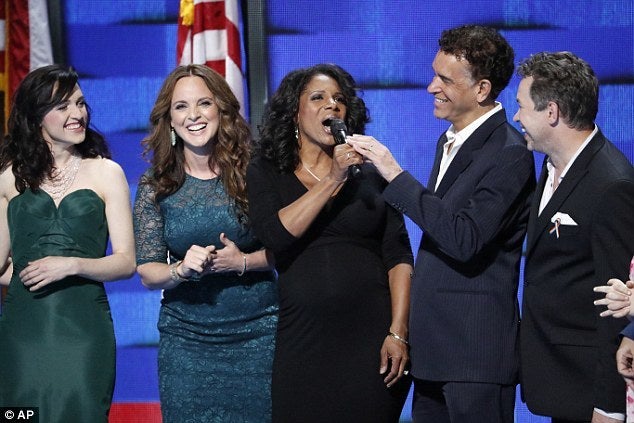 I listened to every voice sing, as the mic went down the line and I loved hearing the differences in voices and knowing we were all pouring ourselves forward.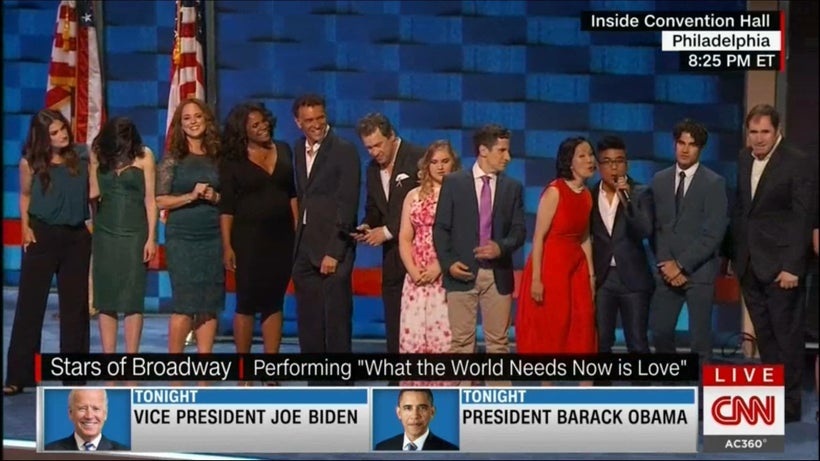 When we were done, we were practically shaking with that feeling familiar to actors that we had put it all out there.  Someone on stage started making hearts with their hand and then the audience was doing it, and chanting to a frenzy.  Love Love Love Love.  We realized we had stirred the room.  We were steered and directed to go back down the ramp and to the basement.  We were all on such a high. We took a group photo in a cramped hot dressing room, packed up our stuff, and I checked my phone.  I clicked on Twitter and the first thing I saw was a tweet that said, "What the world needs now is more microphones." I laughed.   (That was true, but in a way it was a sort of metaphor too. We'll work together.)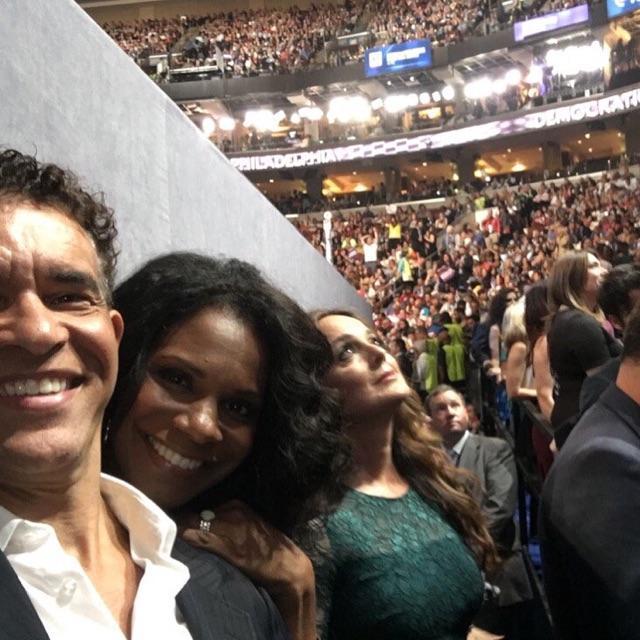 We got back on the bus and it was very dark out.  The driver thought we would get on the road just before President Obama's arrival, but we were a little later than we had planned.  It was "lockdown."   We sat in the bus, waiting to get on the road, for another 45 minutes.  We sat in the dark and most of us took the time to catch up with our phones and social media and enjoying reflecting on our photos we had taken throughout the day.  We watched Obama's brigade go by, car after car after car.  Lights flashing in the dark.  It was a sacred feeling, knowing the president was passing by us in the night.  At the sight of his very car, we cheered.  There we were – 40 Broadway performers—calling out and cheering in a bus.   
       Once we were on the road, Brian Stokes Mitchell got an excellent idea to use the microphone from the bus and attach it to the speakers of the driver's radio so we could hear Obama's speech.  It was a bit makeshift and detached a few times and we lost the speech.  The bus driver apologized and hustled to restore the system, as it crackled and went blank.  A few times, the bus erupted in laughter like when Obama said his wife hadn't aged a bit, but his kids say "you've changed so much Daddy!"  Then as he recounted his competition with Hillary for the nomination years ago, "She was doing everything I was doing, but just like Ginger Rogers backwards and in heels."   Everyone on this bus loved that. 
Sitting together in the dark silence of the night highway listening to only Obama's voice, people didn't talk much then. It hit me in my soul. It was the reason I do this at all.  It may seem to some that being an actor is about the show itself, the public nature of the work. There is that, no doubt.  The other side of an actor's life, perhaps it's the essence of an actor's life, is the chance of an intimacy.  A deep connection as a group, a caring that strikes.  As we drove along, I think others felt a similar joy, a calm and unspeakable gratitude to have been on a bus together. To have sung. To have shared the mic. Sitting there, I had to think, sure, we had 5 mics to pass around forty stars.  It was awkward but essential.  Just like democracy.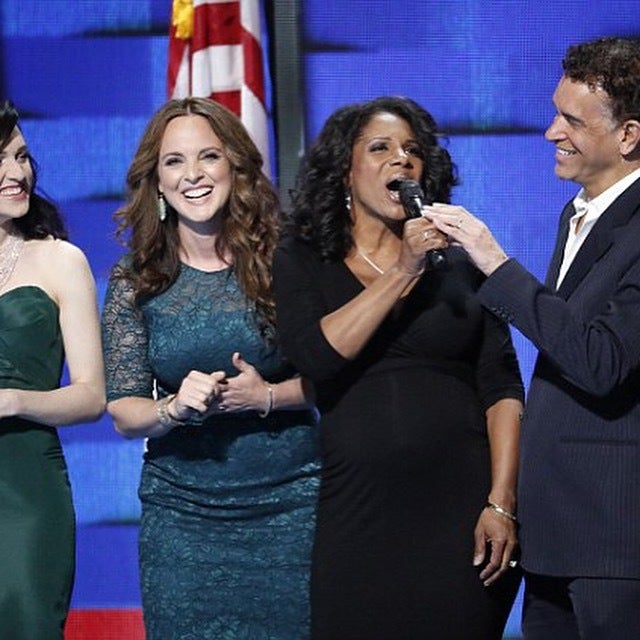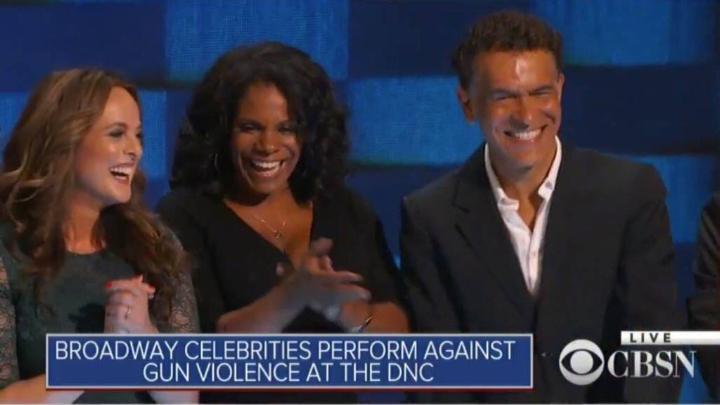 This post was published on the now-closed HuffPost Contributor platform. Contributors control their own work and posted freely to our site. If you need to flag this entry as abusive,
send us an email
.