Several Patriots players from the Super Bowl LI winning team have declined their customary invite to visit the president at the White House, and an additional player is on the fence about it.
Running back James White might also steer clear of the engagement, but he's still on the sidelines, so to speak.
"Basic reason for me is I don't feel accepted in the White House," McCourty told Time. "With the president having so many strong opinions and prejudices I believe certain people might feel accepted there while others won't."
"I can't imagine a way I go there," he added.
Bennett, meanwhile, has long been an outspoken advocate for minorities, women and education. He dismissed the cliche that he and other athletes should just "stick to sports" as giving in to the "low hanging fruit" of the status quo.
"I honestly just want people to look at black kids and not say he's the next Michael Jordan all the damn time," Bennett explained on Twitter Wednesday. "I want them to be able to look into the crowd and say oh he's the next President. She's gonna be the next Spielberg. He's like Steve Jobs."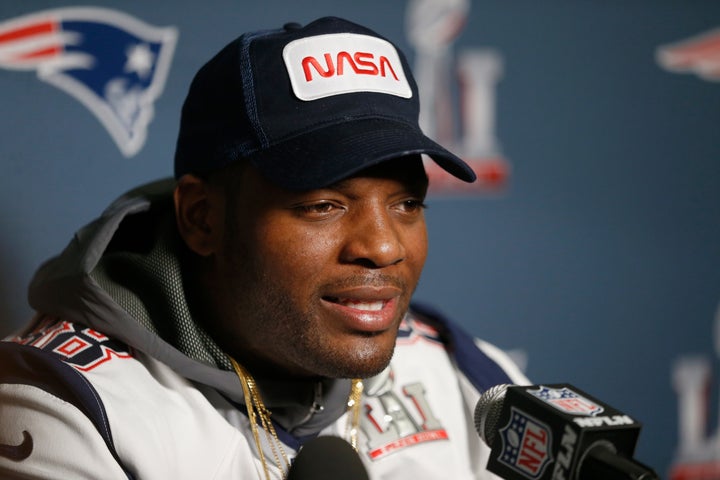 In a segment on Fox Sports Wednesday, commentator Shannon Sharpe unequivocally supported the Patriots players, before going a step further and suggesting the entire team should skip the trip:
[These Patriots players are] saying 'no, I will not [just 'stick to sports'], because my life is not just sports. Sometime, at some point, I'll hang up the gym shoes, I'll hang up my helmet, put down the baseball bat, and I'll become a normal, prudent human being in American society. And what I see going on is not acceptable."

And I cannot in good conscience, although we won this as a team ― and I would love to share in this moment as a team ― I cannot in good conscience go. Because what I think this president is standing for, what he's saying, the policies he's implementing are harming the minority communities. I am a minority...

Now, with this president, President Trump, in office, he's going to ask you to ask an honest question of yourself. 'What side of history do you want to be on?'

Are you going to be on the side of history that's a bridge and that's trying to bring people together, or are you a part of the wall, that's trying to tear people apart? That's the question that athletes are asking themselves, and you're starting to see more and more saying 'you know what? I want to be on the side of history that's positive, that's bringing people together."
Sharpe also criticized Patriots quarterback Tom Brady for having a Donald Trump "Make America Great Again" hat in his locker during the presidential primaries where it would obviously be seen, then not speaking his mind when people asked about it.
"We absolutely, unequivocally know how Tom Brady feels about President Trump, because he was one of the first athletes to have a hat positioned in his locker room just so the camera could catch it and see 'Make America Great Again,'" Sharpe said. "And then when they would ask him questions about it he would skirt the issue and, 'Oh golly gee whiz, it was just a hat, it means nothing.'"
BEFORE YOU GO
PHOTO GALLERY
11 Black Athletes & Celebrities Who Took A Stance Against Injustice In 2016