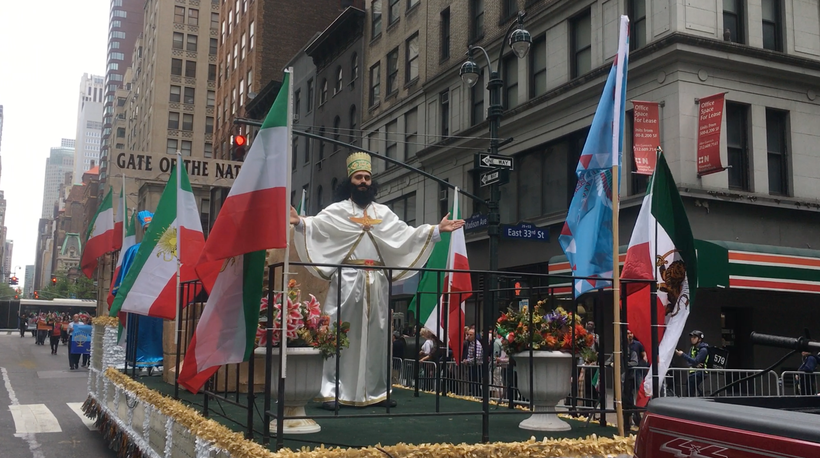 Parades are one of New York City's greatest traditions and yesterday, the NYPD Mounted Horse unit, that has patrolled the city streets since 1858, led the 14th Annual Persian Parade on Madison Avenue. Prominent Iranian-American community leaders followed along with city and state officials and a commanding float depicting Persian King Cyrus the Great and his famous barrel-shaped clay cylinder, said to be the first recorded declaration of human rights dating back some 2,600 years ago.
Thousands of people lined up on Madison Avenue to celebrate the rich cultural heritage of Iranian-Americans presented in colorful floats and folk dances from all regions of Iran. Participating organizations included: Columbia University Marching Band, NYPD Police Band, Iranian American Bar Association, West Point Persian Forum, and marchers from groups of Iranian health and medical professionals, the Iranian Jewish community, as well as the Iranian Zoroastrian and Armenian communities. The parade's grand marshal was Tom DiNapoli, State Comptroller of New York.
Philanthropist and Entrepreneur Betty Emamian has been one of the leading organizers for the past ten years. "We have grown stronger as a community," Emamian says. "We are proud to be able to showcase our rich heritage in such a dynamic way to New Yorkers and the world."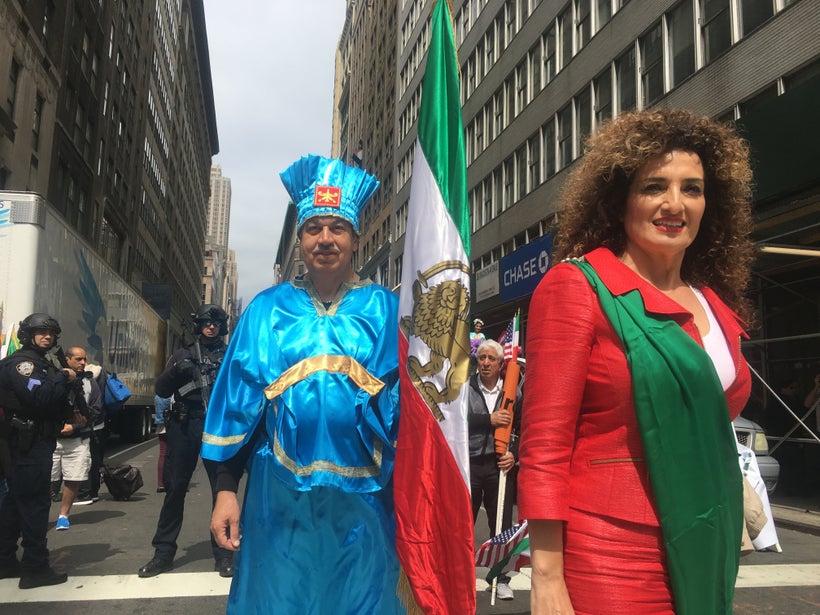 The festivities are coordinated by the New York Persian Parade Foundation, a non-profit cultural organization led by Iradj Javid who said the sixteen floats in the parade represent the significance of Persian culture, history and literature. The most beautiful float this year, Javid notes, was that of the great Persian poet Ferdowsi. American poet Ralph Waldo Emerson, called Ferdowsi "the Persian Homer" for his epic Shahnameh, or "Book of Kings," which recounts Iran's mythical history from creation through to the 7th century Islamic conquest.
Mitra Salasel is the communications lead with the Persian Parade. She works for a NY-based nonprofit called ideas42 that applies behavioral economics to tough social problems. "The Persian community has contributed so much to this country," Salasel says. "It's wonderful to see the streets of New York transformed for a day into a showcase of our culture's music, dance, history, and professional accomplishments."
A message from New York Governor Andrew Cuomo was read at the start of the parade by New York's Chief Diversity Officer Rose Rodriguez. Reflecting on the foundations and traditions of Persian culture, the message said in part, "The Iranian-American community honors its proud history and heritage with today's parade and it's many significant contributions to society in various areas of professional endeavor."  
Governor Cuomo's message was followed by a proclamation from New York City Mayor Bill de Blasio that was presented by Mitra Salasel. Here is the text:
Office of the City of New York
Whereas: New York has a proud history of welcoming millions of people from around the world. This tradition of inclusion is exemplified by the thriving population of Iranian Americans that has shaped and fortified the five boroughs, with many serving as leaders in business, medicine, sports, technology, academia, the arts and more. On the occasion of the 14th Annual Persian Parade on Madison Avenue, I am pleased to recognize the indelible imprint this vital community has made on our great city. 
Whereas: Our global city is enhanced by the cultural celebrations of our diverse residents, and New York's Annual Persian Parade is a festive occasion that attracts revelers from far and wide. Featuring decorative floats, traditional music, and dancers in colorful costumes, followed by a fair with delicious Persian food, this vibrant event unites Iranian Americans in fellowship and pride and shares their rich heritage and traditions with New Yorkers of all backgrounds. 
Whereas: In addition to celebrating Persian Culture, this parade also observes Nowruz, the Persian New Year and Spring festival. As Iranian Americans come together in joy and kinship, I commend the New York Persian Parade Foundation and all of its members and sponsors for once again presenting the outstanding event that enhances the cultural dynamism of the five boroughs and uplifts so many New Yorkers. Today's festivities are also a wonderful opportunity to honor the diversity on which our city rises as we forge a brighter, more inclusive future for all. 
Now, therefore, I, Bill De Blasio, Mayor of the City of New York, do hereby proclaim Sunday, April 30th, 2017 in the City of New York as: "Persian Parade Day"
Factoid: New York City's first St. Patrick's Day parade was held on March 17, 1762 when "wearing green was a sign of Irish pride but was banned in Ireland." This according to the NYC St. Patrick's Day Parade's website. Irish expats "reveled in the freedom to speak Irish, wear green, sing Irish songs and play the pipes to Irish turns that were meaningful to the Irish immigrants of that time." 
This post was published on the now-closed HuffPost Contributor platform. Contributors control their own work and posted freely to our site. If you need to flag this entry as abusive,
send us an email
.