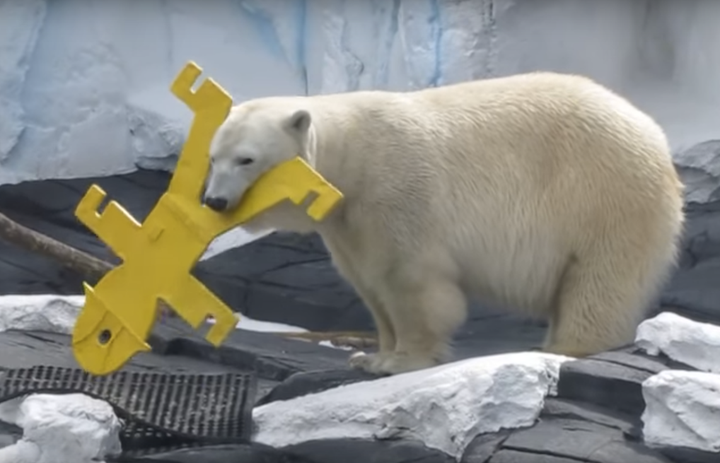 People for the Ethical Treatment of Animals (PETA) is claiming that a polar bear has died of "heartbreak" after being separated from a close companion of over twenty years that the organization is calling a "same-sex partner." 
According to Yahoo News, SeaWorld split apart long-time companions Szenia and Snowflake in order for the latter polar bear to breed in Pittsburgh, Pennsylvania, earlier this year. Soon after the transfer, Szenia unexpectedly died and now PETA is blaming the death on the company's decision to separate the pair.
"Szenja died of a broken heart, PETA believes," Tracy Remain, executive vice president of PETA, said in a statement. "After losing her companion of 20 years when SeaWorld shipped Snowflake to the Pittsburgh Zoo in order to breed more miserable polar bears, Szenja did what anyone would do when they lose all hope, she gave up."
Dan Mathews, PETA Senior Vice President, echoed Remain's words, highlighting the fact that same-sex relationships in the animal kingdom are not a unique phenomenon.
"Homosexuality has been observed in more than 500 species, from polar bears to chickens," he told HuffPost. "This shows not just how natural it is to be gay but also how much we have in common with all animals ― and why their rights must be respected. SeaWorld routinely tears apart marine-mammal families, and in this case, it sentenced a desperate same-sex couple to a miserable life and death. That's why SeaWorld's business is tanking."
The video below shows Szenja playing with a new toy days before her death.
SeaWorld, however, sees things differently and doesn't think the separation as the cause of death.
"SeaWorld and other accredited and world-class zoological facilities remain focused on our important mission of animal conservation and public education and inspiration," David Koontz, director of communications at SeaWorld San Diego, told The Huffington Post. "We will not be distracted by organizations with a clear anti-zoo agenda creating false narratives not grounded in any scientific fact."
Koontz then went on to say that polar bears tend to function primarily as solitary animals and that Szenja did not appear to be negatively impacted by Snowflake's departure.
"It is well documented that adult polar bears are typically solitary animals, and Szenja was continually cared for and enriched by her dedicated and passionate animal care team," he continued. "She did not demonstrate any adverse behavioral changes following Snowflake's transport to the Pittsburgh Zoo in February as part of the Species Survival Plan (SSP) breeding visit. Unlike wild polar bears facing habitat loss, human encroachment and limited food sources, Szenja lived an long and enriching life at SeaWorld with the passionate and uncompromising care provided to her by her loving trainers, and made a positive impact on the tens of millions of park guests that had the chance to see her over the past 20 years."