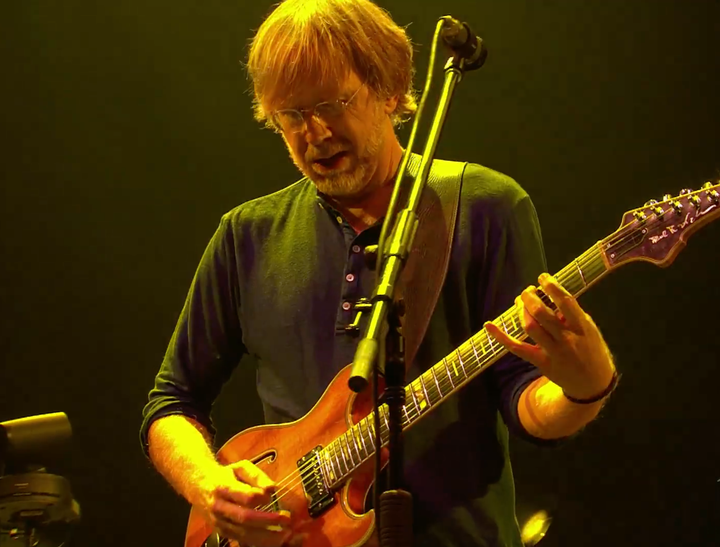 Joe DiMaggio's 56-game hitting streak. Michael Phelps' 18 gold medals.
Add Phish's Baker's Dozen to the list of improbable accomplishments.
The world's premier jam band wrapped up the ninth show of their 13-night run at Madison Square Garden on Tuesday. That alone should turn heads. Billy Joel claims to be the king of New York with 43 consecutive gigs at MSG. But the piano man performed once a month. Phish is blazing through 13 shows in 17 nights, giving them ownership of Madison Square Garden for more than half a month.
But what makes Phish's residency one for the ages is their determination to not repeat a single song. It's how Phish always operates on a run — they don't repeat the same song twice. It's impressive during a three or four-night visit to the same city. It's mind-blowing for a 13-show extravaganza.
Even Phish's most ardent fans debated whether they'd attempt 26 unique sets over 13 nights. Phish's "Phan Site" called it the Absolute Zero theory. The band would have to play roughly 273 songs throughout the residency (−273° C, the lowest possible theoretic temperature, is considered absolute zero). Phish has 220 songs in its rotation, meaning it would have to perform about 53 rare or new songs, including covers.
Choosing to keep fans guessing, the band never revealed their Baker's Dozen plans. And with four shows left, it's still possible they could throw in a repeat. But at this point, it's a safe bet that Phish is going for absolute zero.
How difficult of a feat is it? It's required the band to play cover songs they've never performed like Jimi Hendrix's The Wind Cries Mary (performed on "jimmies" donut night) and Harry Nilsson's Coconut (performed on coconut donut night). Who doesn't love donuts? It's also required Phish to extend some of their own songs, most notably busting out a 30-minute jam for Lawn Boy, which is typically in the 4-minute range. Imagine Billy Joel gracing fans with a half hour Uptown Girl. Or maybe we're fortunate he's never tried.
Most importantly it's required creativity and top notch improvisation, Phish's forte. The band's had to figure out which previously shorter songs work as jams. They've had to devise 13 setlists that not only wow the 20,000 fans in attendance but also keep the fans back home paying $25 per show for the webcasts. They can't mail it in on any night. Each show must stand out on its own and so far Phish has delivered.
I've attended my fair share of Phish concerts but prior to the Baker's Dozen I'd only ordered a couple of webcasts. I preferred to watch a basketball game or a Netflix show. This run has completely altered my Phish viewing habits and probably for the long run. So far I've watched all nine shows — mostly live and one the following day. It helped that I attended the July 19th performance in Pittsburgh, the final tune-up to the Baker's Dozen. The Pittsburgh show reinforced to me that the band is on the top of their game and in terms of production quality has taken it to another level. It inspired me to order opening night of the Baker's Dozen. Nine shows later, I'm still on couch tour. It's really no different than watching your favorite baseball team night after night. Phish has created quite the fan experience.
The Baker's Dozen isn't the first time Phish has defied logic. On the millennium, they performed a single seven-and-a-half hour-long set in the Everglades that ended at sunrise. These guys are dedicated to legendary performances. The Baker's Dozen might even top that feat and it'll keep fans guessing how this veteran band — or anyone — can possibly top it.