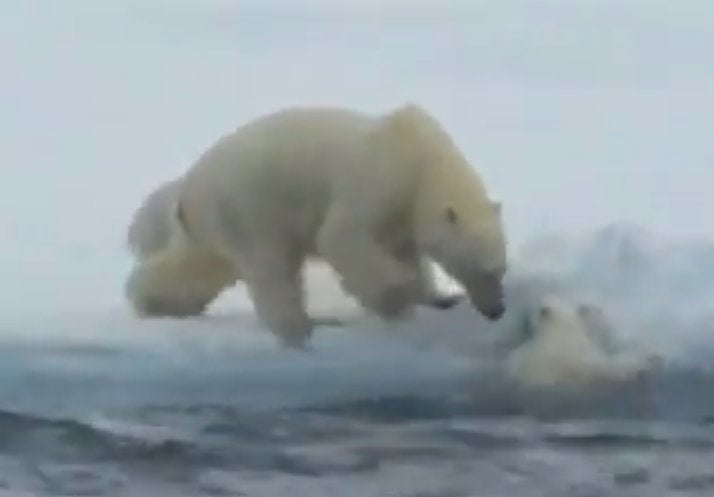 My first time was with a woman named Maria Cristina. She was Italian. There we were, standing on the observation deck of a Tundra Buggy as a huge polar bear sauntered toward us. As the bear got closer I glanced at Maria Cristina and she was in a trance. The bear then lunged up on the side of the Tundra Buggy and we were within a meter of the world's largest land-roving carnivore.
It was then I had the pleasure of witnessing Maria Cristina and this 750-kilogram polar bear lock gazes with each other. Tears were streaming down her face. The moment was fleeting but I knew would represent an inflection point in Maria Cristina's life, a moment she would never, ever forget. It's then that I fully realized the experiences we provide our guests truly are life-changing.
Churchill, Manitoba is known for polar bears; our guests travel from all over the world and come here, to experience our stretch of frozen ocean coastline as we play host to the world's largest aggregation of wild polar bears. I've spent time growing up in Churchill and for the last decade in my tourism career I've had a front row seat to this phenomenon. I can tell you it's simply amazing.
As it turns out, though, observable even during my 10 short years working in the field, the polar bears I see today aren't as big as they used to be. The polar bears' unique environment is changing.
For Frontiers North Adventures it's important for us to share with our guests the wildlife of the north as well as the customs, history and culture of the people of the north. In order to provide balanced interpretation of the world around us, we work closely with wildlife biologists and as closely as we can with first nations and Inuit people who call the north home. Then we share with our guests scientific studies, traditional knowledge, and inspire them to become a part of this discussion.
In my experience travelers don't normally buy educational vacations, but they sure do appreciate having had one. I believe we must keep our minds open and, on our tours, we emphasize sharing ideas and dialogue, even when viewpoints differ! From experience I know the power of piercing dialogue and value of life-moving experiences. They help create inflection points in our lives.
By partnering with explore.org and Polar Bears International on the Polar Bear Cam we are able to extend the impact and reach of Churchill's polar bears, inspiring our guests here with us on the tundra, as well as the hundreds of thousands of viewers tuning in over the web.
Click over to explore.org, involve yourself in this discussion and become a stakeholder on behalf of polar bears. These bears are a valuable resource for the people of Manitoba and considered so by people all over the world. We need your help to keep it that way. And when you are ready to come see these majestic animals in the wild for yourself, we look forward to sharing our polar bears with you in person.
If we do this right, like our guests, you too will create an emotional connection to -- and remain invested in -- polar bears. And, if you do, like my Italian friend Maria Cristina, your life will never be the same.
PHOTO GALLERY
Explore.org Polar Bear Photos